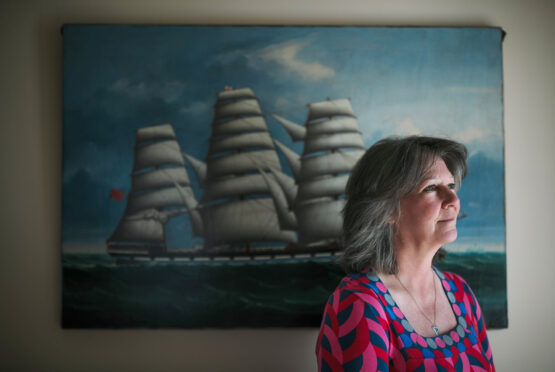 Jackie Hood grew up near the shores of Gare Loch listening to tales of her grandfather, Captain Dennis Royal, a hero of the high seas who saved many lives on one storm-lashed voyage of his cargo ship Springbank.
Hood and her father, Dennis Royal junior, had no idea that, 400 miles north of their family home in Clynder, Argyll and Bute, generations of storytellers had been telling the same stories on the Shetland Islands.
They spoke of a fearless captain who, over a century ago, safely navigated his ship through lethal storms around Cape Horn for 200 days, ensuring four Shetlanders among his crew – Nicky Tulloch, Tammie Irvine, James Hardy and Lawrence Tait – made it home alive in 1908.
"I had no idea this story was being told across Shetland, it's incredible," said Hood, 53 who now lives in Helensburgh. "It is just one of the many wonderful stories my dad told me about my grandfather, who was always this mythical figure. He really was a hero and a skilled sailor and captain."
Dennis Royal married Hood's grandmother, Margaret, from Carrick in Argyll, in 1920. They had three children, Dennis, Jean and Margaret, and four grandchildren. Hood never met her grandfather, who died aged 73 when Dennis Royal junior was 18, but was always fascinated by his life story, which her father painstakingly researched.
"Dad idolised his father and wanted to be a deck officer like him but was never able to because he was colour blind," she said. "He was devastated by that but inherited the same love of sailing, which he did recreationally. He even won the America's Cup, a world-class yachting competition, in the '60s."
Her grandfather's treasured possessions from a life at sea, including his sexton, a decommissioned pistol, chronometer and framed sea charts that track his many voyages across the world, are displayed proudly in Hood's home.
They tell the story of Dennis Royal, who was born into poverty in Newfoundland, Canada, in 1874. Aged just 13, he fled his alcoholic father and abusive stepmother to pursue a life at sea. A natural seaman, he steadily rose up the ranks from cabin boy to deck officer. In 1907, he took command of the four-mast barque, Springbank, owned by the Andrew Weir Shipping and Trading Company in Glasgow.
He wed his first wife, Hannah Royal, in Liverpool. Five years later, in 1908, she joined him aboard the Springbank to deliver a cargo of timber from Hamburg to Santa Rosalía in Mexico.
The ship became trapped in a storm that raged across hazardous waters off the coast of Cape Horn, Chile, which remains one of the most dangerous sea routes in the world. The Springbank was constantly blown off course by strong easterly winds. During this time, Hannah died of consumption, aged 27, along with two other crew members from Orkney.
"He had to bury his wife at sea then muster his crew to get them out of this storm and safely to port. That must have required real fortitude," said Hood.
"My grandfather was incredibly well-respected as a captain because he served before the mast, working his way up from cabin boy to a deck officer. His skill as a seaman and a captain, and his ability to keep morale up through so much hardship and death, got them to port alive. It was an incredible feat, especially as they only had a sexton and a compass to navigate.
"My father told me the story of their arrival in Santa Rosalía over and over. They thought they would perish at sea, and arrived starving and short of water. There had been no word from the boat since day 28 so they had been given up for dead. Then, one day, the Springbank comes roaring into Santa Rosalía harbour under full sail and drops anchor after 228 days at sea, which was apparently the longest passage ever taken for that sea route."
The Springbank's voyage to Santa Rosalía was just one heroic endeavour Hood heard about her grandfather. Throughout his five decades at sea, Royal traversed the world's oceans many times over, making port in places like Hong Kong, Calcutta, Trinidad, Nova Scotia, Cape Town, Dundee and Glasgow. He retired in 1938 and died in 1947 aged 73, "from old age and a hard life".
"We found a silver pearl pin that had been given to him for saving a drowning boy. He really was a hero and I'm told he was kind, gentle and strong.
"One of his tricks on the ships was to hold himself horizontally on a pole," said Hood.
"He said he wanted to live in Clynder because he'd lived his life in the teeth of a gale and Clynder is calm and sheltered. The house had a veranda also that he could walk up and down like the deck of a ship with a view of the loch. He always stood with two feet astride as if still at sea."
Shetland-born singer and seafarer, Barry Nisbet, was so intrigued by the story of the Springbank growing up that it inspired his 2021 album The Springbank Voyage. It blends traditional folk music of Shetland and the spoken word, including archive audio from local storyteller Lawrence Tulloch, who died in 2017, to paint an evocative picture of the turmoil, tragedy and triumph of that fateful voyage.
Eager to learn more, Nisbet began researching Captain Royal and his wife, Hannah, in spring 2020. Starting with only a marriage certificate, his search and pleas for contacts in Newfoundland via social media eventually led to Jackie Hood, who he finally met last year following the easing of lockdown restrictions.
Nisbet was unable to meet Dennis Royal jnr in person but compares seeing his research and his father's belongings to "finding the key to a treasure chest", adding, "it was incredible to see all these photographs, documents, and personal items. Jackie's father's research helped to tie the whole story together."
Dennis Royal junior passed away in a local nursing home in June last year at 92. Just weeks before, Hood was able to play her father, who had advanced dementia, an early cut of Nisbet's album. She says it stirred memories of his father's stories.
"I'm pleased I was able to play it to him before he died," she said. "We listened to a few songs at a time and looked at paintings of my grandfather's boats. It was fantastic as the music sparked his memory and helped me engage with him and get him talking. At that point, all he really had was memories of living in Clynder and listening to his father's stories."
She added: "Hearing the album played live was incredibly moving as it brought my grandfather's story to life. We had never known certain details, like how Hannah Royal died, so Barry really helped piece the story together."
Nisbet holds a personal connection to the Springbank story. He also sailed tall ships across the Pacific and is a fiddler from Cullivoe on Yell, just like one of the Springbank's Shetland crew, Nicky Tulloch.
"I was always intrigued by the story that I'd heard from local storyteller, Lawrence Tulloch, especially Hannah Royal and what happened to her," he said.
"Having captained ships myself I related to Dennis Royal and his crew. I understood not just the hardships of a life at sea but also the beauty and wonder of being out on the open ocean, which I tried to convey as well as the travails and tragedy of that journey.
"There was certainly sadness but also hope and joy. The album is my attempt to that bring this fascinating story to life."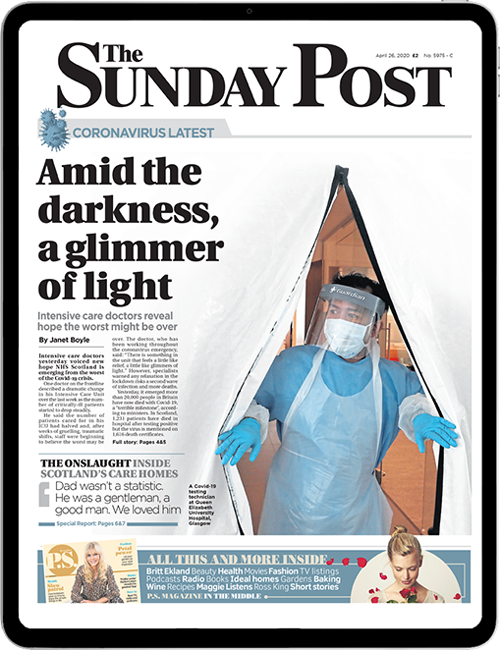 Enjoy the convenience of having The Sunday Post delivered as a digital ePaper straight to your smartphone, tablet or computer.
Subscribe for only £5.49 a month and enjoy all the benefits of the printed paper as a digital replica.
Subscribe