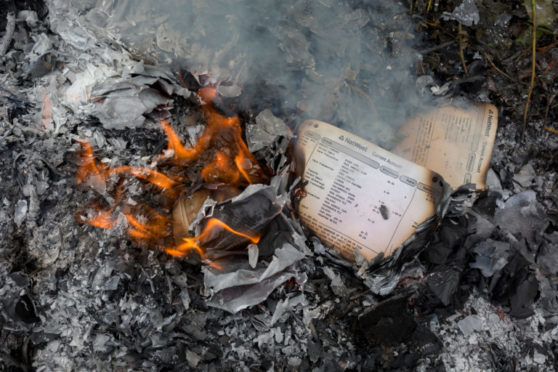 Holryood politicians are to investigate a cover-up scandal at a defunct crime-fighting agency once known as Scotland's FBI.
MSPs have promised to scrutinise a Metropolitan Police review which found that Police Scotland may have covered up a cover-up after piles of confidential files were incinerated in the car park of the Scottish Crime and Drug Enforcement Agency.
Officers at SCDEA were ordered to buy a garden incinerator and petrol to destroy paperwork after the unit managing Scotland's undercover operations was exposed as a chaotic and potentially criminal shambles in 2011.
After we revealed the incineration of sensitive and secret documents in February, Police Scotland Chief Constable Iain Livingstone ordered a review, called Operation Towering, which concluded there was nothing more to investigate because the SCDEA no longer existed and Police Scotland manage covert operations differently.
However, critics say the force has ignored allegations that senior officers ordered the immediate and extraordinary destruction of paperwork to conceal the chaos before the Crown Office could decide if fraud or any other crimes had been committed.
A Met Police review of Operation Towering did not share Police Scotland's apparent conclusion that the burning of documents, against all standard operating procedures, was not a cover-up.
The Met review said: "The timely manner of the incineration, its closeness in time to a professional standards investigation into the SOU [Special Operations Unit] and the lack of any audit or record of destruction, throws sufficient doubt that this can be the only conclusion."
The report came before the Scottish Police Authority board, which is responsible for holding the Chief Constable to account. One board member, Tom Halpin, said the Chief Constable must dispel any perception that he is "marking your own homework".
Chairman of the Scottish Parliament's policing committee John Finnie MSPhas put the Met review on the agenda for a meeting on Thursday when committee member, Liam McArthur, Lib Dem justice spokesman intends to raise a number of questions which, critics say, have not so far been answered by Police Scotland or asked by the SPA.
And Liam Kerr, Scottish Conservative shadow justice secretary, said he will lodge further questions at the Scottish Parliament today.
Mr Kerr wants to know which senior officers were responsible for signing off on funds for the shambolic unit, and who ordered the burning of the paperwork.
He'll also ask whether prosecutors, who considered whether there was criminality, were aware potential evidence had been incinerated.
Mr Livingstone issued a general condemnation of the events at the SCDEA, including the management of the unit and the burning of documents as "outrageous" but did not comment on claims of a deliberate cover-up by senior officers.
Mr Kerr said: "It is staggering that such high level individuals have now condemned this behaviour and still so many questions remain.
"I have therefore tabled a series of questions in the Scottish Parliament.
"It is crucial Police Scotland operates with full transparency, and they must now clear up this mess."
Meanwhile, the former undercover police officer who ran the chaotic undercover unit has denied claims he used SCDEA funds to extend a conference to play golf and to fund a trip to Northern Ireland for false reasons.
When the Post put the allegation to him, the former officer said: "Every time I was in Northern Ireland, it was for operational reasons."
He declined to comment on claims in The Met review that financial anomalies due to his lack of management of telephone and banking accounts totalled "in excess of £10,000".
The Crown Office and Procurator Fiscal Service said yesterday it examined information provided by police but did not consider a prosecution as there was no evidence of any criminality.
It could not confirm whether prosecutors were aware of potential evidence being burned.
The incineration of secret and sensitive police files emerged during a £1 million civil action by a whistleblower, known in court as Mrs K. The former undercover officer successfully sued Police Scotland for unfairly freezing her out of her job and damaging her mental health. Police Scotland is appealing.
Police Scotland declined to comment referring us instead to comments made by the chief constable to the SPA.
---
Report into 'chaotic' operations written by unit's senior officer
A report hailed last week by Police Scotland for backing how covert operations are now managed was written by a senior officer at the Scottish Crime and Drugs Enforcement Agency.
Chief Constable Iain Livingstone told the Scottish Police Authority the review in 2018 proved the national force now had robust procedures in place to manage undercover officers.
But the review was written by Stephen Whitelock, a senior officer at the SCDEA where Mr Livingstone described the exposure of a chaotic and potentially criminal undercover unit and the events that followed as "deplorable, it was outrageous behaviour. It was behaviour that we would not tolerate in the Police Service of Scotland".
Mr Whitelock, former head of intelligence at the SCDEA, was lead inspector for the HM Inspectorate of Constabulary Scotland (HMICS) report into undercover policing, published in 2018.
He was number three at the SCDEA in 2011 when Johnny Gwynne, who went on to become Deputy Chief Constable of Police Scotland, was number two.
Mr Gwynne and Mr Whitelock were the two most senior SCDEA officers involved in the events that led to a former undercover officer, known as Mrs K in court, successfully suing the police after claiming she was made a scapegoat and frozen out of her job when she exposed the chaotic finances and management of the elite agency's covert unit.
Both men announced their retirement in January as the judgment in Mrs K's case was published but said the timing was a coincidence. Police Scotland is appealing against the judgment.
Critics have questioned Police Scotland's insistence that the "deplorable and outrageous" SCDEA scandal is a "legacy issue" given Mr Gwynne went from the SCDEA to be number two at Police Scotland and that Mr Whitelock's undercover review is now being cited in support of the national force's current procedures.
Liam McArthur, Scottish Lib Dem justice spokesman, said: "There are undoubtedly still questions yet to be answered following the SPA meeting.
"If, as it appears, the authorities are content to leave those questions unanswered I will be raising this matter at the Parliament's justice sub-committee on policing."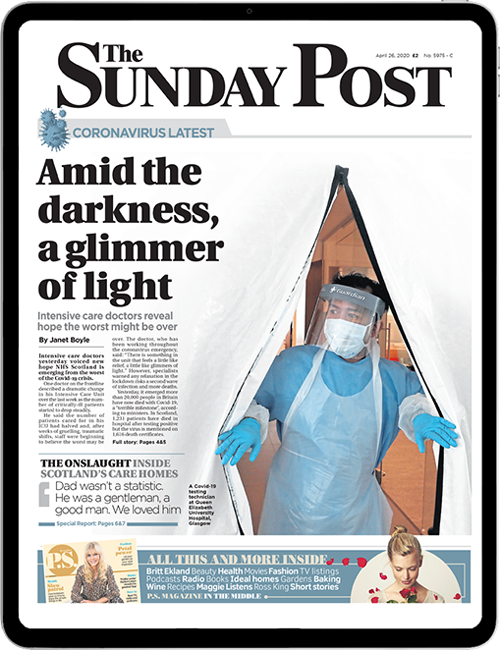 Enjoy the convenience of having The Sunday Post delivered as a digital ePaper straight to your smartphone, tablet or computer.
Subscribe for only £5.49 a month and enjoy all the benefits of the printed paper as a digital replica.
Subscribe