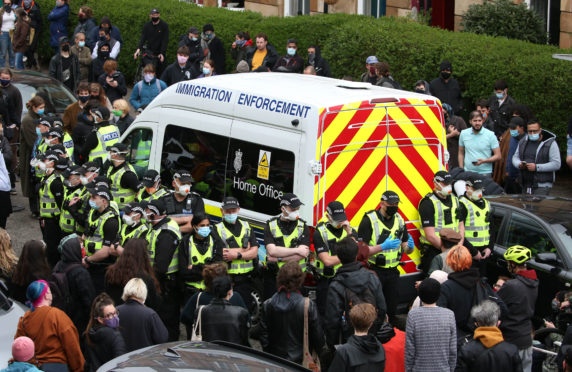 Nicola Sturgeon has called on the Home Office to resolve a "dangerous and unacceptable situation" involving an immigration enforcement van in Glasgow.
Protesters blocked the vehicle in Pollokshields on Thursday morning, with a man placing himself underneath to prevent it from leaving.
The demonstration came after the removal of people from a property in Kenmure Street by the UK Border Agency.
The timing of the immigration operation has been condemned, as it has taken place during Eid.
Scotland's justice secretary Humza Yousaf said he was disappointed at being unable to speak to a Home Office minister about the scenes in Glasgow.
He tweeted: "I am disappointed that out of 8 Home Office Ministers none of them could make themselves available to speak to me.
"Having spoken to the DG for Home Office in Scotland I have urged him to abandon the forced removal. He will consider next steps & I have requested an update."
Earlier, he said: "This UK Border Force Operation, in Pollokshields, the heart of the Muslim community, on Eid is a demonstration of the UK Govt's hostile environment.
"I have asked to speak to the Home Secretary to gain further details & make clear just how unacceptable this situation is."
Around 200 protesters were at the scene on Thursday lunchtime, with chants of "Leave our neighbours, let them go" and "Cops go home" being heard.
A large number of police officers in face masks are in attendance.
Community response in the southside of Glasgow stopping a Home Office dawn raid right now. A family inside the van. An activist is under the van to stop them moving pic.twitter.com/I65lmz1o2A

— Stand Up To Racism (@AntiRacismDay) May 13, 2021
A Police Scotland statement said: "Around 9.55 am this morning, Thursday, 13 May, 2021, police were called to an address in Kenmure Street, Pollokshields, following a protest by a large group of people.
"The call was made by Immigration Enforcement after a group of protesters gathered at the address where UK Border Agency staff were in attendance. Police Scotland does not assist in the removal of asylum seekers. Officers are at the scene to police the protest and to ensure public safety."
Sturgeon, who was sworn in as the area's MSP on Thursday, tweeted: "The @ukhomeoffice action today is creating a dangerous and unacceptable situation in Pollokshields.
"As local MSP, I am also seeking urgent answers from them – they must resolve this situation ASAP."
Earlier, she said she was "deeply concerned" at the scenes in Glasgow's Kenmure Street.
"As constituency MSP, I am deeply concerned by this action by the Home Office, especially today in the heart of a community celebrating Eid.
"My office is making urgent enquiries and stands ready to offer any necessary assistance to those detained."
The @ukhomeoffice action today is creating a dangerous and unacceptable situation in Pollokshields. As local MSP, I am also seeking urgent answers from them – they must resolve this situation ASAP. https://t.co/aMGAe88M1J

— Nicola Sturgeon (@NicolaSturgeon) May 13, 2021
Scottish Labour leader Anas Sarwar said he was "disgusted" by the Home Office raids, adding: "It is particularly unacceptable that this is happening during a pandemic, in an area that has a spike in cases and on the day of Eid. We need an immigration policy that is based on human dignity & human rights."
Scottish Greens co-leader Patrick Harvie, who is a list MSP for Glasgow, tweeted: "It's horrific that people are forced to take such action to defend their most vulnerable neighbours from the brutality of the UK Home Office.
"We need an asylum system worthy of the name, and asylum support provided to a standard our communities can be proud of."
Police should withdraw. This is unsafe from a Covid point of view apart from anything else. https://t.co/plxZfebG2g

— Mhairi Hunter (@MhairiHunter) May 13, 2021
Mohammad Asif, director of the Afghan Human Rights Foundation, was one of hundreds of neighbours protesting against the removal of people on the Islamic holiday Eid-Al-Fitr, who he said were Muslim and had come from war-torn countries.
"We're here against the hostile environment created by the Tories and the British state," the 54-year-old told the PA news agency.
"The same people who run from the British and American bombs (are) put at the back of the van right now. And they are about to be deported.
"And it's on Eid you know… the guys are not even allowed to pray. How do you do that in a democratic society? It's a sad day."
Mt Asif, who left Afghanistan as a refugee himself in 2000, said the atmosphere amongst protesters was peaceful.
Tom, a neighbour who joined the protest on Kenmure Road, compared the immigration operation to a police raid on Christmas Day.
"The solidarity shown today shows the community will not stand for their neighbours being dragged from their homes," the 31-year-old, who did not wish to reveal his second name, told PA.
"I'd ask Christians to reflect on what it would feel like to have your house raided on Christmas Day."
He said he believes two or three hundred people may have joined the protest, but law enforcement presence was "increasing fairly rapidly", with 10 police vans at the scene at around midday.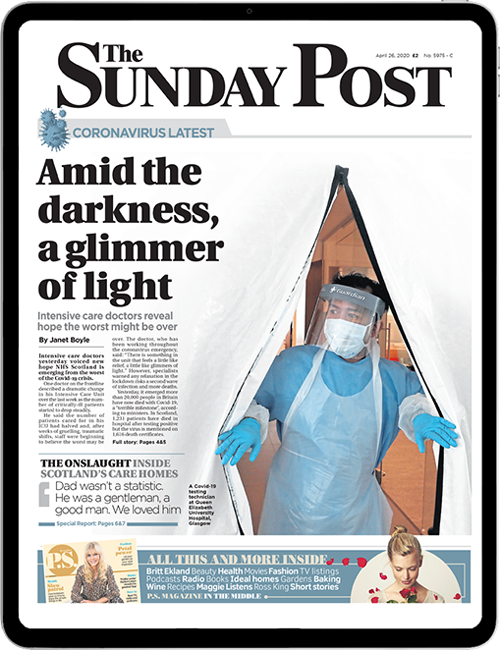 Enjoy the convenience of having The Sunday Post delivered as a digital ePaper straight to your smartphone, tablet or computer.
Subscribe for only £5.49 a month and enjoy all the benefits of the printed paper as a digital replica.
Subscribe