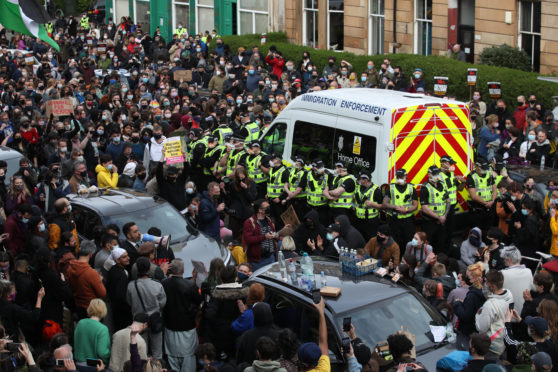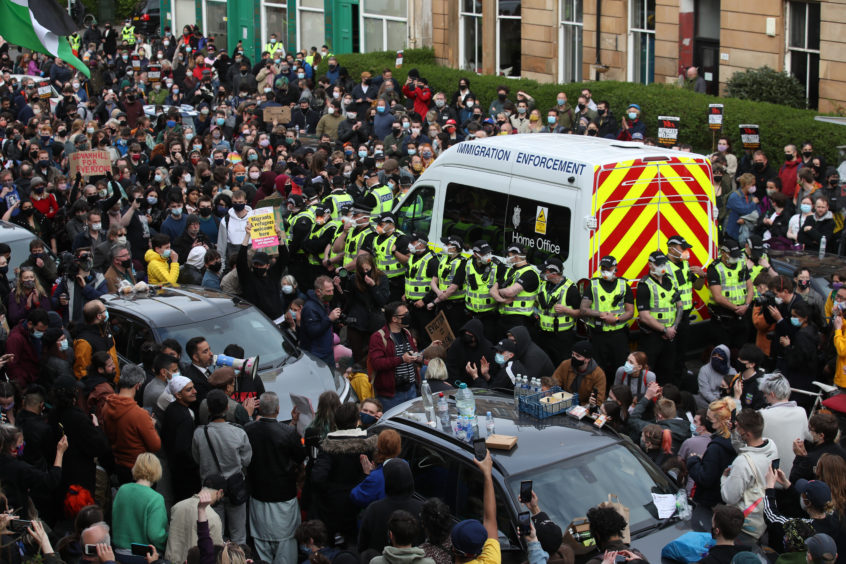 The men inside an immigration enforcement van at the centre of protests in Glasgow on Thursday have been released.
Hundreds of people gathered around the vehicle in Pollokshields in the city's south side after two men were removed from a property on Kenmure Street.
Protesters blocked the vehicle for several hours, and there was widespread condemnation of the Home Office operation from politicians, including the area's constituency MSP Nicola Sturgeon.
Police Scotland took the decision to release the men from UK Immigration Enforcement custody to ensure public safety.
A Police Scotland statement read: "In order to protect the safety, public health and well-being of all people involved in the detention and subsequent protest in Kenmure Street, Pollokshields, today, Chief Superintendent Mark Sutherland, has, following a suitable risk assessment, taken the operational decision to release the men detained by UK Immigration Enforcement back into their community meantime.
"In order to facilitate this quickly and effectively, Police Scotland is asking members of the public to disperse from the street as soon as possible. Please take care when leaving the area and follow the directions of the officers on the street."
Having spent hours trying to get Home Office to abandon their operation, without success, I am pleased Police Scot intervened on public safety & health grounds to release individuals involved.

But let me be clear, the Hostile Environment created by UK Govt is not welcome here. pic.twitter.com/fNUcBvmHei

— Humza Yousaf (@HumzaYousaf) May 13, 2021
Sturgeon tweeted: "Today's events were entirely down to Home Office actions. Police Scotland were in an invidious position – they do not assist in the removal of asylum seekers but do have a duty to protect public safety. They act independently of ministers, but I support this decision.
"I disagree fundamentally with Home Office immigration policy but even putting that aside, this action was unacceptable. To act in this way, in the heart of a Muslim community as they celebrated Eid, and in an area experiencing a Covid outbreak was a health & safety risk.
"Both as MSP and as first minister, I will be demanding assurances from the UK government that they will never again create, through their actions, such a dangerous situation. No assurances were given – and frankly no empathy shown – when I managed to speak to a junior minister earlier.
"Lastly, I am proud to represent a constituency and lead a country that welcomes and shows support to asylum seekers and refugees. The day when immigration policy is the responsibility of the Scottish Parliament can't come soon enough."
Lawyer Aamer Anwar addressed the crowd to update them with the developments. The men, he said, would be escorted alongside him to a local mosque where they would be released.
He was met with a round of applause from protesters after saying: "Everyone in this community should be extremely proud."
This is a welcome development. https://t.co/fRmnAZyn2q

— Alison Thewliss (@alisonthewliss) May 13, 2021
Justice secretary Humza Yousaf tweeted: "I abhor Home Office immigration policy at the best of times, but to have taken the action they have today is at best completely reckless, and at worst intented to provoke, on a day the UK Govt would have known Scot Govt & MSPs would be distracted by Parliamentary process."
BREAKING: Two men held in a van by immigration police since 10am this morning are to be released.

It follows large scale protests over their detention on Kenmure Street.

Human rights lawyer @AamerAnwar addresses the crowd, says they will be released into his custody: pic.twitter.com/EC9NWOEWsp

— Radio Clyde News (@RadioClydeNews) May 13, 2021
Sturgeon earlier accused the Home Office of creating "a dangerous and unacceptable situation" in Glasgow.
She wrote on Twitter: "The @ukhomeoffice action today is creating a dangerous and unacceptable situation in Pollokshields.
"As local MSP, I am also seeking urgent answers from them – they must resolve this situation ASAP."
Yousaf also said he was disappointed at being unable to speak to a Home Office minister about the scenes.
He tweeted: "I am disappointed that out of 8 Home Office Ministers none of them could make themselves available to speak to me."
Hundreds of people from the local area and beyond gathered on the street, with social media footage showing them chanting "Leave our neighbours, let them go" and "Cops go home".
One man lay under the van to prevent it leaving.
A refreshments stall was set up in a nearby bus stop for protesters.
Another video shows a man placing a sign outside his window on the street which reads: "If this is Team UK we reject it."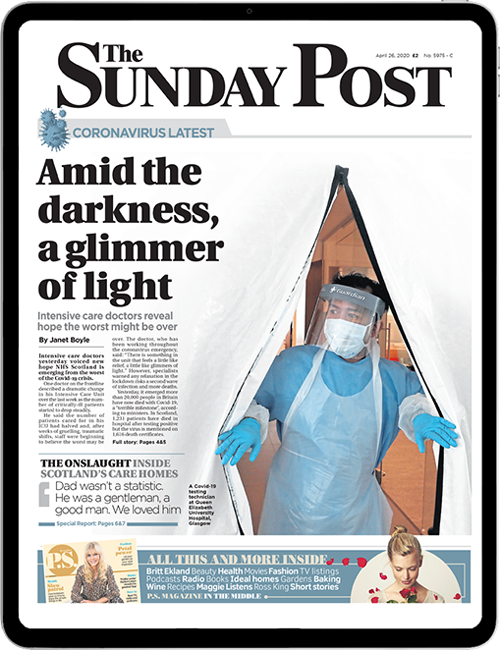 Enjoy the convenience of having The Sunday Post delivered as a digital ePaper straight to your smartphone, tablet or computer.
Subscribe for only £5.49 a month and enjoy all the benefits of the printed paper as a digital replica.
Subscribe