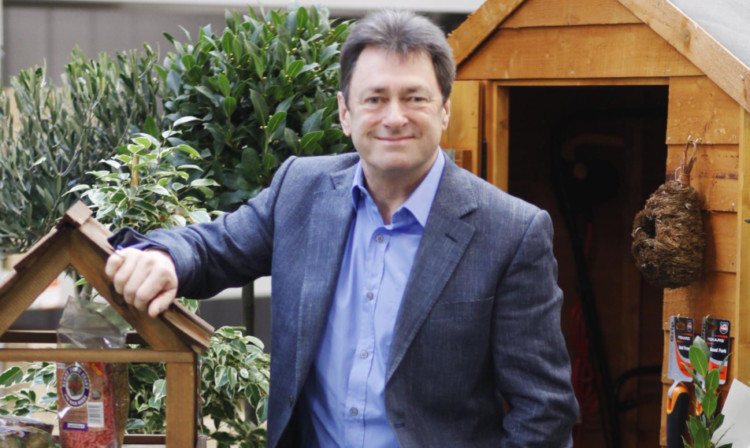 Gardening guru Alan Titchmarsh would hate to see break-up of the Union.
Television's least likely heart-throb has a message for Scots please don't go.
Housewives' favourite Alan Titchmarsh reckons it would be a mistake to break up the Union and hopes Scotland will deliver a resounding 'No' in the September referendum.
Alan said: "I think a 'Yes' vote would be a mistake. I'm a Yorkshireman through and through and understand completely the pride and passion you can feel for a place your place.
"But although I'm a fiercely proud Yorkshireman, I'm proud to be British too. I've a great love for Scotland and have spent lots of time there since going on regular holidays as a youngster.
"I've travelled all over Scotland and try to get up there as often as I can. I feel at home there. That's the great thing about the UK we're so diverse but, when we come together, we're something special.
"We should celebrate our differences, but we shouldn't be creating barriers. I feel this is a time we should be coming together as a nation. I'd be deeply sad to see Scotland go its own way."
Alan's latest novel, Bring Me Home, is the first he's set in Scotland. It tells of landowner Charlie Stuart's battle to keep his castle and estate going and of a terrible secret that threatens to tear his family apart.
The author said: "Landscape features heavily in all my novels and this is no different. I love the wildness of the Highlands, the sense of remoteness and isolation.
"There's something about the wide open spaces, the ruggedness, the lack of people and even the weather that make you feel terribly small, insignificant. It somehow gives you a bit of perspective on things. The land is more than a setting in the book it's almost a character in its own right."
Bring Me Home is Alan's ninth novel. All have been bestsellers and he's also written dozens of gardening books. And, of course, there's the TV presenting, the live chat show, newspaper columns, radio show and lots more. It all sounds a bit hectic.
"It's as well I don't have a proper job to get in the way," jokes Alan, who turns 65 later this year.
"I love it all, but first and foremost I'm a gardener it's my passion. Then I'm a writer, which I enjoy immensely. The rest is great fun, but I don't think I'd really miss it if it all ended tomorrow."
It's almost 20 years since Alan hit our screens on Gardeners' World. It quickly saw him become something of an unusual sex symbol.
Indeed, he still regularly appears on various lists of top TV totty. It's said the bulging bags of fan mail he receives often contains items of underwear but Alan's far too polite to confirm this.
And the waxwork model of his at Blackpool's Madame Tussaud's has to be wiped down by staff twice a week to remove all the lipstick marks left by ardent female fans.
Alan said: "I think it must be myopic old ladies mistaking my model for Brad Pitt's it's an easy mistake to make!
"The whole sex symbol thing has always mystified me, but you can't take these things too seriously. My wife Alison thinks it's a right laugh and when your own wife thinks it's hilarious, you're hardly going to get a big head are you?"
It's been quite a journey for someone who left school with just an O Level in art at age 15 to become a trainee gardener at the local council.
Alan said: "I've had such a varied career I could never have imagined any of it. I was always encouraged to keep my eye out for an opportunity and my mind open. You never know where life will take you and you need to be ready for it.
"I think there was a bit of a sniffy attitude towards the idea of success in the north. A kind of notion that you shouldn't get above your station. I don't think it's so prevalent today, but it's sad because so many never got to reach their potential.
"Writing was something I always wanted to try. It just seemed so unfair that, as an adult, you don't get to use your imagination much unless you're a sculptor or an artist or something. So for me, writing was an excuse to create a bit of a fantasy world.
"It's marvellous fun you create all these lives, a whole make-believe world that doesn't exist. But somehow, in a sense, it does. I can't imagine not writing. When I get too old and broken down for telly I'll still be writing."
In May, Alan will be of a vintage where he can draw his pension, but he certainly has no thoughts of retiring.
He does, however, hint he might slow down a wee bit.
Alan said: "I really can't believe I'm going to be 65 in my head I feel in my 30s.
"I've no plans to stop working. I suppose the trouble is, when you are doing things you love, it doesn't feel like work. I might start to take things a bit easier in future though. Alison and I have three young grandchildren aged two, nine months and three months.
"I'd love to spend more time with them growing up they're great fun and I don't want to miss a minute of it."
Alan's new novel, Take Me Home, published by Hodder and Stoughton, is released on Thursday March 13, priced at £18.99. ISBN 978 0340 936917.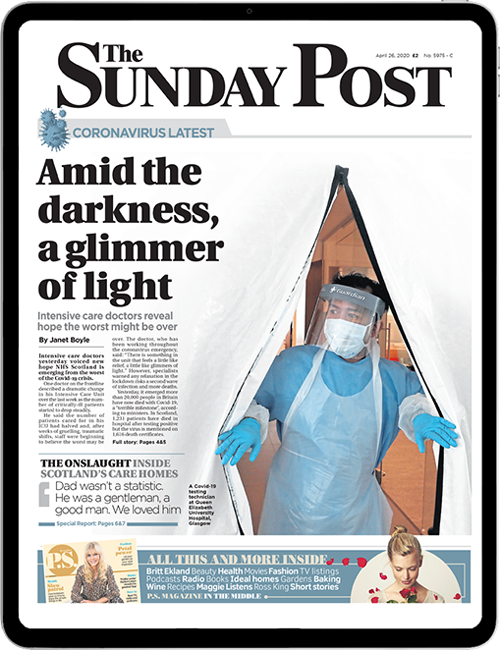 Enjoy the convenience of having The Sunday Post delivered as a digital ePaper straight to your smartphone, tablet or computer.
Subscribe for only £5.49 a month and enjoy all the benefits of the printed paper as a digital replica.
Subscribe