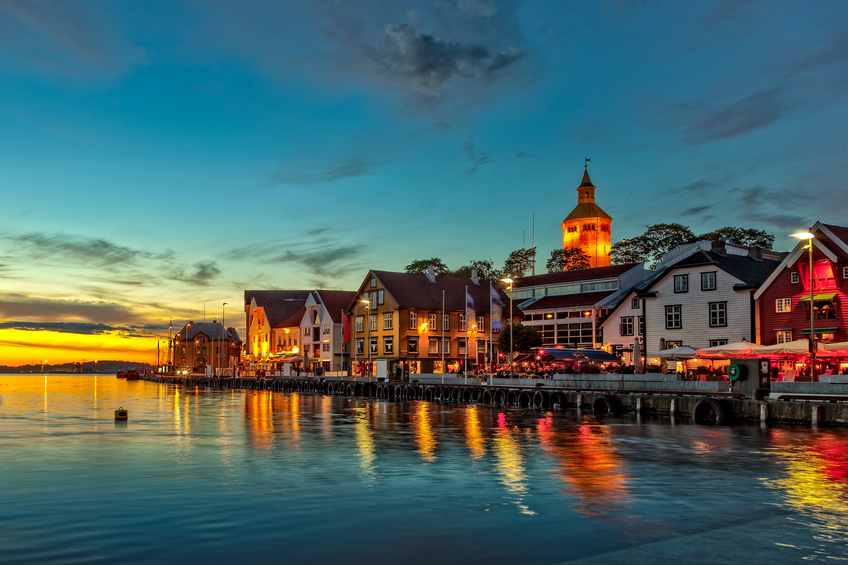 Gathered around the chef's table, our party of eight eagerly anticipates the arrival of our 17-course sushi dinner.
Each dish is a tiny work of art, and we all mumble appreciative 'aahs' as we taste freshly-caught salmon and cod, with wasabi.
We're at Sabi Omakase, an intimate restaurant with room for just nine people. While it may sound like I'm in Japan – I'm not, I'm 5000 miles from Tokyo, in Norway's oil capital, Stavanger.
Since the discovery of oil in the late 1960s, Stavanger has been the poster boy for Norway's economic boom. Many of the city's 130,000 inhabitants enjoyed a life of high wages, low unemployment and an extremely luxurious restaurant scene.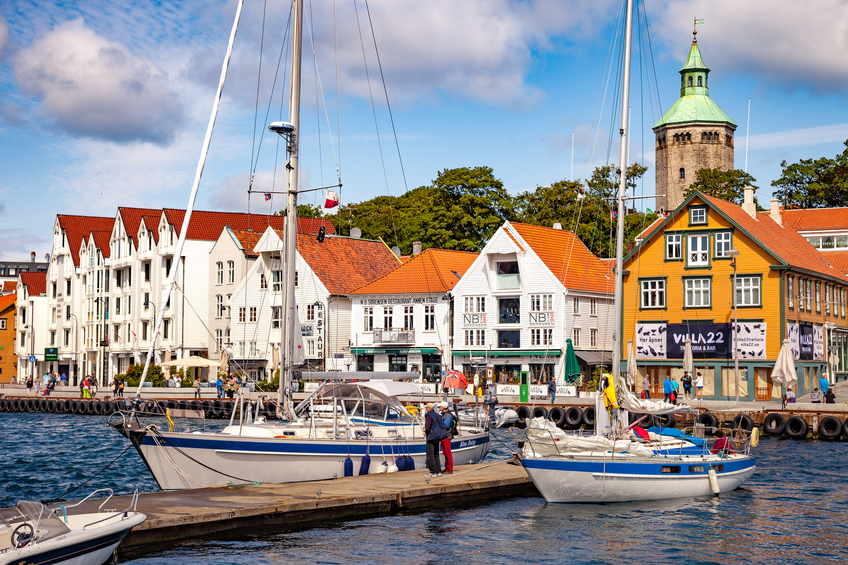 But the price of oil has been dropping, reaching a 12-year low earlier this year. Norway's economy has taken a hard hit, and the impact has been most notably felt in Stavanger, where a weaker krone means it's now a much more affordable destination. Central hotels cost from just £62 per night, and flights from across the UK start from as little as £44 one way.
There's much more than oil to a city where brightly-painted wooden buildings line a harbour looking out towards cloud-shrouded fjords across the bay.
We're eating dinner in Storhaug, one of Stavanger's newest up-and-coming suburbs. Formally known as the city's backyard, the area is an eclectic mix of second-hand bookshops, street markets and start-ups from young, hip entrepreneurs.
You can grab a coffee in the new, trendy indoor food market Mathallen, or try some delicious tarragon-roasted langoustines in Ostehuset, a cafe-come-deli celebrating local produce. Just a short walk away is Olbaren Ost, a tiny bar situated on the site of a former brewery, where everything from the furniture to the beer is handcrafted.
Keen to keep it cool, the next day we sign up to the NuArt tour (£13 per person), a 90-minute city centre guided walk that takes in works of the NuArt Festival, a celebration of the world's leading street art. Our guide, Mike Wojtowics, points out 50ft wall murals of whales, stencil art of angels and even tiny toy men fixed to walls and hidden around the city.
The festival, which has been running every September for the past 15 years, attracts world-class graffiti artists including Pure Evil, famous for his images of crying celebrities. While some of the artwork is temporary, a lot of it is permanent, meaning Stavanger has some of the best and most diverse street art in the world.
For those seeking more traditional pursuits, there are several quirky museums. The sleek and rather spectacular Petroleum Museum tells the story of Norway's discovery of oil, with fascinating interactive displays and a mock drill platform, complete with emergency chute.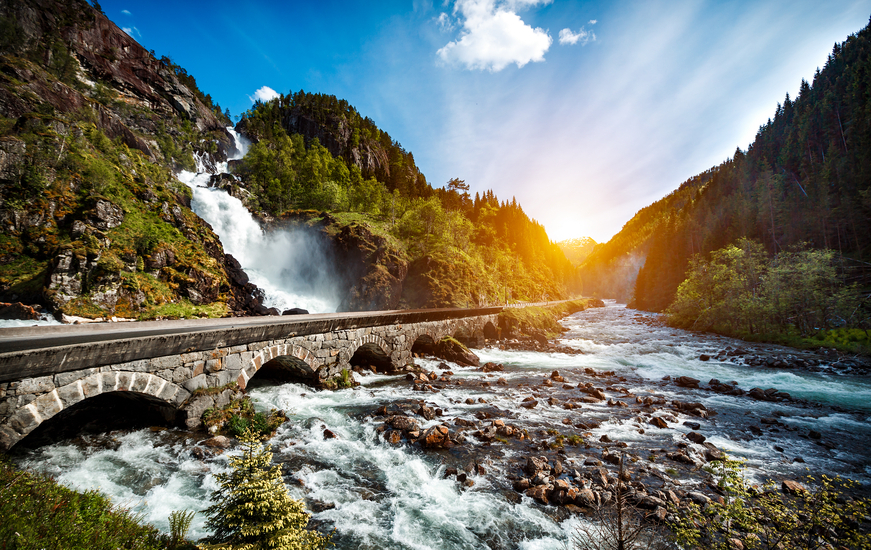 We also visit The Norwegian Canning Museum and take a guided tour of what life was like before the oil, when Stavanger's main industry was canning. "If it swam in the sea or grew on trees, we canned it," our English guide Piers informs us.
While Stavanger's quirky attractions make for a fun day out, most tourists know the city as a gateway to the fjords and despite black clouds, we are keen to get out onto the water with a cruise up to the famous Pulpit Rock, Norway's most photographed monument.
Heavy mist sits on top of the Lysefjord's mountainous cliffs, but the place is still stunning. We speed past craggy islands dotted with red-roofed houses, churning up the strikingly blue waters of the fjord. As we approach the famous Pulpit, a sheer jut of granite towering 604m above the fjord, we see… nothing. Hidden above the clouds, we're just going to have to climb it instead.
Tours of the Lysefjord leave from Stavanger several times a day and you can opt for just the cruise (£37 each) or the cruise and the hike, which as a round trip, takes six hours and costs £70. Tickets can easily be bought on the day either at the quay, or on board.
"The weather is trolsk," says our guide, "it means the trolls are nearby." As we head up into the mist, it's easy to see why legends around here are plentiful.
After two hours, we finally get our glimpse of the rock. It's a gigantic structure, reaching out into the abyss, like an altar to the Norse gods. It's said to be one of the greatest viewing platforms on earth.
Sadly, there's no view right now, but who needs one? It's still breathtaking. As people precariously dangle their legs over the edge, perhaps it's good we can't see to the bottom.
The epic climb to the top of the rock leaves us feeling rather adventurous, so what better way to recharge the adrenalin than a sea safari on a power rib?
Fjord Events offers a range of raft excursions (£70 each for two hours) where you can look out for whales, seals and birds of prey, all while bouncing over the waves at up to 60mph. We head to Flor and Fjaere, also known as the palm island – a unique oasis in the North Sea. As we disembark onto the small jetty, we're immediately greeted with an explosion of colour.
Some 50,000 annuals are planted by hand every year to stun visitors and the scent of all these flowers permeates the island.
Our guide and co-owner of the island, Siri, takes us on a tour of the gardens – a passion project started by her father-in-law and expanded by her husband into a 20-acre site with beaches, waterfalls and a Japanese carp pond.
You could easily lose yourself in the beauty here, but our captain, Havard Gundersen, is calling us back to the rib. At well over 6ft tall and sporting a gigantic ginger beard, his infectious grin has us all excitedly clambering aboard.
I realise how fun it is here, Stavanger has so much more to offer visitors than just its oil.
---
Stephanie Maskery was a guest of the Norwegian Tourist Board. See visitnorway.com.
Doubles at the Comfort Hotel Square (nordicchoicehotels.no/comfort/comfort-hotel-square) cost from £62 per night with breakfast.
Norwegian Air (norwegian.com) fly to Stavanger from London, from £44.90 one way.
---
READ MORE
Norway's peaceful capital has so much to offer
My Favourite Holiday: Author Lauren A. Forry loved Oslo on Norway Day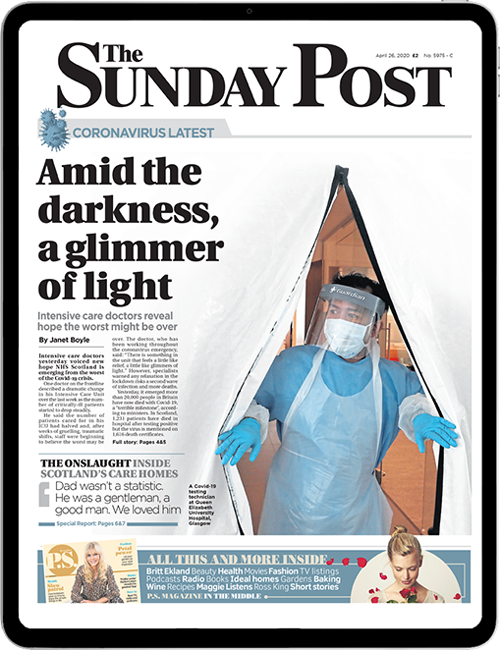 Enjoy the convenience of having The Sunday Post delivered as a digital ePaper straight to your smartphone, tablet or computer.
Subscribe for only £5.49 a month and enjoy all the benefits of the printed paper as a digital replica.
Subscribe