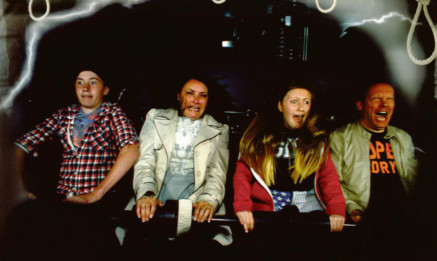 Family favourite is back on track in the fun stakes.
It may be the number one UK destination for Sunday Post readers but I'll admit my memories of visits to Blackpool were more second best. So when my wife Janie told me we were heading there for a weekend break with the children, I was a major grump.
Mind you, I doubt anyone would have noticed as it is pretty much my default position. So with a painted on smile I drove down with visions of jaded attractions and a diet of fast food.
Yet within minutes of our arrival that grimace was replaced with a genuine grin that lasted for three days.
We all had such a laugh from start to finish, although worryingly a fair bit seemed to be more at me than with me.
It started at the bottom of the tower and went uphill from there . . .
We bought the Blackpool Resort Pass (£77.50), offering access to nine attractions and a saving of £55, and opted to explore the Tower Dungeon first.
It's a trip through 1,000 years of Lancashire's gruesome history with frights, special effects and entertaining actors and actresses far too happy to encourage your participation.
My strangled singing to an imaginary bird was personally painful but not quite as amusing as Janie's court room trial for allegedly jiggling her bits in a disorderly manner. Guilty as charged I say.
It was fun and much better than I had imagined, although the Dungeon did have one nasty surprise before we left. I wasn't pregnant and didn't have a dodgy heart (I don't have one at all, some might say, unfairly) and was "roped" into being tried and hung for being a witch.
It's only a wee drop ride but take a look at the picture and yes that is me screaming. Rides, drops and any attractions that look scary are to be avoided.
It's a fear that stems from my first ever rollercoaster at the Glasgow Garden Festival decades ago.
When I queried that my safety bar could move up a few inches my "mate" told me it was broken . . . and we were off.
Terrified and with eyes shut tight I looped the loop while clinging on for grim life.
Back at the Tower we enjoyed the elegant charm of the majestic Ballroom, watching couples dance to the sounds of the famous Wurlitzer organ.
Continuing upwards an impressive 4D cinema experience engulfs you in sights, smells and special effects before you take the lift to the top of the 158m structure.
For the brave there is the glass-floored Skywalk. No fears there for me. I even managed a wee dance to impress Sam, 13, and Lucy, 12, and restore the natural order in the world of parents and impressed children.
And what a view greeted us on a day without a cloud in the sky. The impressive £80m redeveloped seafront and seven miles of golden beaches simply sparkled below. The transformation is remarkable, with impressive sculptures, artwork and lighting.
Directly below the Tower is the fantastic new comedy carpet with every step covered in gags and famous catchphrases. You could spend hours reading them but I quickly found a mother-in-law joke for a postcard picture home!
Next we used our resort pass for Madame Tussauds to strike poses and have fun with the waxworks. It's bigger and better than we expected and we had great fun posting silly Facebook images.
Exhausted but still smiling we jumped on the excellent modern tram service. It's reliable, clean, easy to hop on and off, and the three day travel pass offered fantastic value. Our award-winning boutique hotel, Number One South Beach, was a short walk from the Glitter Ball tram stop and it was nice to leave the car sitting for a few days and have a stress free quick commute to the attractions.
The owners are rightly proud of their VisitBritain Five Star Gold status and that personal touch was apparent from the moment we were warmly greeted on arrival.
The rooms are stylish and individually decorated with all en suites having a whirlpool bath with TV and power showers. The kids were delighted by the plasma TV, free library of DVDs and the hi-tech remote gadget to operate the lights!
For the grown-ups it was more a case of lights out in luxurious comfort.
Breakfast was lovely and initial reservations about pre-ordering the night before were outweighed by the quality. We opted to dine out and enjoyed an excellent dinner at the new Beach House, right on the promenade and the in place to eat.
I grabbed the seat looking out over the sands. Well I have a review to write. Little did I realise the beautiful people were inside. Sam never took his eyes off the Blackpool Wags and unashamedly my wife and daughter spent most of the evening discussing the hot boys! This was really not going to plan.
The next day, to back up my defence that my Dungeon fear had been an act, I led the charge for the gentle rides at Blackpool's Pleasure Beach the ones that young kids think are fast and frightening.
Unfortunately, Sam and Lucy are now of that age when those rides are "boring" and you need to step up as a parent lest they see you for the coward you are.
The Pleasure Beach was clean, family centred and friendly. The move to charge for entrance alone has changed the atmosphere and clientele for the better.
The world's first Wallace & Gromit themed ride is brilliant and the attention to detail impressive.
From there it is all downhill or rather uphill and downhill, fast. I survived the gentle family rides Blue Flyer and the Nickelodeon Streak twice! Once with my eyes open on the way up. However, not to be fooled Sam challenged me to go on something that bit faster and higher.
Cleverly I opted for the Avalanche bobsleigh run as it looked like a flume at the swimming pool, didn't go too high and the worst was being slightly on your side. Forcing Sam to squeeze in front of me in the sled I was jammed in and could close my eyes and he would never know my terror.
Or so I thought. I now know it reaches speeds of up to 50mph as it races down a 1160ft long course. Five seconds into the descent and I was screaming for him to tell me when it was over. Not cool.
What was SO cool was the evening magic show by High Jinx. Great family fun of high quality and well worth catching.
On our final day we explored life beneath the water at the Sea Life centre, home to the biggest crab in the world and more than 50 displays including sharks and rays. And in the afternoon it was off to the impressive Blackpool Zoo with its 1,000 wild residents from turtles to tigers and emus to elephants.
Sadly there was no time to take in the last of the nine resort pass attractions, Sandcastle, the UK's largest indoor waterpark, and the award-winning Model Village and Gardens.
Grimaces all round in genuine disappointment as we realised the fun and laughter had to come to an end. If I was grumpy driving back home I was certainly not alone!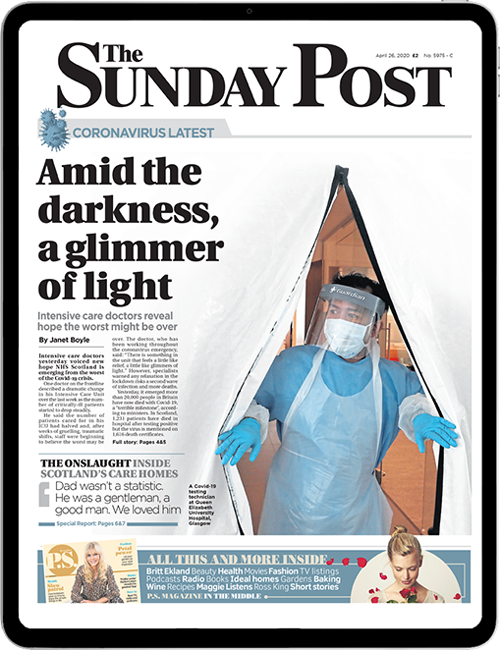 Enjoy the convenience of having The Sunday Post delivered as a digital ePaper straight to your smartphone, tablet or computer.
Subscribe for only £5.49 a month and enjoy all the benefits of the printed paper as a digital replica.
Subscribe