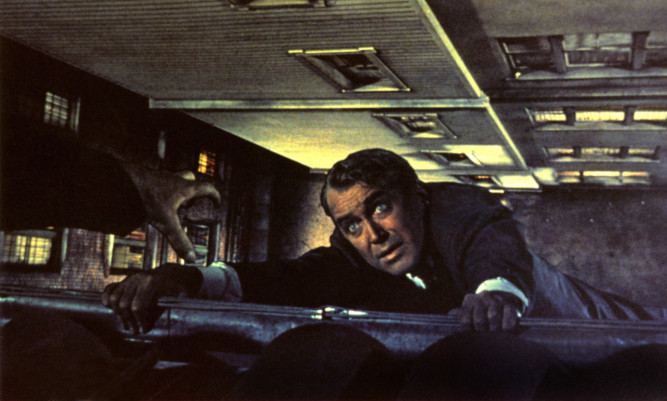 How the Scots-Irish actor hit the heights as a film actor.
For half a century, Citizen Kane was widely regarded as the greatest movie ever made. Until last year, that is, when Vertigo scaled the dizzying heights to be named No 1.
Key to Alfred Hitchcock's classic overtaking Orson Welles's masterpiece is the performance of its star, James Stewart.
The actor had already starred in several iconic films, It's A Wonderful Life, Harvey and Rear Window to name but three, but Vertigo allowed him to display hitherto hidden depths.
Hitchcock's tale played with the audience's assumptions about the central characters, with Stewart seeming to be his usual straight arrow as retired cop Scottie Ferguson, until his growing obsession with Kim Novak sees his life, and our pre-conceptions, unravel.
The film flopped on release in 1958 and much of that was down to cinemagoers reacting against Stewart, whom they'd come to love for his boyish charm, in such a strange, unsympathetic role.
By the time his obsession drives him horribly, believably insane, audiences had decided they didn't like him very much but that was the key to Vertigo's eventual climb to the top of the charts.
If an actor whom everyone loves can make you dislike him, how good must his performance be?
It's hugely ironic that Stewart's greatest role was as a man afraid of heights when his boyhood dream was to be a pilot.
Of Scottish and Irish descent, he wanted to be a US Naval aviator but his father insisted he attend Princeton.
There, as well as excelling at architecture, he became involved in drama societies and through one, became friends with Henry Fonda.
After graduation, the pair lived together in New York, where Stewart gradually built a reputation in various plays before, in 1935, signing on as a contract player with MGM for seven years at $350 a week.
Success didn't come straight away, though, as Hollywood didn't know what to do with his gangling frame and shy, humble screen presence.
His distinctive, slow drawl was also seen as a disadvantage.
He was no one's idea of the classic leading man apart from director Frank Capra, who found the likes of Clark Gable didn't fit the films he was making.
Capra described Stewart as "probably the best actor who's ever hit the screen" and they started a series of films together including the political comedy-drama Mr Smith Goes To Washington that earned the actor his first Oscar nod.
But being from a military family, it came as no surprise that the outbreak of the Second World War saw Stewart keen to serve.
He'd never shaken off his dreams of flying and had held a pilot's licence since 1935.
He was drafted by the Army but failed to meet height and weight requirements. However, after seeking out MGM's trainer for extra gym work, he successfully enlisted in the Army Air Corps to become the first major Hollywood star to wear a uniform.
Soon to be 33, Stewart was almost six years beyond the maximum age for flight training but his status and flying experience swayed the day.
He was assigned to the 703rd Bombardment Squadron, of which he quickly became commander.
His first operation saw him lead his B-24 Liberator bombers against U-boat pens at Kiel, and by the war's end, he'd flown many more than his 20 official combat sorties.
Unusually for stars who served, he remained in the Air Force Reserve, rising to the rank of Brigadier General and even flew as an observer in a B-52 strike against Vietnam in 1966.
After the war, Stewart's first film in five years became one of his best-loved roles as he teamed up with Capra once more for It's A Wonderful Life.
And he followed it up with another hit, playing an eccentric whose best friend is a giant invisible rabbit in Harvey.
Then came four collaborations with Hitchcock and, unlike Vertigo, the second of them, Rear Window, was instantly regarded as a masterpiece.
Stewart played a photographer with a broken leg who thinks he witnesses a murder from his apartment window, though girlfriend Grace Kelly's unimpressed by his voyeurism.
Because his character's confined to a wheelchair, Stewart had to rely on facial expressions and was so brilliant, he became the highest-grossing actor of 1954, replacing John Wayne as the world's most popular star.
For most of the later 50s and 60s, Stewart appeared mainly in Westerns until his career eventually petered out, though he still cropped up in the two decades that followed.
He died in 1997, aged 89, from a heart attack after being diagnosed with inoperable skin cancer and was buried alongside Gloria, his wife of 45 years.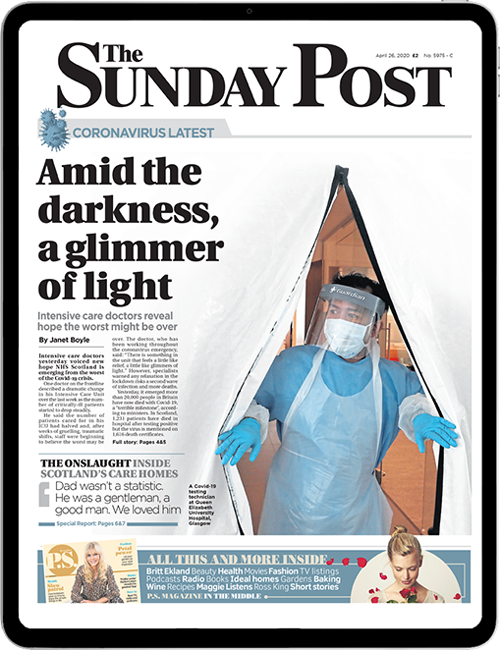 Enjoy the convenience of having The Sunday Post delivered as a digital ePaper straight to your smartphone, tablet or computer.
Subscribe for only £5.49 a month and enjoy all the benefits of the printed paper as a digital replica.
Subscribe