Kia's first cee'd GT helped to change the firm's brand image around through sporty looks and sharp drive. Can the latest model do the same?
What is it?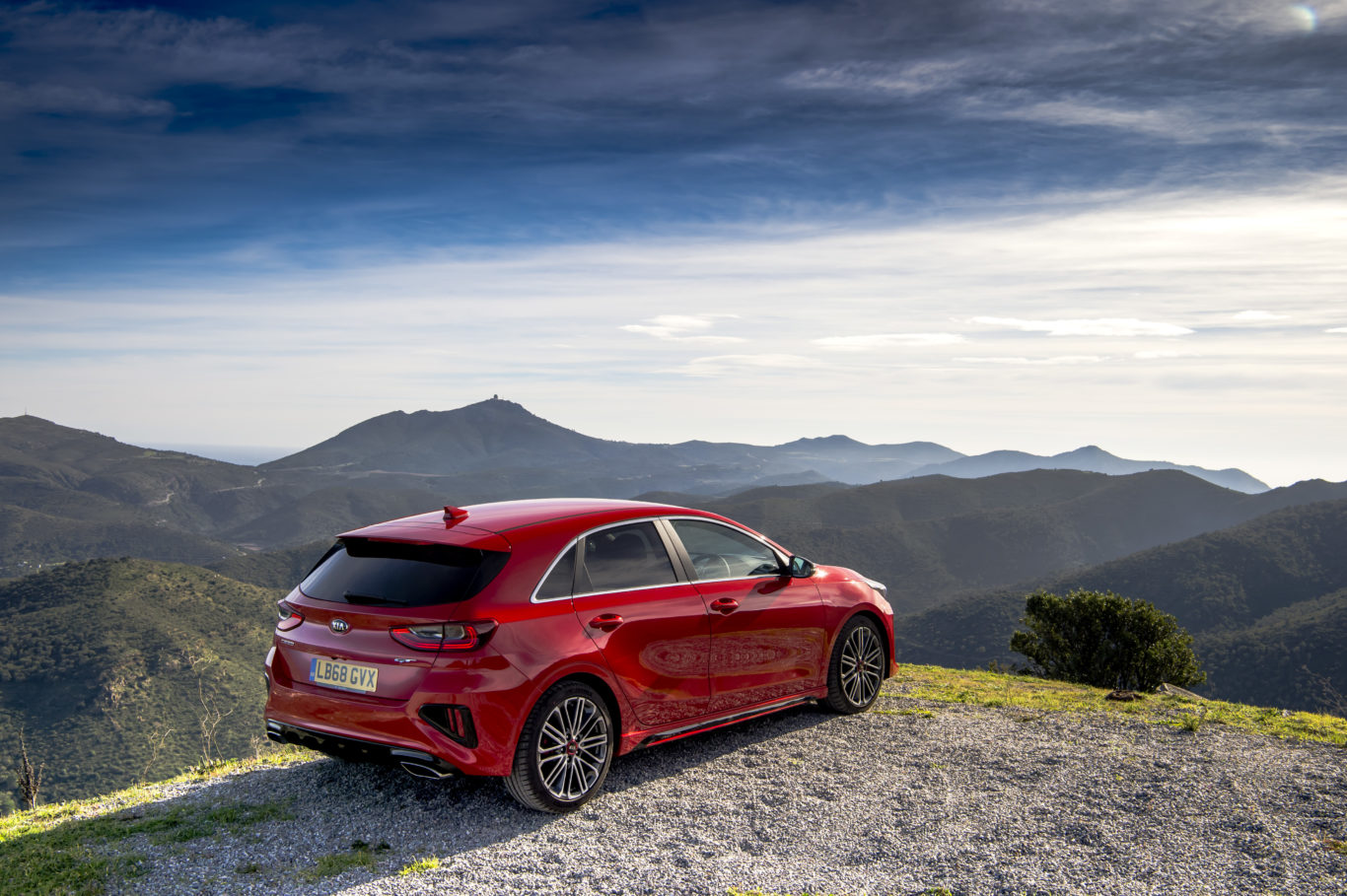 Go back a decade to 2009 and Kia was just starting to make credible mainstream rivals to the likes of Ford and Vauxhall, but its models still lacked flair and excitement.
The launch of the first cee'd GT – Kia's first performance model – helped to show the brand in a different light to buyers and demonstrated that its cars could let their hair down, but not without sacrificing on practicality. Further Kia models, such as the Stinger, have built on these foundations.
The second-generation Ceed GT looks as if it could do the same. It's not a full-blown performance model barking up the same tree as the Volkswagen Golf R and Honda Civic Type R, but a 201bhp hatch that offers buyers usable and easy-to-access performance.
What's new?
The main difference over the standard five-door Ceed hatchback is the GT's 1.6-litre petrol engine, but Kia has ensured there are enough visible changes to make the model stand out from the rest of its range – even if the differences are discreet.
At the front it features larger air intakes, a revised front bumper and gloss black styling details. It also receives 18-inch alloys, while the back end benefits from a rear splitter and a subtle roof spoiler.
As for the cabin, new sports seats and black headlining are additions over the standard Ceed.
What's under the bonnet?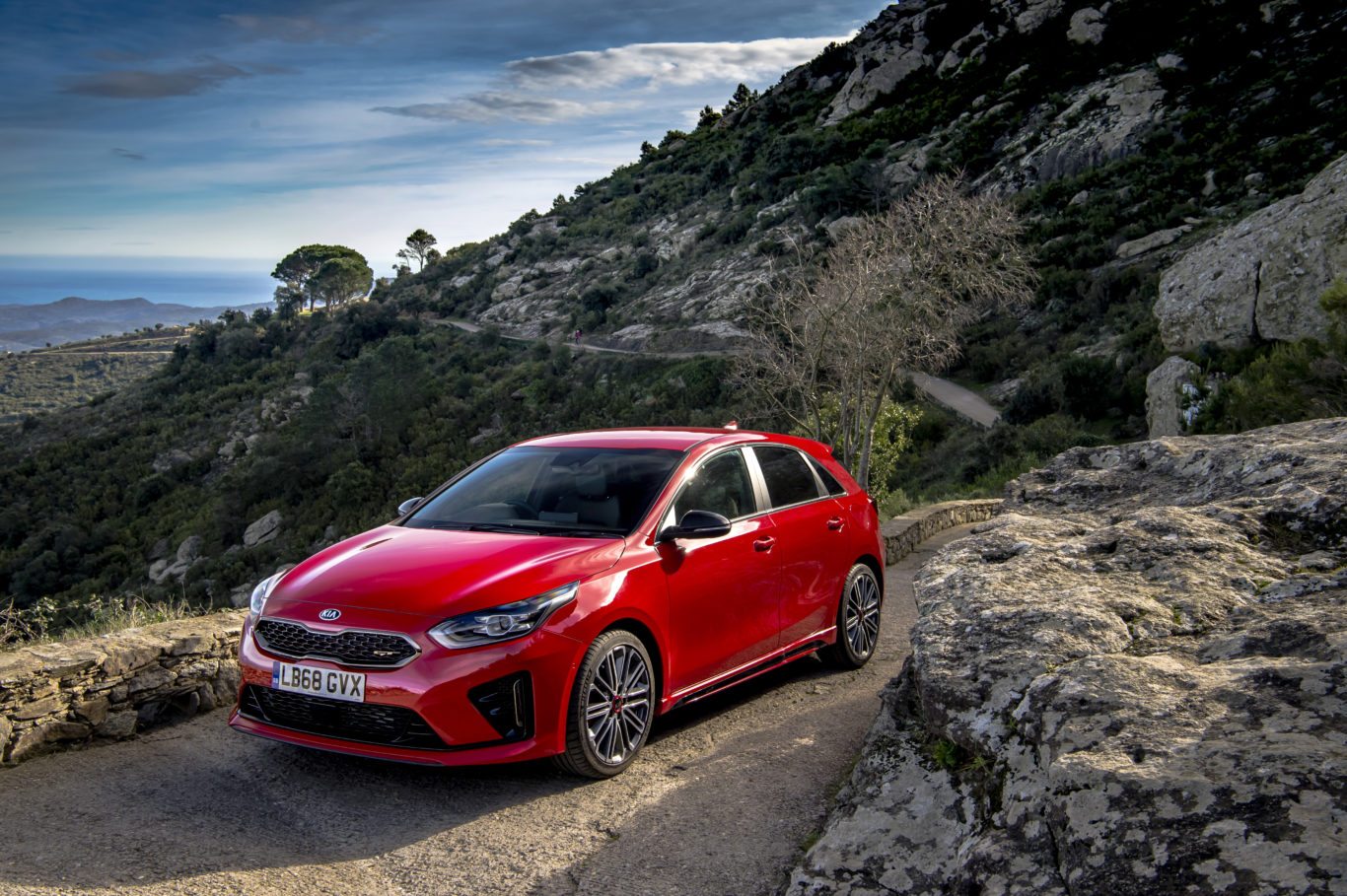 As with the first GT, Kia's kept with a 1.6-litre turbocharged petrol unit on its latest car.
It's a willing engine – producing 201bhp and 265Nm of torque. This makes it Kia's most powerful hatch to date, with power being sent to the front wheels via a six-speed manual transmission. However, it suffers from a bit of turbolag of days gone by, particularly at certain points in the rev range, and it isn't helped by a rather artificial-sounding engine note, which is partly amplified by pumping the noise in through the speakers. On the plus side, the exhaust sounds rather fruity on idle.
As with the last Ceed GT, the new engine remains thirsty. Kia claims a fuel economy figure of 38.2mpg, with CO2 emissions of 155g/km. However, if you want to enjoy the Ceed GT as intended, you'll struggle to see 30mpg.
What's it like to drive?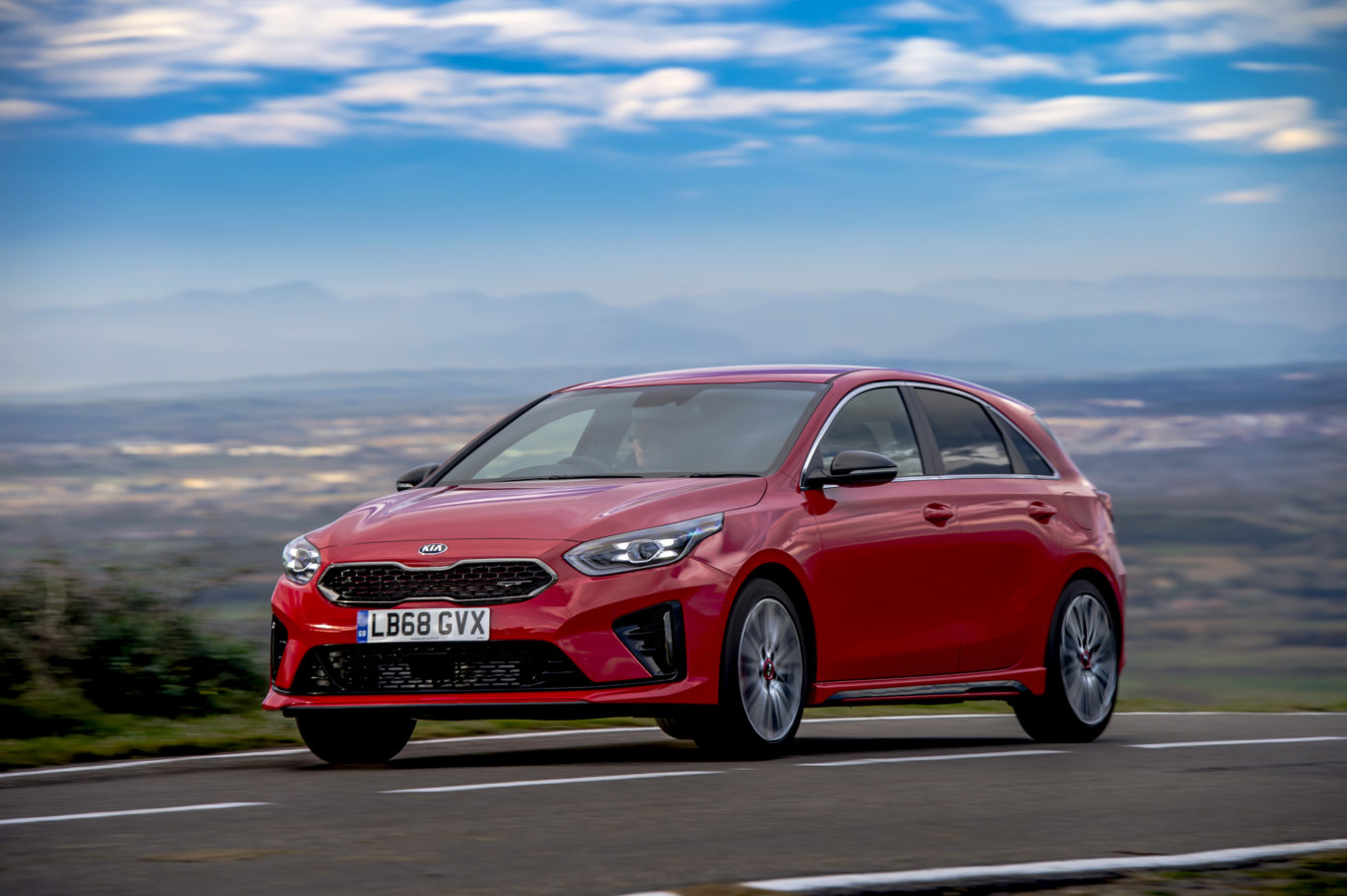 Albert Bierrmann, former head of BMW's 'M' division and now the genius behind Hyundai's 'N' programme has had his team fine-tune the Ceed GT for six months purely for European markets, and the differences are clearly noticeable.
The Ceed GT is more of a warm hatch than a hot one, but it proves that you don't need loads of power to have fun. The GT's stiffer front and rear springs, as well as retuned electronic stability control allows the car to be pushed to its limits, but without ever feeling dangerous or unstable. The Michelin Pilot Sport 4 tyres undoubtedly help the car stay planted to the road, and there's minimal body roll even when cornering hard.
The results favour the 'warm' side of the spectrum (rather than 'hot') but with such accessible performance, and a firm – but not harsh – ride, it's a hatchback that's fantastically easy to live with every day. It's not as focused as hot models from Renault, Hyundai and Honda, but it's a sacrifice some won't mind paying for the extra usability.
And should you spend most of your time commuting on faster roads, the Ceed GT is also an impressive cruiser – munching motorway miles with ease.
How does it look?
The standard Ceed is hardly a model that gets the heart beating, but somehow with just light alterations, Kia's managed to make the GT look rather good.
The revised front bumpers, lower suspension setup and 18-inch alloys help to give the Ceed GT an aggressive stance on the road, but its looks are subdued and not over-the-top with huge wings and air intakes – much like those on the Honda Civic Type R. However, the Ceed's much more toned-down than that car – it's one for those who want thrills, but don't want to brag about it.
Other notable interior highlights include the dark chrome surrounding Kia's trademark tiger-nose front grille, as well as red exterior accents – another subtle way of showing the Ceed GT's talents.
What's it like inside?
Changes to the inside are more subtle than the exterior of the car. The new sports seats are a great addition, with thick bolsters helping you remain fixed in your chair. They are trimmed in a mix of black leather and faux suede, and finished off with red stitching. But other than the seats and black headlining, it's pretty much your normal Ceed interior.
And there's nothing wrong with that. Modern Kia interiors are fantastically ergonomic and also finished off in plenty of soft-touch and hard-wearing plastics. Add in the Ceed's eight-inch touchscreen, which comes with sat nav, Apple CarPlay and Android Auto smartphone connectivity, and there's very little to grumble about here.
Practicality won't be a concern, either, with the GT having no compromise on space over the standard Ceed. This means it offers a good-sized 395-litre boot, and plenty of rear-seat space for adults.
What's the spec like?
While the last Ceed GT was a bit of a performance bargain, the latest car isn't quite the deal it used to be.
It costs from £25,535, which is about £5,000 less than a Volkswagen Golf GTI, but it's only fractionally cheaper than Hyundai's wonderful i30 N hot hatch, which packs a more rewarding driving experience and an extra 46bhp. This is the only thing that makes you doubt the Ceed GT's price…
That said, it does come with a long kit list to help justify its price. Standard features such as LED headlights, heated front seats, a heated steering wheel and a reversing camera make the GT impressively well-kitted out for the money.
Verdict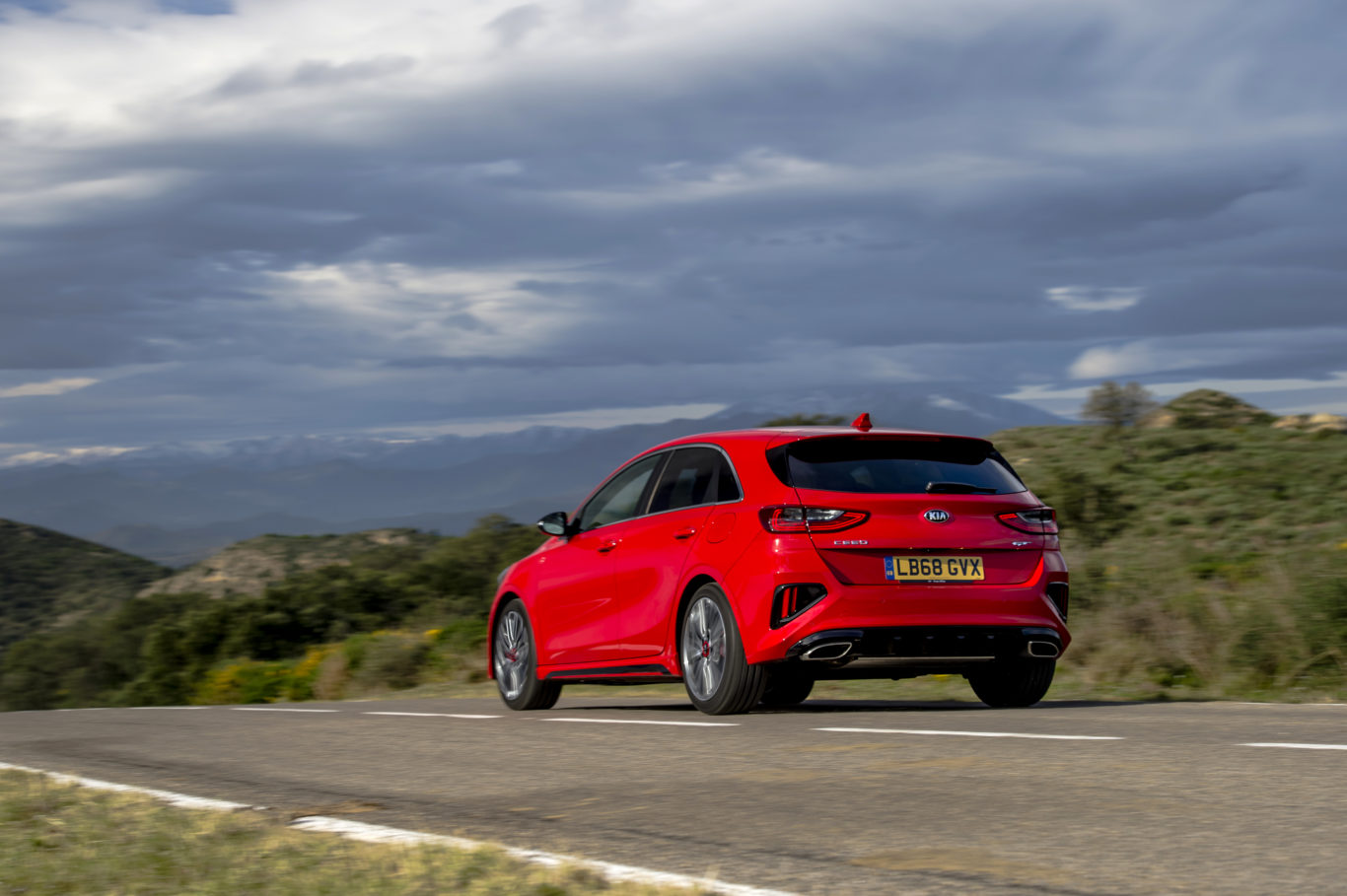 Kia's second-generation performance hatch is a welcome enhancement over the last car. It feels like a far more rounded package – particularly with its excellent chassis and uncompromised practicality.
Those wishing to smash the Nürburgring lap record are better off looking at other options in the hot hatchback class, but for those wanting a subtle sporting hatch with impressive every day usability, the Ceed GT has a lot of appeal.
But we heartily recommend you stop by your local Hyundai dealer to try the near-identically-priced i30 N before putting your deposit down.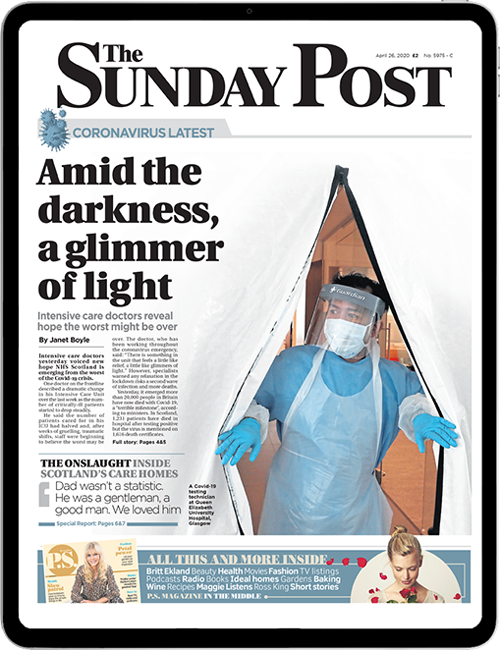 Enjoy the convenience of having The Sunday Post delivered as a digital ePaper straight to your smartphone, tablet or computer.
Subscribe for only £5.49 a month and enjoy all the benefits of the printed paper as a digital replica.
Subscribe