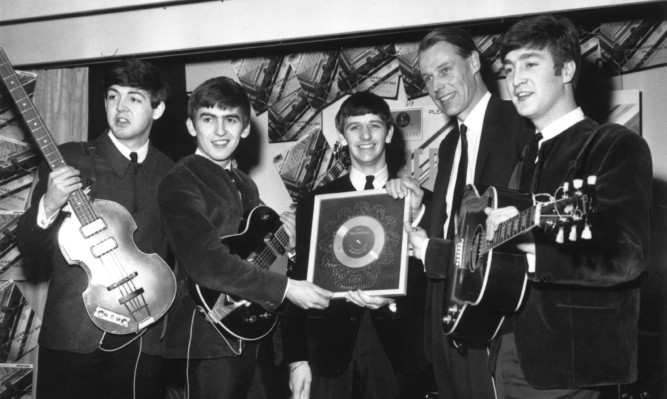 Just as great men often have great women behind them, so music stars achieve nothing without that invisible man in the studio the record producer.
They're often given little or no credit, but when it comes to making an album or single that sells like hotcakes, producers are like an extra member of the group.
Here, we look at 10 of the very best record producers of all time, explain the mysterious job they do, and show why these guys merit inclusion in our Top 10.
Having been experts at getting records into Top 10s all their lives, we reckoned it was high time they got some recognition!
1. Sir George Martin
The young George had served his apprenticeship over many years, studying oboe and piano before working for the BBC's classical music division.
In an era when they really did wear white lab assistants' coats and the machines used to record music looked like huge instruments of torture, he soaked up all they could teach him.
Later, he worked on comedy and novelty albums with Peter Sellers, Spike Milligan and others.
Perhaps working with John, Paul, George and Ringo was a piece of cake after that lot!
If anyone wants to really understand the many jobs a record producer does, there's no better man to study than Martin.
He not only ensured the engineers had their microphones correctly positioned in front of drums, or that the guitars were in tune.
He also suggested how a record should sound, even that lyrics should be altered, or that some songs weren't up to standard.
More than once, The Beatles would record their basic parts and go elsewhere, even on holiday George would be left to play with what they'd done, add parts, arrange for an orchestra to come in and overdub 100 violins, three tubas and a cornet.
Later, he'd take to playing tapes backwards, using recordings of cows, dogs, slowing down pianos until they sounded like nothing on Earth.
It worked, and gave The Beatles a sound the world had never heard, and the posh gentleman at the back was largely responsible!
2. Phil Spector
If George Martin had shown John Lennon everything that was professional and shrewd about producers, his dealings with Phil Spector went rather differently.
The maverick New Yorker now languishing in jail for murder produced a gun in the studio and fled with the master tapes when he worked on Lennon's solo album, Rock 'n' Roll.
He'd previously infuriated Paul McCartney, by adding a string section to The Long And Winding Road during the Let It Be sessions.
It was only in 2003 that Macca finally had all the extra parts removed and re-released the album as Let It Be . . . Naked.
If he caused chaos, Spector's early production work make him a true legend in his field his famous Wall Of Sound was featured on countless hit records.
It got its name because of the sheer number of musicians he used in recording sessions Spector hated the slightest silence, even for a second, on records.
The Crystals, Ike and Tina Turner, The Ronettes, The Righteous Brothers and many others would enjoy fame and fortune because of Spector's eccentric genius.
3. Berry Gordy
When he founded the Motown record label, Berry Gordy was on the path to changing how black singers and groups recorded and how white audiences listened to their music.
One of the most important music names of all time, and still going strong in the business at 84, he came from Detroit, known as Motor City because of its huge car-making industry.
That's how his label got its name, and Gordy would show just as much quality control as the bosses who checked the cars at the production line.
He could tell a hit within a beat, and would often decide this one didn't suit Diana Ross but would be ideal for Smokey Robinson, that would flop with The Four Tops but would be massive for Marvin Gaye.
As hit after hit arrived, it seemed his ears were incapable of making mistakes!
Married three times, he also had a child with Diana Ross, and next time you listen to a Best Of Motown album, remember this guy was responsible for all those wonderful songs!
4. Sam Phillips
If Berry Gordy saw the potential for short, catchy tunes by black artists, Sam Phillips saw the chance to mix black music and white country, and that a certain Elvis was just the man to do it.
But Presley wasn't the only superstar to catch his ear Howlin' Wolf, Carl Perkins, Johnny Cash and Jerry Lee Lewis were all discovered by Phillips.
At Sun Studios, he'd develop the kind of music that would take over the world, and is credited with releasing the first-ever rock 'n' roll record, Rocket 88.
But he had something every great record producer needs, just like the rest of the men on these pages ears that could hear the future, and the sounds that would be popular, before anyone else.
5. Jerry Wexler
Wexler started as a music journalist, and life in the Bronx meant he heard special stars long before they were famous.
Bob Dylan, Led Zeppelin, Dire Straits, Aretha Franklin, Dusty Springfield and many other huge acts would all have classic records produced by Wexler.
One of his secrets was to give his records a bit of thump Wexler was famed for adding as much booming bass as he could.
Asked what he would want on his headstone, he said: "Two words: More bass!"
6. Roy Thomas Baker
Men like Jerry Wexler liked records simple and punchy, but Roy Thomas Baker likes his to have everything, including the kitchen sink!
Born in Hampstead, he was working with Decca Records by the ripe old age of 14, clearly born to make music. T Rex, David Bowie, Frank Zappa and The Rolling Stones would all work with him early on.
It was with Queen, however, that he truly made his mark.
Every established rock star on Earth remembers the first time they heard the Bohemian Rhapsody single and they are still green with envy.
Baker's work resulted in a single that sounded like nothing we'd heard before, with hundreds of voices layered on top of each other, trickery with the guitars, drums and everything else.
Even today, when new technology lets us break it into separate parts to try to work out what he did, we can't!
7. Chris Thomas
The only man who can claim to have worked with The Beatles and the Sex Pistols, Thomas has enjoyed such a long career because he was thrown in at the deep end.
Having written to George Martin, he was invited along to observe the Fabs making The White Album.
Then Martin went on holiday, and left the 22-year-old rookie to complete recordings with the most famous, and demanding, band on Earth!
When someone played a bum note, he halted recording, then feared Lennon or McCartney would fly into a rage with this kid who'd appeared from nowhere.
Chris showed them he was right and George Martin would be pleasantly surprised when he got back!
Everything he touched turned to hits after that, with Chris being responsible for classic albums like Pink Floyd's Dark Side Of The Moon and others from Blur, The Pretenders, Wings, The Human League and many more.
8. Brian Eno
For a man who enjoyed pop stardom despite not having a musical bone in his body, Mr Eno has gone on to enjoy a sensational production career.
Born in Suffolk in 1968, we just have to tell you Brian's full name for you to see he is a bit different it's Brian Peter George St John le Baptiste de la Salle Eno.
In his days as a pop star, he fiddled with a strange-looking synthesiser as part of Roxy Music.
As a producer, he's taken superstars such as Talking Heads, Coldplay, U2, David Bowie and others, and mangled their usual signature sound.
The way he treats other people's music would scare the living daylights out of some, but he got them massive bestsellers with the unique Eno treatment!
9. Joe Meek
In Joe's day, they'd have said he was as maverick and eccentric as Eno, but Meek, too, changed the very sound of music.
He was only 37 when he died in 1967, but the man who brought us Telstar by The Tornados and Cumberland Gap by Lonnie Donegan really made his mark.
Having worked for the Electricity Board, all manner of gadgets and gizmos fascinated Joe.
He was one of the first to plug a bass straight into the recording console, to throw tons of echo on the vocals, to distort guitars, and he made his own devices, too.
But he was a disturbed man, obsessed with death, who would record in cemeteries at night to capture the "voices of the dead". He took his own life, after shooting his landlady.
10. Brian Wilson
The leader of The Beach Boys, Brian Wilson, another maverick genius, would also have his emotional troubles to deal with.
Wilson, a masterful singer and songwriter, also played multiple instruments, but was fixated on his competition with The Beatles.
When their Rubber Soul album came out, he made himself ill trying to make a Beach Boys album similar but better.
The result, Pet Sounds, was a glorious record, an all-time classic.
But those pesky Scousers came back with Sgt Pepper's Lonely Hearts Club Band.
There were stories that he had a pool filled with sand in his living-room, so he could have the authentic beach feel for writing his famed surfing songs.
But, as the dogs made a mess, and the sand got everywhere, Brian's life would unravel and he would get seriously ill.
Thankfully, these days he is fine again, aged 72, and is justly seen as one of the best producers ever.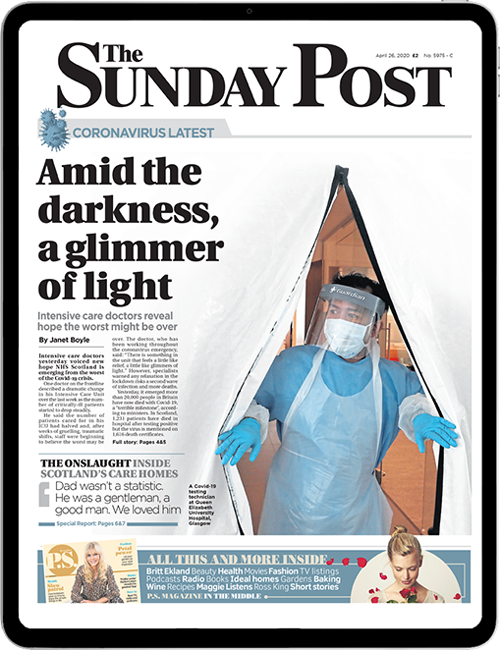 Enjoy the convenience of having The Sunday Post delivered as a digital ePaper straight to your smartphone, tablet or computer.
Subscribe for only £5.49 a month and enjoy all the benefits of the printed paper as a digital replica.
Subscribe