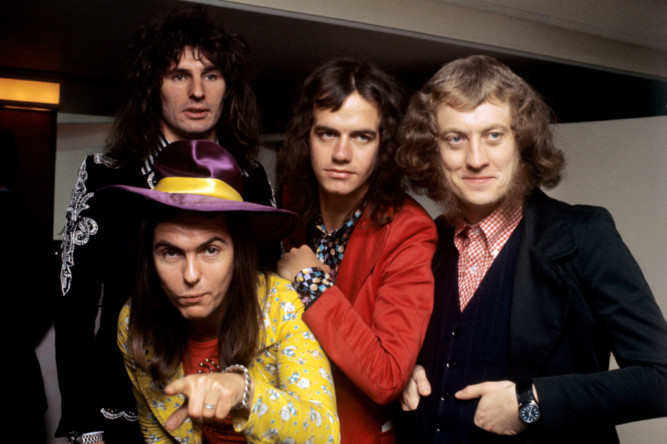 At their peak, Slade's music blasted out of every house in Britain but Dave Hill is still finding new fans in the strangest of places.
With his Yob 1 number plate on his car and his Super Yob guitar, Dave was the main man behind the band, who had a skinhead image in their early days.
Once they shed that image for a rough 'n' ready version of Glam Rock, Top Of The Pops wasn't the same without Mr Hill appearing in his latest bizarre outfit, playing an equally bizarre-looking guitar.
Slade enjoyed an incredible 25 hits in the UK, including six No 1s.
"That was something I loved about doing Top Of The Pops," recalls the 67-year-old, still going strong with the group. "I'd go in the toilet to put on my latest gear, and the band always fell about in hysterics when I appeared in it!
"At times during those days, with all those hits and even a film, Slade In Flame, it was almost like you couldn't put on the radio, telly or open a paper without seeing us there.
"I have to tell you, I loved every minute of it. I am very, very proud of what Slade did, and part of that was the mad costumes, hairstyles and guitars.
"We had big fans, you know John Lennon said he loved us, because he thought our singer, Noddy Holder, sounded just like him, and he was right.
"Paul McCartney came along to the studio, which was of course very scary, and Ringo Starr came to our concerts.
"I'd be lying if I said we weren't competitive, all the big bands at that time. The Sweet, Wizzard, Mud, all of them we got on because we respected each other, but it was very competitive.
"We'd all grown up with Hank Marvin, Chuck Berry, The Beatles, so we all became very good at writing catchy two-minute, three-minute pop songs."
Slade's fan base, however, spreads much, much farther than the British Isles. They have always had huge support in Scandinavia, Germany and elsewhere, but it was many year before Dave was alerted to the Russian Connection.
"We're just back from St Petersburg, which was absolutely incredible, a beautiful place," he reveals, "and they really love us there.
"They took us to a restaurant, which was also a Museum of Vodka you get this tour, and the bar has a Top 20 Vodkas Chart. I only knew Smirnoff, and most Brits would only last 10 minutes in that place!
"In fact, we have also played in Moscow, Novosibirsk 40 degrees below zero and even Vladivostok, which is kind of last stop before Japan.
"It was so polluted, you had to wear masks, but it's interesting to see places you would never have visited otherwise."
A music festival coming up has him excited, but as Dave explains, he's been to every kind of destination in his amazing career.
"We're really looking forward to the Whitehaven Festival in Cumbria," admits Devon-born Dave. "Last time, we went farther north up to Aberdeen, Glasgow and Dundee, and I took my wife as she'd never been to Scotland.
"I love the East Coast of Scotland, Arbroath and all those places. Farther up, Wick, Inverness, they were all places we used to drive to from Wolverhampton, back in the days long before we were famous.
"As Noddy and I were the only two who could drive, it was quite a trip, but those were the days!
"When I saw the guitar I wanted as a young lad in a London shop, the guy told me to come back with the money and it was mine we didn't have credit cards back then.
"I took the train all the way home, persuaded my dad to come and get me it, and I have it to this day. I call it Dad's Guitar, and it's too precious now for me to take out."
More amazing concerts are coming up, in far-flung corners, and Dave admits he can't wait.
"We've got Brazil coming up soon, which is another first for us. And I loved when we went to the Falklands," he adds.
But while the majority of their gigs are still enjoyable for the band, one went quickly downhill after Dave had a stroke mid-song in Germany, and kept playing.
"We were in full swing when everything suddenly went very strange," says Dave.
"I could see that messages from my brain weren't getting to my hand fast enough, and it must have sounded like the guitarist had had too much to drink, but I kept playing.
"After the set, they rushed me to hospital for scans and told me I'd had a stroke. Fortunately, we got the results quickly.
"It affected my left hand I am left-handed, so I had to learn again.
"I thought it was all over, lying there staring at the ceiling, unable to sleep. I felt my gift had gone.
"Maybe I was afraid to touch a guitar, but I thought the piano would help my fingers, and I believe music saved me. Bit by bit, I got it all back."
l The Whitehaven Festival takes place on June 21-23, with free entry to most attractions. Concert tickets will be various prices for Slade, McFly, The Sweet, Bay City Rollers and others.
For further info, see www. thewhitehavenfestival.co.uk more info.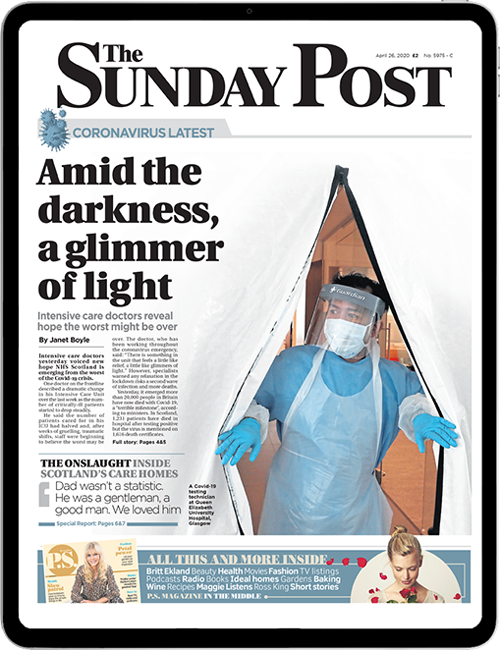 Enjoy the convenience of having The Sunday Post delivered as a digital ePaper straight to your smartphone, tablet or computer.
Subscribe for only £5.49 a month and enjoy all the benefits of the printed paper as a digital replica.
Subscribe