ONE person dies of lung disease and five more are diagnosed with the condition every five minutes in the UK, according to a new report.
Three of the UK's top six killer diseases are lung conditions – chronic obstructive pulmonary disease, pneumonia and lung cancer – but it is poorly understood and underfunded, said the study from the British Lung Foundation (BLF).
It argued that the impact on the NHS of lung disease, which also includes conditions such as asthma and cystic fibrosis, is equal to or even greater than the impact of cardiovascular disease.
Furthermore, lung disease results in more than 700,000 hospital admissions and six million hospital bed days every year – only cardiovascular disease counts for more.
The report – The Battle For Breath: The Impact Of Lung Disease In The UK – said the number of people dying from lung disease has barely changed in the last 10 years.
Lung disease kills around 115,000 people every year in the UK and around 550,000 people are diagnosed with it.
Only three European countries – Denmark, Romania and Hungary – have higher death rates from lung disease than the UK, the report said.
Dr Penny Woods, chief executive of the BLF, said: "Our report shows that lung disease, alongside cancer and cardiovascular disease, is one of the biggest burdens on UK health services, and one of this country's big three killers.
"Yet a systemic neglect of lung disease, from NHS structures to screening, data collection and research funding, means people affected are being left behind by UK healthcare institutions.
"The number of people dying of lung disease is still as high as it was a decade ago. Without a clear strategy for tackling lung disease, I fear that we will be sat here in 10 years' time regretting yet another decade without sufficient progress.
"For everyone currently living with lung disease, and the millions yet to be diagnosed, that would be a real tragedy."
Professor Stephen Holgate, Royal College of Physician's (RCP) special adviser on air quality, said: "Many lung diseases are preventable and treatable, but for reasons that are still not understood, lung disease has never received the attention it deserves.
"The RCP has recently highlighted the importance of indoor and outdoor air pollution as a cross-cutting issue that either increases the risk of acquiring a range of lung diseases such as asthma, COPD and cancer or makes their disease worse.
"The RCP agrees that urgent action to prevent lung disease is needed and a good start would be joined-up action to clean up the air we breathe."
The report calls for an overhaul of services, including establishing a taskforce for lung health, the creation of an NHS clinical network for lung disease (networks already exist for cancer and cardiovascular disease), better data collection and for lung health to be included in the NHS Health Check.
Dr Lisa Davies, chairwoman of the British Thoracic Society's executive committee, backed the report, saying: "'This report is yet another wake-up call for politicians and policy makers to 'get a grip' of the problem and prioritise plans and investment to improve the nation's lung health.
"The millions of people living with lung disease in the UK deserve nothing less."
---
READ MORE
Dear Mr Recipient: The three most precious words lung transplant patient ever received
I've spent half my life with cancer but I don't let it worry me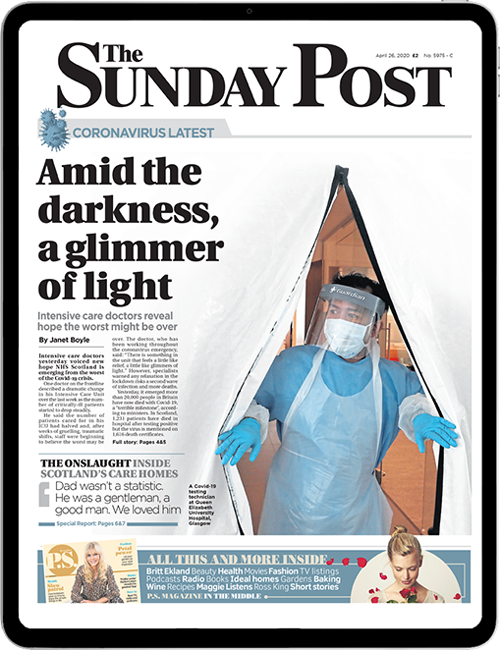 Enjoy the convenience of having The Sunday Post delivered as a digital ePaper straight to your smartphone, tablet or computer.
Subscribe for only £5.49 a month and enjoy all the benefits of the printed paper as a digital replica.
Subscribe