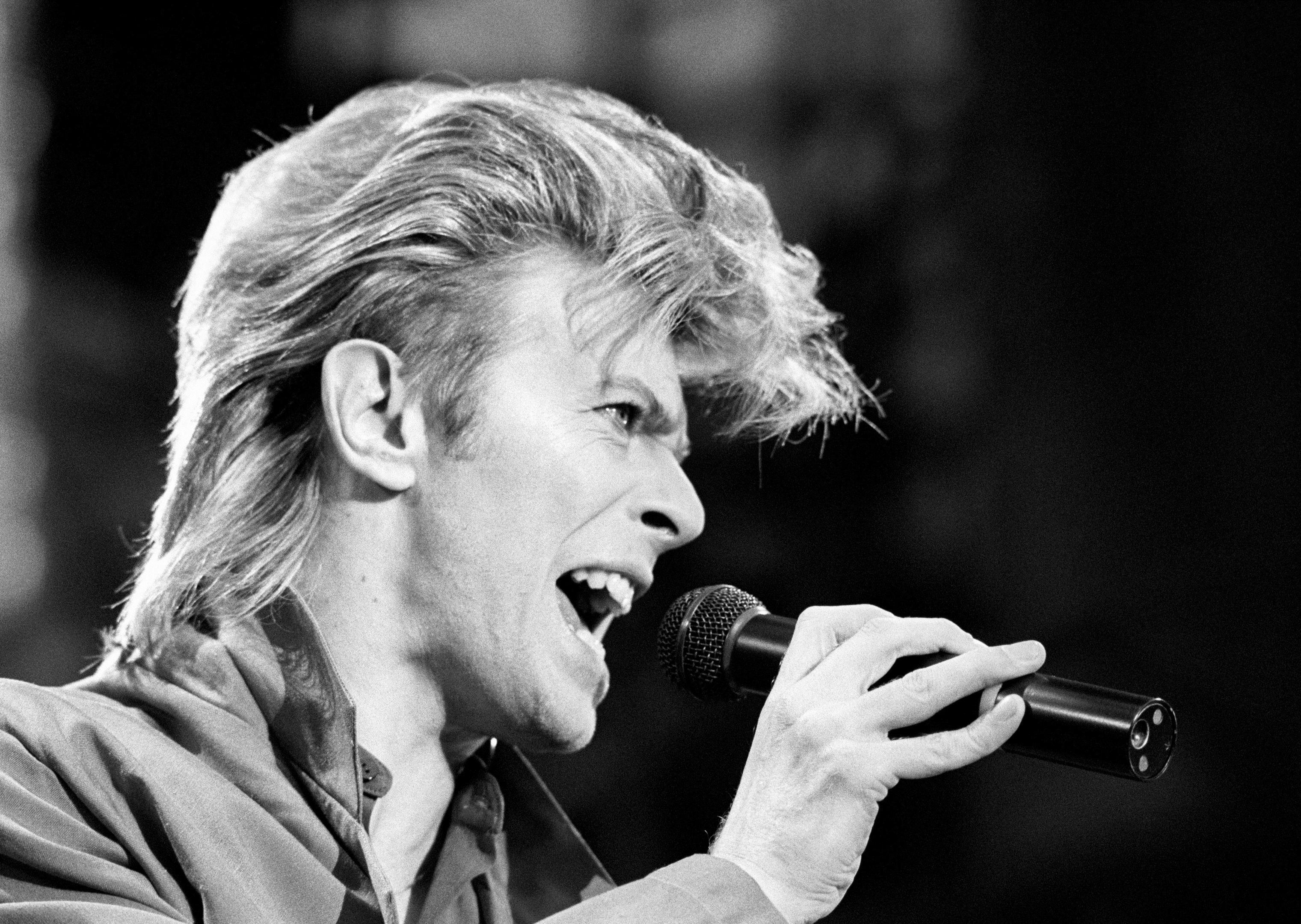 THE LAUGHING GNOME (1967)
WHEN Bowie had the smart idea of inviting fans to choose the songs for his 1990 tour, his worst fears came true.
Given such a chance, they asked en masse for The Laughing Gnome!
A throwaway joke song from his early days, with speeded-up gnome voices and terrible puns, serious artist David often wishes he could change the past and bury it in a garden somewhere.
"It's the Gnome Service!", "Haven't you got a gnome to go to?", "The gnome office", "You look like a rolling gnome" . . . no, it wasn't his best work.
And no, he definitely didn't please his fans and perform it.
SPACE ODDITY (1969)
https://www.youtube.com/watch?v=cYMCLz5PQVw
TONY VISCONTI, who produced Bowie's first proper album, hated this, thought it was a novelty song, and let someone else produce it.
Now, 45 years on, Tony admits it is rather good and he does feel a bit embarrassed.
Songwriters were in a race to pen the first ditty about the then-sensational Space Race, but it was Bowie who got there first and gave it a dramatic twist.
His astronaut, Major Tom, finds his spaceship goes a bit wonky, and he is left up there, in his "Tin can", spinning around the planets for all time.
---
READ MORE
Tributes paid to 'extraordinary' David Bowie after legendary musician dies aged 69
Life in the 70s with a music legend by David Bowie's drummer Woody Woodmansey
---
GOD KNOWS I'M GOOD (1969)
A TOUCHING, almost-unknown track from his Space Oddity album, this is all about a little old lady caught shoplifting.
"A woman hot with worry slyly slipped a tin of stewing steak, into the paper bag at her side," it goes, and it showed Bowie's talent for observing life around him.
He doesn't often talk about The Beatles, but Bowie loved their vivid lyrics, and even did a strange song called Please Mr Gravedigger, complete with rain and thunder.
Very Eleanor Rigby, as was this one, about a lonely woman's unhappy life.
ANDY WARHOL (1971)
STILL starstruck, Bowie was thrilled to meet the maverick artist in New York, and the first thing he did was to play him this song.
Warhol hated it from the first note, eventually shaking his head and walking out of the room, leaving David on the verge of tears.
Another version of this tale says Warhol was mortified, as he thought it was making a fool of him. He stared at Bowie for a while, muttered: "I like your shoes", and then walked out.
Either way, it's said he eventually came to appreciate it, and it is a big part of Hunky Dory, one of the all-time classic Bowie albums.
THE BEWLAY BROTHERS (1971)
THROUGH most of his career, much has been made of Bowie's stepbrother, Terry, who'd suffered with mental illness and was in and out of institutions, eventually throwing himself under a train in 1985.
A schizophrenic, Terry had described hallucinations to David, who never forgot the vivid images he heard about.
Bowie has often said, half-seriously, that madness runs in the family, and at times he has drifted dangerously close to it himself, especially in the late 1970s.
At that time, he was reading about Hitler, the Holy Grail, Black Magick and all sorts of dark stuff, but he never wrote anything quite as disturbing as this song.
ZIGGY STARDUST (1972)
ZIGGY was based on The Legendary Stardust Cowboy, an eccentric Texan singer, and Vince Taylor, an English singer who fell to drug abuse after a short and wild career.
This song, the album it was on and the tours that followed, would finally make Bowie a household name, but Ziggy also took over his life.
Bowie has often admitted that he took to playing the part of him not just on stage, but off, too, and at times lost touch with himself.
1984 (1974)
BOWIE had big ideas about a musical version of George Orwell's classic book, but the writer's widow, Sonia, had other ideas.
The singer had written enough material for a whole album about Big Brother, Newspeak and the many horrors of the anti-totalitarian bestselling novel.
However, Mrs Orwell was deeply protective of her late husband's estate, and refused to have any Bowie connections.
As David had even built a miniature city to make a film to go with the tunes, he must have been disappointed, but his Diamond Dogs album, with this song, one called Big Brother and another called We Are The Dead all featured references to the book.
FAME (1975)
BOWIE shared something with John Lennon — both men liked people to love their work, but hated the pressure that goes with it.
He was larking around with the former Beatle, playing a repetitive melody, and noticed Lennon shouting a single word now and then.
When Lennon explained it was "Fame", they started to put this song together, which ironically brought Bowie many new fans.
"HEROES" (1977)
https://www.youtube.com/watch?v=Tgcc5V9Hu3g
RECORDING beside the Berlin Wall, our hero looked out the window, saw a couple talking intimately, and came up with this song.
It has become a real Bowie blockbuster, about the lovers daring to meet by the Wall during the Cold War.
Trouble was, the couple he spotted were his producer, Tony Visconti, and a lady involved with the "Heroes" album.
And she wasn't Mary Hopkin, of Those Were The Days fame, and Tony's then wife!
By the way, "Heroes" gets the quotation marks because they are ironic heroes. Bowie liked the idea, but knew there was nothing romantic about the Berlin Wall.
ASHES TO ASHES (1980)
https://www.youtube.com/watch?v=CMThz7eQ6K0
THERE aren't many stars who get away with writing a song about a character from another of their songs.
The Beatles line "I told you 'bout Strawberry Fields" is one, and Ashes To Ashes saw Bowie bringing us an update on his astronaut lost in space 11 years earlier.
Alas, Major Tom is now a junkie, and Bowie's video for the song saw him singing from inside a padded cell.
It gave Bowie another No 1 hit.
---
What's your favourite Bowie song? Let us know in the comments below or Tweet @sunday_post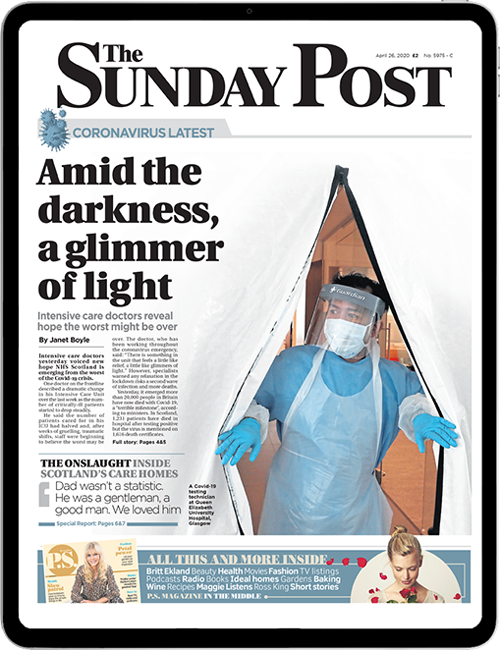 Enjoy the convenience of having The Sunday Post delivered as a digital ePaper straight to your smartphone, tablet or computer.
Subscribe for only £5.49 a month and enjoy all the benefits of the printed paper as a digital replica.
Subscribe