No more so than on Monday night when Leicester City FC were crowned the English Premier League Champions.
A monumental sporting achievement that will never be forgotten.
In achieving the impossible they have surprised, shocked and shaken the footballing world to its boots, becoming a global sensation in doing so.
Surprise, surprise also for those plucky Leicester investors who had taken the 5,000-1 odds at the start of the season and who could now celebrate in style.
What a nerve-jangling season they must have endured.
Outside football other more serious and notable surprises worth mentioning must be the breakthrough in breast cancer treatment – a "milestone" genetic discovery from UK scientists mapping the genes linked to the disease.
It's a ground-breaking development that suggests a cure for this terrible waster of life, and other cancers, is maybe not that far away. We can but hope.
Across the pond there were also a couple of surprises worth mentioning.
First, the famous explorer Captain James Cook's equally famous sailing ship The Endeavour, scuttled off the US coast in 1778, was located.
I'll be surprised if there's still a bounty worth claiming on this old relic though, given the passage of time. It might have to be settled in a kangaroo court! Arf arf!
Then there was the not altogether welcome news that Donald Trump had all but won the bitter battle to become the Republican presidential candidate.
Over here the news that many of our greasy ex MPs and Cabinet ministers had plum positions in the sectors that they were in charge of when in office didn't come as a surprise.
What did, though, was that someone has actually employed former treasury minister and Lib Dummy Danny Alexander. That was a shocker!
His new position is in Beijing and he is busy learning Mandarin. That should be no problem to a man who always seemed to talk in indecipherable language and who apparently made his calculations on a Ming dynasty abacus.
What also came as no surprise was the result of Thursday's Scottish Government Election.
Led by a confident and assured FM Nicola Sturgeon, the SNP again trounced the opposition, winning a record and historic third term in government, but just falling short of an overall majority.
Which I suppose is not a bad thing.
The surprise here was just how badly Scottish Labour fared on the night – and in equal measure just how well the Tories did.
Scottish Labour under Kezia Dugdale must get their act together or they will face extinction.
As for Ruth Davidson's revived Scottish Tories, to suggest that a nasty party responsible for causing so much damage and misery across not only Scotland but the UK could ever hold the SNP to account is quite frankly laughable.
The Lib-Dums? Well, moving on!
I don't know about you, but I'm sick of the sight of them all.
They never seem to be off our screens with the same old, same old.
And to think we have to see and hear from them all again before the Euro referendum is giving me the heebie-jeebies. It's like a political groundhog day.
Couldn't they all just go away for a few years and gie us peace?
Now that really would be a very welcome surprise!
---
READ MORE
Donald MacLeod: I loved my trip to the jungle don't get me out of here!
Donald MacLeod remembers Prince's impromptu gig at The Garage in Glasgow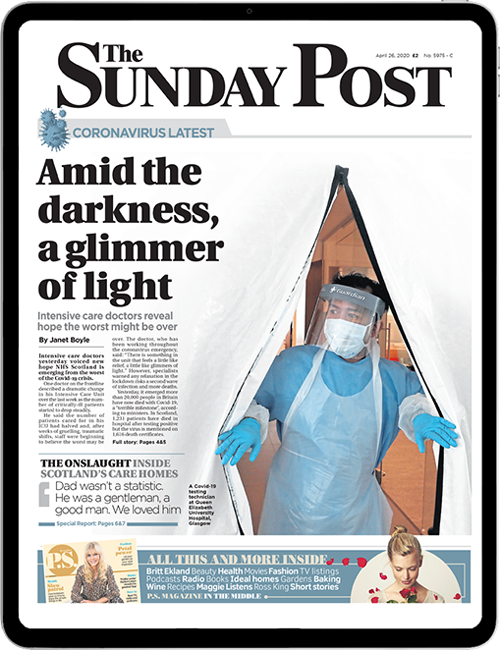 Enjoy the convenience of having The Sunday Post delivered as a digital ePaper straight to your smartphone, tablet or computer.
Subscribe for only £5.49 a month and enjoy all the benefits of the printed paper as a digital replica.
Subscribe