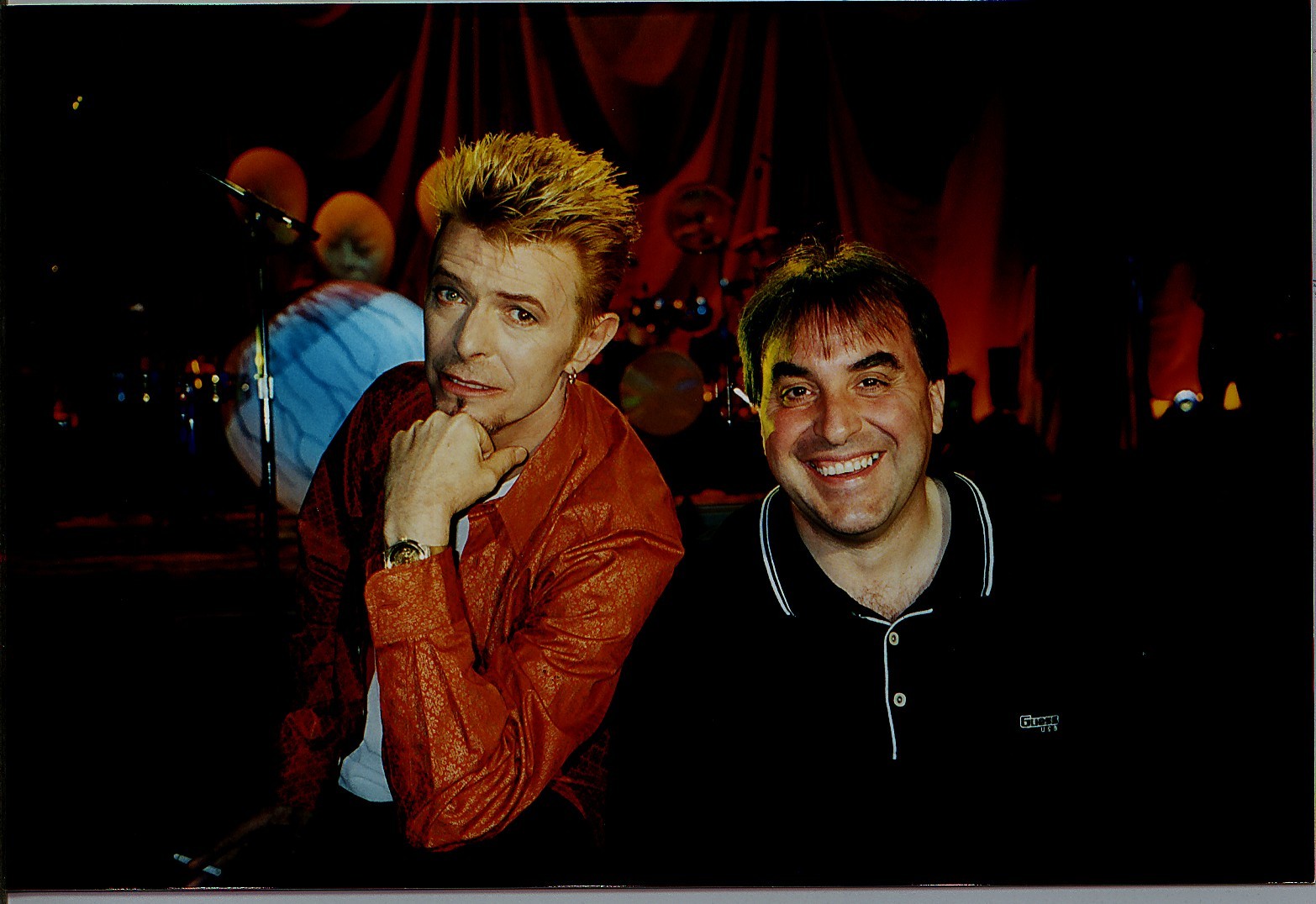 I'LL never forget the magic moment Ziggy Stardust burst through the door and fell into my arms.
The date was May 18, 1973. The location, Green's Playhouse, soon to become the now legendary Glasgow Apollo.
And the occasion … a stunning performance by David Bowie, who within weeks would shock fans by killing off his most famous pop alter ego.
Back then, I was a 16-year-old music fan who'd landed his dream job as a security man at the venue.
I didn't get paid. But who needs money when a coveted "Steward" armband was a golden ticket to every gig staged there?
Bowie arrived at the stage door to perform two gigs – a matinee and evening show – as part of the historic tour which made him a superstar.
When his limo pulled up, real bouncers battled with hysterical fans to clear him a path inside.
Bowie looked like an alien from outer space with his flame-red Ziggy hairstyle.
He asked me to escort him to his dressing room, a cramped cellar beneath the stage.
But as soon as I stepped inside it was like going into another world.
His vast array of costumes including the flowing kimono, silk tunic and knitted bodysuit – created by top Japanese fashion designer Kensai Yamamoto – were laid out ready to be fitted.
Bowie quizzed me about the notoriously tough Glasgow audience and seemed genuinely worried how he was going to escape from 3,500 adoring fans after the concert.
He thanked me for my help, scribbled his autograph on a scrap of paper then excused himself to prepare for the show.
Little did I know I'd meet Bowie again 10 years later when he was one of the biggest stars in rock.
By then, I'd become a music writer and I interviewed him at Murrayfield Stadium in Edinburgh before a gig for 45,000 fans during his Serious Moonlight tour.
He looked incredible with his Princess Diana-style bleached blond hair and blue suit which became his trademark around the release of the Let's Dance album.
Bowie talked about the pressures of stardom and why he was happy to be himself after portraying other characters such as Aladdin Sane and The Thin White Duke.
It would be the first of seven interviews with him over the years and I became the Scottish journalist he knew best.
Meeting Bowie was never dull. Despite being surrounded by over-protective managers and fussing flunkies he was always remarkably down-to-earth.
Bowie was always full of surprises, too.
In 1990, fans were asked to vote for their favourite Bowie hits and he pledged to perform the most popular selections on his Sound And Vision tour.
But when I caught up with him at Ingliston Exhibition Centre in Edinburgh, he joked there was no way he'd play his embarrassing 1967 novelty hit, The Laughing Gnome, which had topped one poll.
The previous year, Bowie had confounded critics and fans with his new heavy metal band, Tin Machine.
They played venues off the beaten track including The Forum in Livingston, but opinion was split with many punters saying his new sound made their ears bleed.
In 1991, I visited Bowie in Dublin as the group rehearsed at Factory Studios.
He brushed criticism aside and said he'd been working out to get in shape for a gig at Barrowland in Glasgow a few weeks later.
During the show, the then 43-year-old Bowie stripped off to reveal a muscle-bound torso.
I interviewed him for a fourth time at the SECC in Glasgow in 1995, a show surrounded in controversy.
The previous night, at Aberdeen Exhibition Centre, his special guest Morrissey, a lifelong Bowie fan, had gone AWOL after the gig.
The ex-Smiths' singer claimed that he was ill and his absence really left the superstar in the lurch.
In a TV interview, I quizzed Bowie about Mozz's "vanishing act" but he skilfully avoided saying anything incriminating.
However, after the camera crew had packed away their equipment, his PR guy took me aside and asked me to interview him a second time so he could set the record straight.
Ever the professional, Bowie said he hoped Morrissey returned to good health and hoped to work with him again.
But I could sense he was seething.
I met him again in 1997, at Brixton Academy in London, to preview another gig at Barrowland on his Earthling tour.
I told him I was a collector of Bowie memorabilia.
He revealed he had all his hand-written lyrics, costumes and props safely stowed away.
The singer broke box office records when he staged David Bowie Is, an exhibition of those artefacts at the Victoria and Albert Museum in London in 2013.
At Barrowland, Bowie autographed my poster from his appearance as The Elephant Man on Broadway.
I was stunned when he revealed he'd gone for a stroll with his beautiful Somalian supermodel wife, Iman, in the city's west end.
The couple took advantage of the summer sunshine to relax in the Botanic Gardens after buying two cones from an ice cream van outside the gates.
They even walked past my house. I later discovered my neighbour had spotted him but couldn't believe David Bowie was in our street so didn't give him a second glance.
I became the last Scottish journalist to interview Bowie when I talked twice with the great man before he played the SECC in 2003.
He was promoting his album, Reality, whose song lyrics were peppered with references to New York.
I asked how he felt when his adopted home had come under attack during the 9/11 terrorist atrocities.
On the fateful day, Bowie was recording in upstate New York and couldn't believe his eyes when he watched TV footage of the first plane hitting the World Trade Center.
He frantically phoned Iman in their Manhattan loft apartment, whose kitchen window overlooked the Twin Towers, and told her to grab their baby daughter, Alexandria and evacuate immediately.
During the SECC show, a fight broke out near the stage.
"Only in Glasgow," joked Bowie later.
He was also delighted to have signed up to star at T In The Park the following summer. Sadly, it was not to be.
After suffering a heart attack in Prague in 2004, ill health forced Bowie to retreat from public life.
So I never got to interview him or see him play live again.
But Bowie has left me with fond memories, a cupboard full of precious pop memorabilia and some of the greatest albums ever recorded.
To paraphrase his classic 1972 hit: There's a star man waiting in the sky/I'm glad he came to meet us . . . cause he really blew our min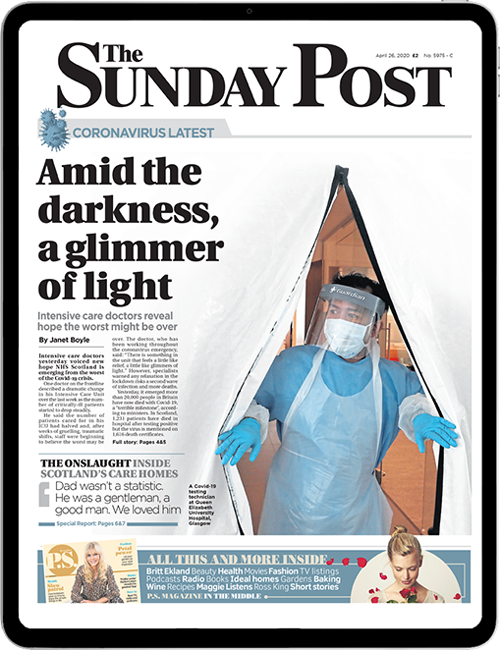 Enjoy the convenience of having The Sunday Post delivered as a digital ePaper straight to your smartphone, tablet or computer.
Subscribe for only £5.49 a month and enjoy all the benefits of the printed paper as a digital replica.
Subscribe