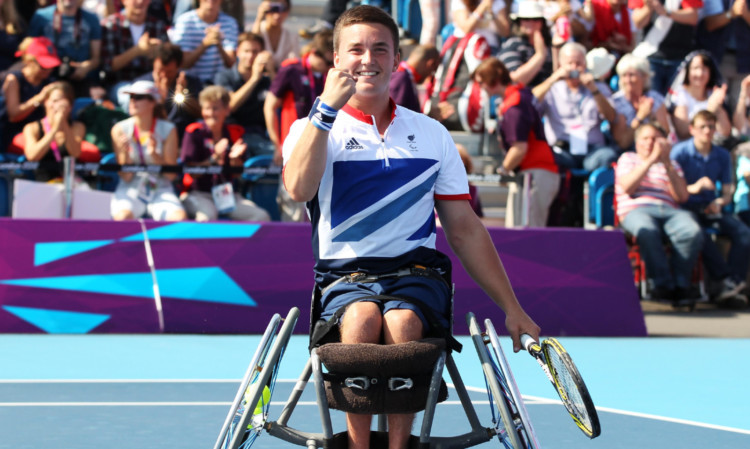 Gordon Reid has won more than 20 wheelchair tennis titles.
Ten years ago, Gordon Reid was paralysed from the waist down and thought his sporting career was over.
Now the 22-year-old is Britain's wheelchair tennis number one for men's singles and doubles and ranks third in the world.
In the last year, he's spent more than six months travelling to tournaments abroad and competed in four Grand Slam events.
But like Dunblane tennis ace Andy Murray, Gordon has vowed not to stop serving up success until he's globally top of the game.
"I suppose I am a bit like Andy Murray, only in a wheelchair," he laughs.
"I'm always travelling or training and everything in my life revolves around tennis! It's hard work getting to the top, but definitely worth it when you win!"
Gordon's rise through the ranks is a huge achievement, and pretty surprising for someone who only took up tennis on two wheels a decade ago. As a youngster, he lived for sport.
He grew up in Helensburgh as part of a talented tennis family and loved football, cross country, athletics and his tennis coach reckoned he had real potential in the sport.
But a week before his 13th birthday, Gordon endured painful cramping in his legs.
Just 12 hours later, he was paralysed from the waist down due to rare spinal condition, transverse myelitis and was met with the news that he might never walk again.
"It was pretty scary, especially as I was only 12," he recalls. "It all happened without warning. One day I thought I had muscle cramps from playing football, the next I was facing a six-month stay in hospital.
"It took about a week of tests before doctors made the diagnosis. That was a pretty big shock."
Transverse mylitis is an inflammation of the spinal cord, which causes the immune system to attack the central nervous system. It's exceptionally rare, with only about 300 cases each year in the UK.
Some sufferers make a full recovery, but others are permanently paralysed. Gordon faced gruelling rehab, steroid treatments and physio and months of fighting to regain some of the use of his legs and get back on his feet again.
In the first few weeks of getting home from hospital, the teen was determined to get back into sport. After an unsuccessful attempt at wheelchair basketball, he decided to try his hand at wheelchair tennis.
And within six months, he'd won his first tournament.
"From that first time when I sat in the chair with a racket in my hand, I fell in love with wheelchair tennis," Gordon says. "I just knew it was the sport for me."
He rose through the ranks, realising his dream when he reached the Paralympics in Beijing, aged just 16.
Four years later, he competed at London 2012, reaching the quarter-finals of both the men's doubles and singles competitions.
Gordon has won more than 20 titles to date and has competed across the globe. He's also made two app-earances at Wimbledon.
"I don't think there's anywhere I haven't been but I'm usually so busy playing that I don't see much aside from the courts!" he smiles.
2014 has been one of the most successful years for Gordon so far. But he refuses to become complacent and is already setting his sights on going for gold at Rio 2016 and becoming world number one.
"It's difficult to believe how far I've come, but I've worked very hard to get here," Gordon says.
"It's non-stop. I train six days a week, playing four hours of tennis, then a couple of hours of physical training. Then there's the prolonged physio and working on my mental skills and flexibility as well. But I love it.
"I once thought I'd have to give up sport, but 10 years later I'm at the top of my game. It's a dream come true. I always strive to be better though, so I'll never give up trying to improve."