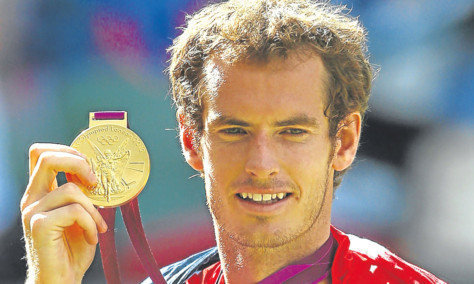 Can Murray repeat his golden moment?
The Scot made his Grand Slam breakthrough at the US Open last year after five losing Finals. It ended 76 years of British failure at the highest level.
Murray inherited that burden from Tim Henman, and even his biggest supporters were beginning to think he would buckle under the weight after his loss to Roger Federer in the Wimbledon Final. After that heroic five-set victory over Novak Djokovic in New York, public expectations for the British No 1 at Wimbledon will be huge.
So has Andy got the monkey off his back and replaced it with a gorilla? I don't think so.
There will be added expectation for Murray this year but I believe he embraces all the hype and uses it in a positive way. All that doesn't convince me Murray will win Wimbledon this year. I make him second favourite to Djokovic. But the Scot is on the right path. He will be Wimbledon champion one day.
Watching Andy at Queens Club two weeks ago, there was a much more impressive look about him than a year ago. Murray has stature. He has an aura about him when he goes on court. Apart from his sheer physicality, Murray exudes belief.
Champions have that inner confidence that no matter what the opponent does, they can do better. It only comes from winning major events, and following up a Gold Medal in the Olympic Singles with victory at the US Open has done it for Andy.
Without a doubt, the biggest improvement in Andy Murray is in his mental approach since linking up with Ivan Lendl. He still has his little wobbles on court, but the big difference now is he can re-focus his mind and get back to business very quickly.
The progress Murray has made in the last year is remarkable. He's so much more positive on court, taking on the ball and being more aggressive from the back of court.
Winning Olympic Gold was the springboard for Murray to go to New York and win the US Open. Now that victory has to be the springboard for further Grand Slam wins. The process began after Andy's loss to Roger Federer in the Wimbledon Final when he took the microphone from Sue Barker live on TV and got all emotional. It was endearing. Murray showed how much it meant to him, and he won over a lot of doubters.
This year, for the first time, Andy will have an overwhelming wave of support. The Wimbledon crowd will be desperate for Murray to win and that will help him.
My only slight worry about Murray's form is his second serve. At times it looked a little vulnerable at Queens. Perhaps the Scot was protecting his back, but I hope it's in good working order this week.
Murray imposed himself on Jo Wilfried Tsonga at Queens Club, and I see no reason why he shouldn't do so again if they meet in the quarter-final. That would set up the Scot for another semi-final against Nadal.
Rafa has beaten Andy a couple of times at Wimbledon, but this year I believe Murray's greater self-belief and aggressive shot-making will see him through a tight match and earn a place in the Final.
Murray edged out Djokovic in New York. The Serb got his revenge in Melbourne.
I'm predicting another nail-biting Final between the two at Wimbledon with Novak fractionally ahead on points.