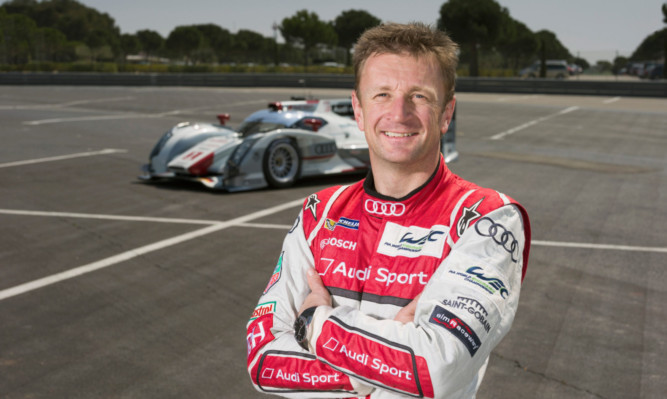 Allan McNish has found the perfect fuel to help him succeed at the Le Mans 24 hours race.
The crack driver keeps himself alert through the gruelling event by downing mugs of vegetable soup just like his mother used to make!
The 43-year-old Scot is going for a hat-trick of victories in the world's oldest endurance sports car race.
His Audi R18 e-tron Quattro race car is an ultra-modern diesel hybrid vehicle.
While a team of crack technicians look after what goes on under the bonnet, maintaining the performance of the drivers is just as vital.
McNish said: "We have doctors and dieticians who look after every aspect of our preparation.
"We have to try and get everything exactly right for Le Mans because going for 24 hours means we're doing a year's racing in a day.
"It's the equivalent of driving from London to Moscow and back again.
"We're advised to take on high carbohydrate foods to keep going through the night.
"Every driver is different in what they can eat and digest, but I find vegetable soup is good enough for me.
"I take mugs of the stuff, and every mouthful takes me back nearly 40 years when I'd get a plate of my mum's soup in Dumfries."
McNish has enjoyed a glittering career, winning countless titles and having a season in Formula One in 2002.
He admits, however, that making his name as one of the greats in endurance racing still surprises him.
He went on: "Looking back, my school report card certainly wouldn't have said that two of my qualities were focus and concentration.
"I must admit that I didn't have a huge knowledge of Le Mans before I first raced there.
"I was aware of it, and knew that Scotland's David Leslie had competed with the Ecurie Ecosse team.
"But I used to think it was something you did at the end of your career for the retirement fund.
"Then Porsche asked me to test their car and compete in 1997. I was shocked at what a beast the car was, but also pleased that the format suited a lot of areas I was good at.
"I've been very lucky to find something I loved doing and where I've really been able to make my mark in motorsport."
McNish will share the Audi with team-mates Tom Kristensen of Denmark and Loic Duval of France.
He would love to triumph in the year that marks the 50th anniversary of Scotland's Jim Clark winning his first Formula One title.
He said: "We won the first race of the World Endurance Championship at Silverstone, so that shows we'll be very competitive.
"This is most technically- advanced diesel in the world and our technicians have done a great job of getting more power through the front wheels.
"Having worked hard on the car over the last year, things are really coming together."