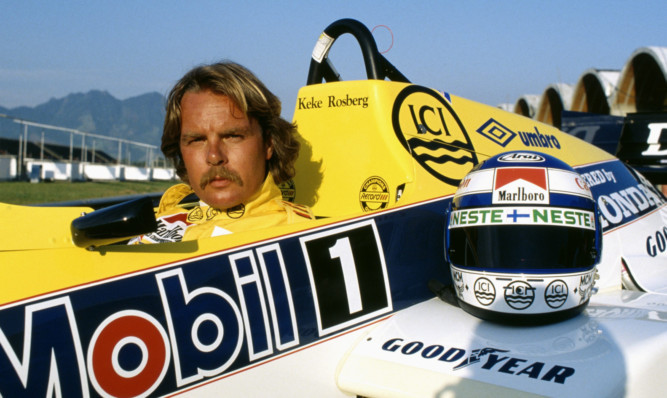 Nico aims to follow in the footsteps of his World Champion dad Keke.
Fathers and sons have been a constant narrative in the history of Formula 1. It's a natural thing for a lad, who is brought up surrounded by cars and engines, to want to follow Dad.
That was certainly true in the case of the young Damon Hill, as he was eight when he watched his father, Graham, win the world title back in 1968. He followed in his late father's footsteps 28 years later when he won the Drivers' Championship in a Williams.
To this date, the Graham and Damon Hill remain the only father and son to have both been World Champions. However, could that achievement come under threat in the very near future from the Rosbergs?
Keke Rosberg was Formula 1's original ice man as he became the first from Finland to compete regularly in the sport. And in 1982, he walked off with the biggest prize of all when he became World Champion for the only time.
Now, the baton has been taken up by his son, Nico. His dad is Finnish and his mother, Sina, is German, but he was brought up in Monaco. He is fluent in French, English, Italian and German, while he speaks a bit of his dad's language, too, and considers himself "European". But Nico was born in Germany and races under their flag for Mercedes. Last year, he became the first German driver to win a Grand Prix in a German car when he took the chequered flag in China.
He upstaged seven-time World Champion Michael Schumacher in the same car for the previous two years, and he now has Lewis Hamilton for company at Mercedes.
Recently, Rosberg achieved another special feat in his "home" Grand Prix as he followed Keke to become the first father and son to win around the streets of Monte Carlo.
The 27-year-old wasn't born when his dad won the race in 1983, but he was delighted to taste the same success.
"It was unreal to win at the place where I've grown up," he says. If there was one race I'd choose to win, it would be Monaco.
"I went to school there, and I looked over every single day dreaming that I could be driving out there, too. Now, it's special to be a winner in Monaco.
"It's nice to equal my dad, but when I was crossing the finish line, I wasn't thinking about those 30 years. But it was great to share the victory with the whole team, my friends and family."
The victory leaves Rosberg in sixth place in the drivers' standings as the F1 circus heads across the Atlantic for this Sunday's Canadian Grand Prix. He is 60 points behind current leader and fellow countryman, Sebastian Vettel, but well over half the season remains.
Whether 2013 is too early for Rosberg to challenge for a World Championship remains to be seen, but his Mercedes is catching Red Bull and Ferrari.