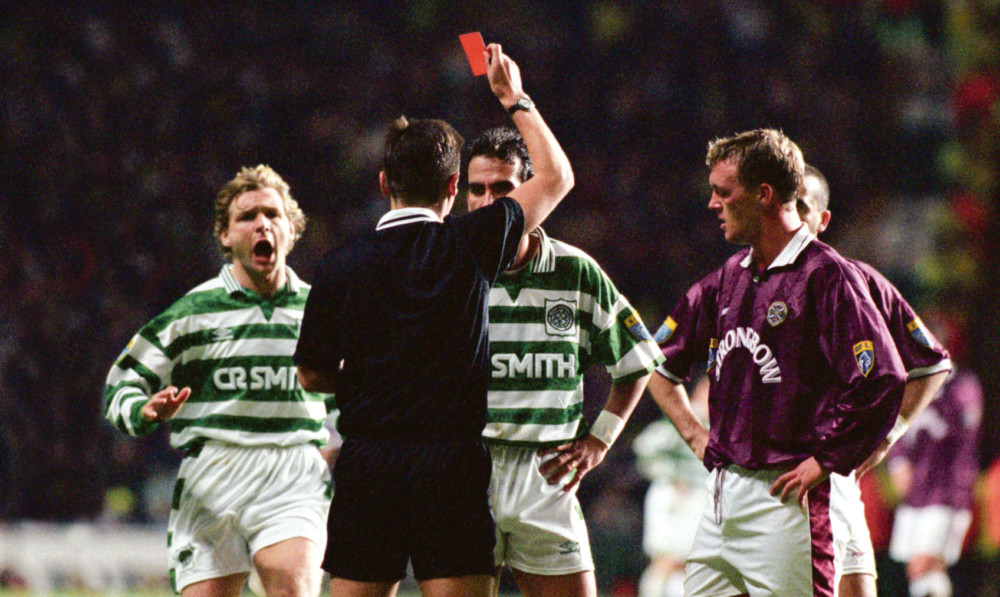 HE has officiated in games involving the likes of Zinedine Zidane, Paul Gascoigne and the peerless Lionel Messi.
Retired referee Stuart Dougal, though, swears blind he has never had to handle a bigger character than Paolo Di Canio.
The 50 year old had his share of moments over a highly-successful career.
But being the only Scottish whistler to have sent off the mercurial Italian while he starred for Celtic leaves him torn.
"I'm not sure whether that is one for the famous or infamous column," he laughed of his dismissal of the new Sunderland manager back in December, 1996.
"Paolo was a complete one-off, and I have to say when I think of him, it is with fondness.
"That day at Celtic Park against Hearts, he just left me no choice whatsoever but to send him off.
"In a lot of ways it was typical Paolo. He mouthed off at me in the first half an automatic yellow.
"Then, after Celtic had been 2-0 down, he scored their equaliser from the penalty spot with quarter-of-an-hour still to go.
"As he was heading back to the centre circle with the ball, he got into an argument with Stevie Fulton and shoved him. Another clear booking so that was him away."
Only not quite.
"As Paolo was trotting off, he suddenly spun round and made a beeline in my direction," Dougal recalled.
"He looked angry but as he reached me he stuck out his hand for me to shake.
"Knowing his reputation, I wasn't sure whether to take him up on it. I didn't want him to suddenly whip his hand away and leave me looking daft.
"But I had been watching the Serie A games on Channel 4, and had seen a guy who had been sent off shake the hand of the referee who'd red-carded him.
"So I shook Paolo's hand, he then thanked me politely and I never heard a bad word from him again.
"That was Di Canio a contradiction.
"If you had asked me that night whether I thought he would go on to become the manager of a big English Premier League club, I would have thought you were mad.
"He was certainly Box Office!"
As Dougal confirms, Di Canio stood out in Scotland during a time when the game was blessed with plenty of characters.
"There were lots of them," he continued, "At Celtic alone you had Jorge Cadete and Pierre Van Hooijdonk, as well as Paolo and Andreas Thom.
"Then at Rangers there were the likes of Paul Gascoigne, the De Boers and Arthur Numan.
"They were fantastic players, but also big characters who were not afraid to stand up for themselves.
"Although, as I say, I wouldn't have picked Paolo for it, I do believe that is the kind of personality you need to go into management.
"It is a very tough business and you need strong self-belief to handle all the challenges it throws at you."
Dougal backs his argument with reference to the current Old Firm bosses, Ally McCoist and Neil Lennon.
"Both these guys have had unbelievable pressures to deal with from very different off-the-field situations," he said.
"They have each shown great character and courage in the way they have handled themselves, and that hasn't surprised me because they displayed those qualities as players.
"They were different types Ally was more likely to crack a joke but they were similar in respect of their fierce determination to win.
"As a referee, you do respect that but at the same time you are aware that is it your job to make sure they adhere to the Laws of the Game."
If Di Canio's role as Sunderland's new manager has been hard for Dougal to get accustomed to, so too has the presence of Rangers in the Scottish Third Division.
"There is no question that it has been a huge talking point that has thrown up a lot of different arguments," said Dougal.
"I am an ex-referee, so the issues I tend to take a view on are the ones involving the officials.
"We have heard all sorts of claims over the last eight or nine months, and one of the most common seems to be that the SFA have shown favouritism towards Rangers by appointing the country's top referees to take charge of their games.
"That is complete and utter nonsense!
"If anything, bringing the Grade One guys in makes it far LESS likely for Rangers to get decisions going their way.
"That is because the refs who are at the top are the ones who have the most experience of officiating in front of large crowds, and in matches where there is a lot at stake.
"They are less likely to be influenced by having thousands of fans baying for a decision.
"Rangers are the club with the big support, especially at home games, so you would imagine they would be the ones to benefit."
Dougal was likewise not convinced by suggestions that Third Division opponents sought to bully the Light Blues out of the points.
"They are playing in a different league from the SPL, so there were always going to be differences in the style of football," he said.
"I don't think the officials are any more or less lenient. They just acknowledge the environment they are operating in.
"Third Division clubs have been thrilled to have Rangers with them.
"Off the park, that has meant a lot of hospitality being extended up and down the country. On it, we have seen lower-league players treating matches like Cup Finals.
"That is not unusual in football, though.
"And I'm sure Paolo will be trying his very best to get Sunderland's players to do exactly that between the game at Stamford Bridge today and the end of the season."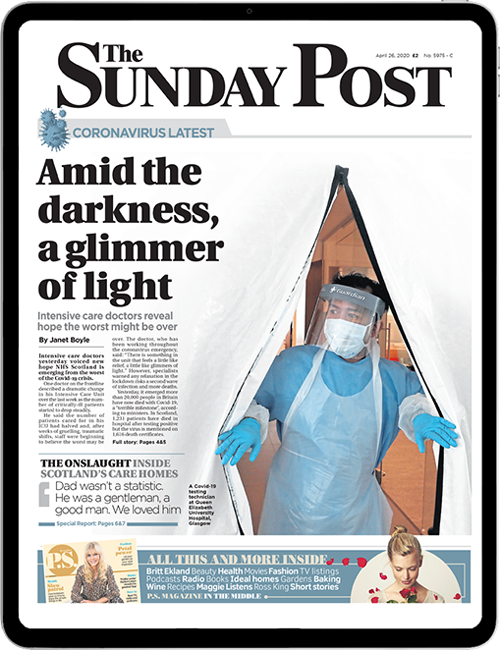 Enjoy the convenience of having The Sunday Post delivered as a digital ePaper straight to your smartphone, tablet or computer.
Subscribe for only £5.49 a month and enjoy all the benefits of the printed paper as a digital replica.
Subscribe