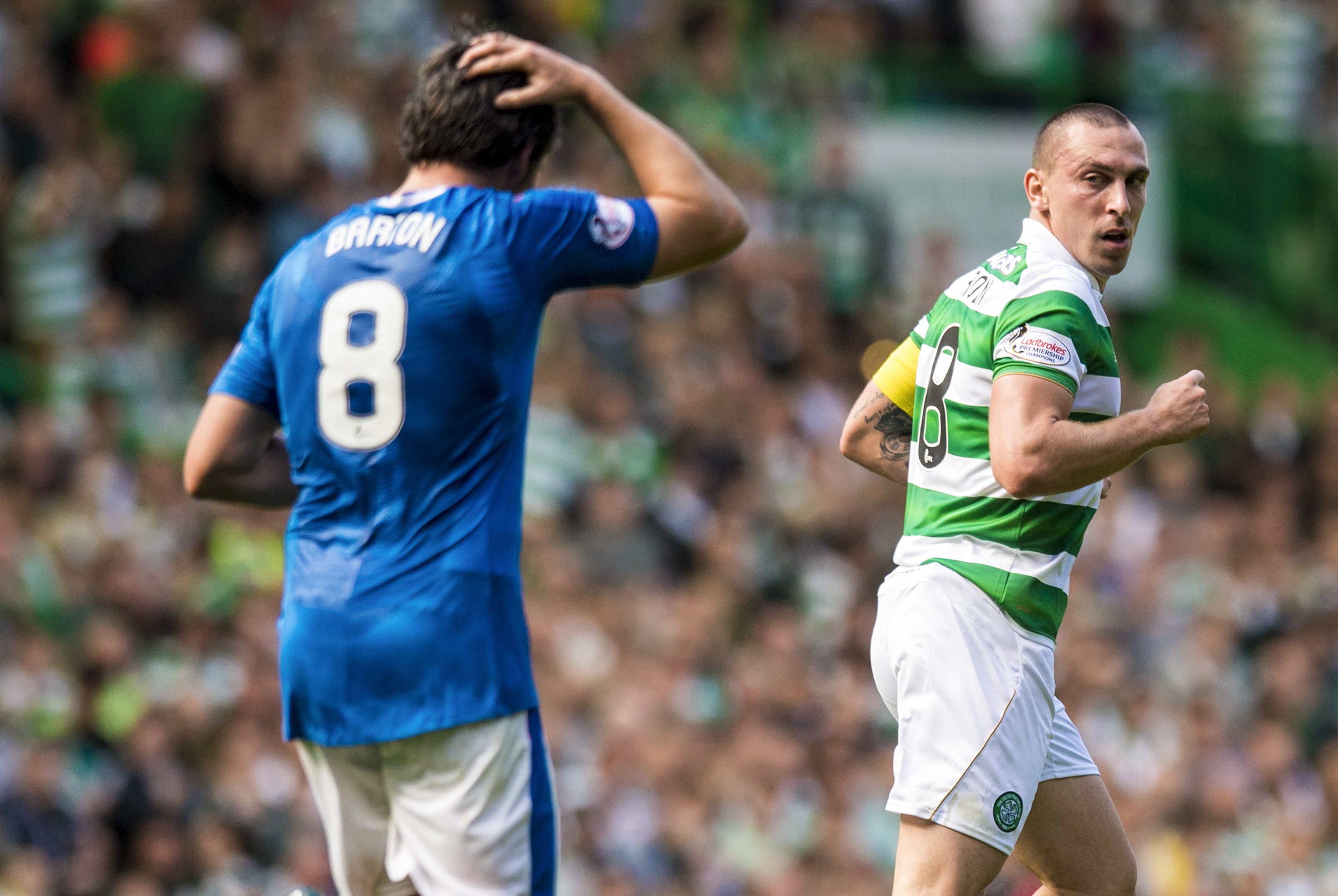 IT could have been billed as the battle of the blowhards.
Scott Brown versus Joey Barton – the Devil and God raging inside both while Celtic Park raged around them.
There could be only one winner.
And in the end, Brown helped Celtic blow Rangers away while Barton huffed and puffed.
As the man himself said: "It was men against boys."
Asked to assess his first confrontation with Barton on the pitch, Brown added: "It wasn't a problem. There was no battling whatsoever.
"I think the scoreline talks for itself."
The back story was as juicy as they come. Barton, the sinner of old, the Old Firm Joey-come-lately, had made sure of that.
His bold summer assertion – on Sunday Post columnist Alan Brazil's radio show – that Celtic's captain, his future foe, was not fit to lace his boots, was the spark.
"People keep talking about Joey Barton and Scott Brown – he ain't in my league," said the gallus Scouser.
"He's nowhere near the level I am as a player, and he can't get to me. If I play well, Scott Brown doesn't stand a chance."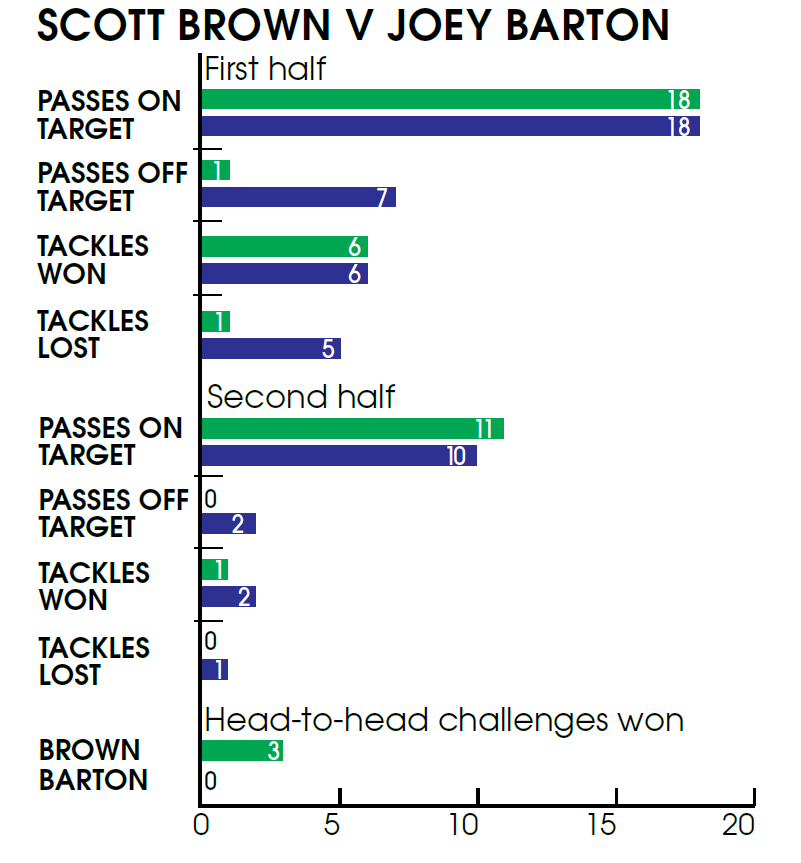 To be fair to Brown, his response was laced with humour rather than hellfire.
"I've not been in his league," said the Bhoys skipper. "But he's in my league! And I think we will get on really well with him being a Celtic fan!"
The two No. 8s didn't so much light the blue and green touchpaper as go wild with two cans of petrol and a box of matches.
After all that, the pre-kick-off handshake was there yesterday. Terse, for sure, but it was there.
As the final strains of "You'll Never Walk Alone" echoed around Celtic Park, the midfield pair glared at each other across the centre circle, eardrums throbbing, hearts pounding.
It seemed first blood would be drawn quickly – and it was.
But instead of Brown, snarling and snapping with intent at his opposite number, it was Scott Sinclair that left his mark, thundering into the back of Barton like a green-and-white freight train.
If the Gers man was wobbled, he didn't show it, barely even glancing at referee Willie Collum before reverting to the task in hand.
He did so with notable assuredness, sitting deep, providing an option, mucking in defensively, sparking Rangers forward.
He did what Scott Brown at his best has done so often for Celtic – pulled the strings.
The Bhoys' captain, by contrast, was merely pulling his weight – and no more.
It was an uncharacteristically quiet opening from a man noted for his unstinting commitment.
It was never going to last.
As the minutes ticked by, Brown, stirred from his deep-lying slumber, started to stir things up in front of the Rangers back four.
How Celtic needed him – and how they responded to his imposing presence.
His awakening coincided, not coincidentally, with Celtic's own, and their subsequent seizure of a two-goal lead.
Barton was still there, still digging in, still trying to create, but he was a man apart amongst those wearing blue.
Too few followed his lead, too many were slack, even after Joe Garner pulled one back for the Gers.
Barton tried to cajole, but Brown didn't need to.
By the time the Celtic captain trotted off the park on 73 minutes (the injury will be assessed ahead of Barca), his team were 3-1 up and he allowed himself a satisfied smirk.
Goals four and five wiped any semblance of a smile off Barton's face.
For Brown it was heaven, for Joey, Paradise Lost.
As Brendan Rodgers said later: "Scott Brown does his talking on the field."
But have we heard the last of Barton? Don't bank on it. And don't expect Round Two to be any less enthralling.
---
READ MORE
Celtic 5 Rangers 1: Dembele hat-trick sees Hoops cruise to Old Firm win
Old Firm win was 'men against boys',  says Celtic captain Scott Brown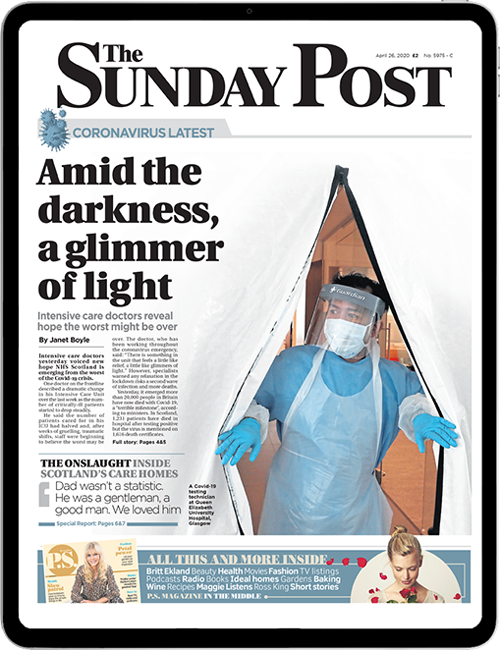 Enjoy the convenience of having The Sunday Post delivered as a digital ePaper straight to your smartphone, tablet or computer.
Subscribe for only £5.49 a month and enjoy all the benefits of the printed paper as a digital replica.
Subscribe