THE perception is that Jurgen Klopp has transformed Liverpool since he arrived at the club last October.
He's taken them to two cup finals, overseen some fantastic performances and has struck up an instant connection with the fans.
Owners FSG liked what he'd done so much that they extended his seven-month-old contract and tied him to the club until 2022.
Liverpool and the 49-year-old German, it's said, are perfect for each other.
The Kop loves a heart-on-the-sleeve manager. They respond to his charismatic personality. They crave someone who matches their passion for the club.
He's Bill Shankly with glasses and a scruffy beard.
But when it comes down to actual facts, how much of what Klopp has done so far has been genuine progress, and how much has been little more than smoke and mirrors?
He took his team to North London yesterday. The last time they were in that neck of the woods, they scored four goals in 18 minutes to beat Arsenal at the Emirates.
The week before that, they stuffed another four past Barcelona just along the North Circular at Wembley.
Yet because this is a team just as capable of losing 2-0 against Burnley as it is to take apart Europe's best, no-one could say with any degree of certainty how they'd do against Tottenham.
A point wasn't a bad result. But under Klopp, Liverpool have become the most inconsistent team in the Premier League.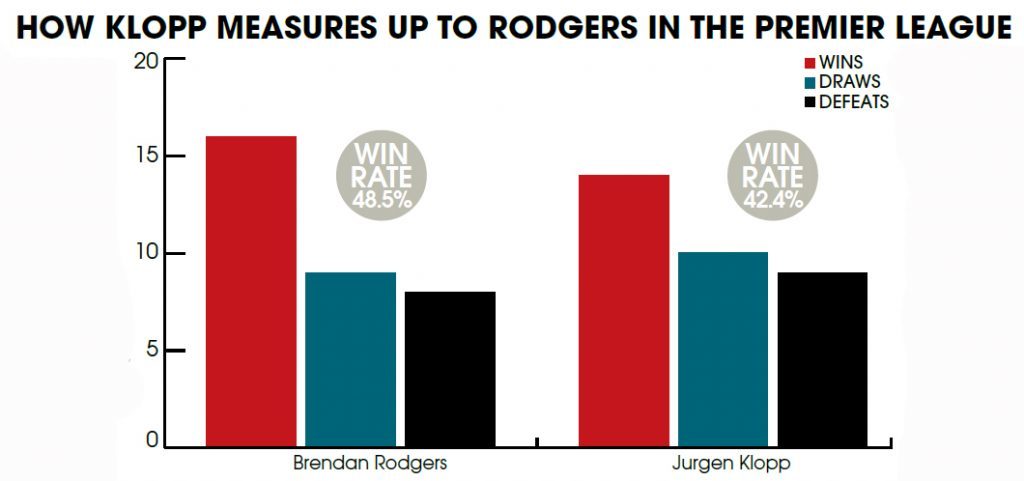 That's why last season, despite twice putting three past Manchester City, winning convincingly at Chelsea, beating Everton 4-0 and being one of only two clubs to beat Leicester, Liverpool still finished eighth in the table, two positions below where they ended under Brendan Rodgers the previous season.
That was because they balanced the good with the bad, illustrated by the fact they lost at Newcastle, Swansea and Watford by an aggregate of 8-1.
They produced two classic European nights at Anfield, coming from behind to beat Borussia Dortmund and Villarreal, yet were beaten convincingly by Sevilla in the Europa League Final.
It's meant that Klopp's win percentage at Liverpool – 45% – is significantly less than Rodgers' was at 51.2%.
Yet there's no denying that the German has changed the mood around the club. He's managed to generate a feel-good factor without actually achieving anything. That's quite a neat trick.
Much of that is to do with what he says. He has the knack of knowing what the fans want to hear.
For instance, he told Gary Lineker the other day that he wanted to replicate the success of Liverpool's "grandfathers", Shankly and Bob Paisley.
He said his No. 1 aim is to excite the fans and talked about "celebrating something each season over the next six years" and "driving on the big bus through Liverpool".
"I want people being unable to wait for the next game," he said. "That is what football should be."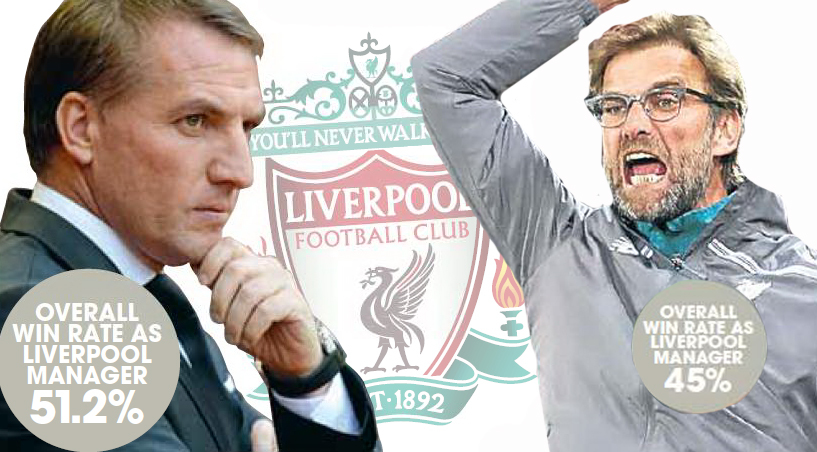 Liverpool fans lap up that sort of thing. But Klopp is reaching the point when rousing words, mad touchline celebrations and the odd good victory are not enough.
He's coming up to a year in the job and, so far, he's been given an easy ride.
Much of that is down to his engaging personality. But also because he'd been working with Rodgers' players and hadn't had a pre-season to get across his own playing philosophies.
Over the summer, though, he's added and subtracted from the squad. Half-a-dozen players have come in, notably Sadio Mane and Georginio Wijnaldum, while half-a-dozen have gone.
Unlike his rivals 30 miles east in Manchester, he's not spent a penny in real terms. Incomings and outgoings have balanced perfectly.
He will know that you can't claim to be in transition forever. Sooner rather than later he's going to have to show he really is an upgrade on his predecessor.
Rodgers took Liverpool to within a Steven Gerrard slip of the title in his second season at the club. Klopp must be looking to, at least, Champions League qualification in his second campaign.
That will become an even greater priority if the stories of huge investment for China become reality.
Perhaps Klopp is conscious of the pressure being ramped up because he's been just a little tetchier of late.
He criticised journalists for suggesting that Alberto Moreno was out of form – then dropped the full-back for the next game.
He had a go at the fourth official when he thought that Emre Can had been caught late by a Burton player in midweek. But had to climb down when the replay showed there was no contact.
Klopp came to England with a big reputation and, while it's not been undermined during his time on Merseyside, it hasn't been enhanced either.
Too many blistering hot performances have been followed by absolute shockers.
If he's to keep his status as one of the world's brightest and most innovative coaches, he has to fix it.
---
READ MORE
There will be no mercy in the battle for domination of the Mersey between Liverpool and Everton
Liverpool boss Jürgen Klopp turns Scouser in hilarious interview with nine-year-old fan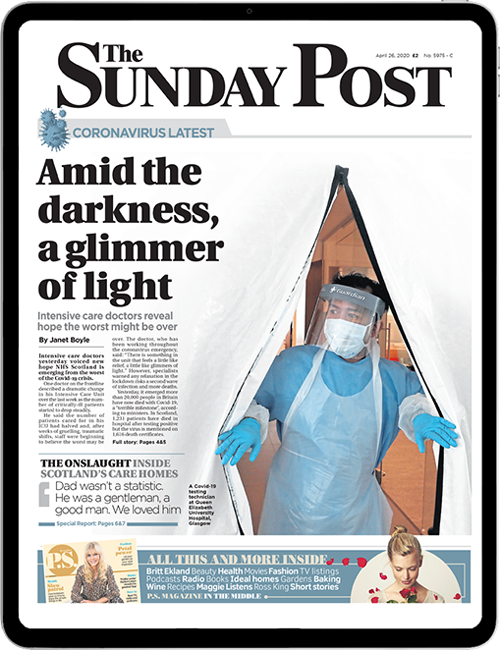 Enjoy the convenience of having The Sunday Post delivered as a digital ePaper straight to your smartphone, tablet or computer.
Subscribe for only £5.49 a month and enjoy all the benefits of the printed paper as a digital replica.
Subscribe