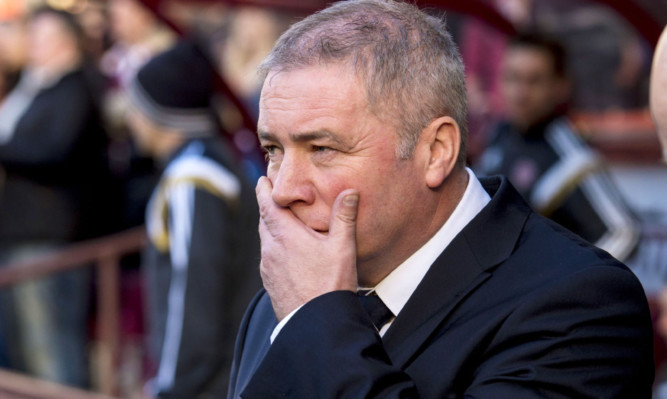 Ally McCoist seized the chance to lighten the mood with a touch of his trademark banter last Thursday.
Making reference to the 1970s blockbuster movie 'Jaws' during his press conference, he joked about the presence of sharks in the room and spoke of being in the water right up to his eyeballs.
It was to take just 24 hours for the Light Blues boss to prove that far from being a victim, he remains very much a player.
The unprecedented move to hand in his notice on the day of an important game before it, not in the wake of a bad result was a masterstroke.
One which, arguably, displayed a whole lot more tactical nous than McCoist has ever displayed from the sidelines throughout his three-and-a-half years as manager of Rangers.
Why? Because in doing so he effectively agreed to cut the amount of compensation he would be due for a rapid departure from seven figures to £405,000, roughly a year's money under the reduced terms he is now operating under.
Of course, it is still a large amount of money.
Some may even suggest that, in holding out for the settlement, McCoist is displaying the sort of greed in his personal finances he used to show as a penalty-box poacher in his days as a prolific goalscorer for the club.
Yet in doing so, he has without doubt transferred much of the pressure that has been focussed on him to the Rangers money men.
He has agreed to go. He has agreed to go for around half what he could have held out for.
The ball, to borrow a tennis term, is now in Mike Ashley's court.
It has been an open secret since even before the calamitous Petrofac Cup loss to Alloa that there has been an enthusiasm within the Ibrox boardroom for McCoist to walk away.
His wages are perceived as being far too high, even when the 50% cut renegotiated with former Chief Executive Graham Wallace is taken into account.
Moreover, there is a genuine fear that under McCoist's stewardship, his over-paid squad could fail to secure promotion to the Premiership, something which is vital given the ongoing financial problems at the club.
Without doubt, the fact four Championship teams get a place in the end-of-season play-offs is very much in Rangers' favour.
Hearts can romp away with the League, and Rangers will still have a decent shot at taking their place alongside the likes of Celtic, Dundee United and Aberdeen in the top division in 2015-16.
The promotion of Hamilton Accies at the end of last season, via a sensational play-off win over Hibs, proved just what is possible for a so called "also-ran" to achieve through the set-up.
Accies, under the charge of inexperienced young manager Alex Neil, not only got up but got off to a flyer in the top flight to confound those who were sure they would struggle.
However, at the same time, the relegation of Hibs illustrated only too clearly that having a large wage bill is no guarantee of success in the knock-out format.
In fact, Rangers' experiences in these one-off occasions under the current boss is, in itself, almost reason alone to try and ensure McCoist is off the premises before things get to that stage.
Taken in isolation, the Alloa defeat was bad enough. To lose a game in which you are 2-0 up against a team of part-timers with 20 minutes to go is pretty inexcusable.
And when the losses in the lower-league cup competition in the previous two seasons are factored in, it gets even worse.
They crashed out at home to Friday night's tormentors, Queen of the South, while still in the old Third Division.
Then they at least had the excuse of having to operate under the restrictions of a transfer embargo.
The defeat in last season's Ramsden's Cup Final by Raith Rovers was in many ways worse.
It had offered supporters the chance of a day out in which, although the prize was not a major one, victory was taken pretty much for granted.
As the Kirkcaldy club's commemorative DVD proves, it didn't work out that way.
So far from being a "gimme" competition for Rangers during their journey through the lower leagues, it has turned out to be a continuing source of embarrassment.
That is particularly relevant here because if they can't win the Championship title, and the near-clinical efficiency of Hearts makes that look increasingly unlikely, they are going to need to see off the likes of Hibs or Queen of the South as well as, potentially, a St Mirren or Motherwell or Ross County to claim their place in the Premiership.
And as humiliating as the Challenge Cup reverses are, they too start to look worse when performances in other cup competitions are taken into account.
Think Malmo and Maribor the two European failures that led to the cash shortfall prompting Rangers liquidation in 2012 and think Forfar in the League Cup.
Ironically, the one Cup they had done well in, the Scottish Youth Cup, went almost ignored.
Last season, a young Rangers side won the trophy, beating a Hearts team containing first-team regulars Callum Paterson, Billy King, Sam Nicholson and Jordan McGhee.
Yet, bizarrely, while the Tynecastle kids have been starring for the League leaders this season, none of the Light Blues team have made the step up.
It is hard, in these days when youth is promoted so actively throughout Scottish football, to imagine that happening anywhere else bar at Rangers.
For the last two seasons, McCoist's position and his preference for the tried-and-trusted rather than giving youth a fling has been bolstered by positive results in the League.
The mere fact the club were placed in the fourth tier of Scottish football effectively ensured his win ratio was always going to look pretty good compared to his predecessors in the Ibrox dug-out.
If you are pitted against clubs operating with wage bills which are not in the same country far less the same ball park, then you should finish the season with healthy figures.
This year, against opponents some of which have full-time staff, it has been a different story.
Rangers have lost home and away to Hearts, been badly beaten at home by Hibs and surrendered points to the likes of Alloa and Queen of the South.
The latest setback, on Friday night, was almost shocking in just how routine it all became.
Speaking after the game Iain Russell grandson of Rangers great Ian 'The Wee Prime Minister' McMillan spoke of Queens' confidence going in and treating it as "just another game".
Why shouldn't they, indeed, when some of the displays from this group of Rangers players have been near eye-bleedingly bad.
When the team struggle to match, let alone better, the tempo of their opponents and fail to deliver basic defending, something is far, far wrong.
There is a lack of effective guidance from dug-out to pitch and an apparent lack of desire to play for the jersey, something which at least got bad Rangers teams through bad times in the past.
Coaches from other clubs who have watched the highlights of the Alloa tie deliver the same verdict on what they see.
This is a Rangers team which isn't just shooting itself in the foot, but blasting its legs clean off.
And for that reason, it is time for Mike Ashley to bite the bullet and fund the compensation to let McCoist go now, not later.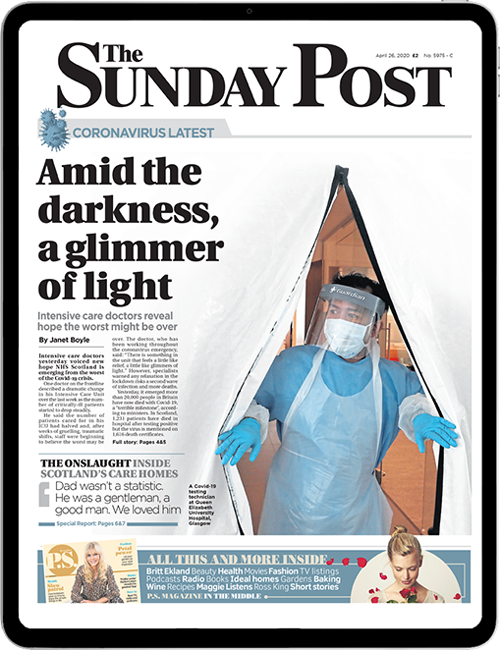 Enjoy the convenience of having The Sunday Post delivered as a digital ePaper straight to your smartphone, tablet or computer.
Subscribe for only £5.49 a month and enjoy all the benefits of the printed paper as a digital replica.
Subscribe