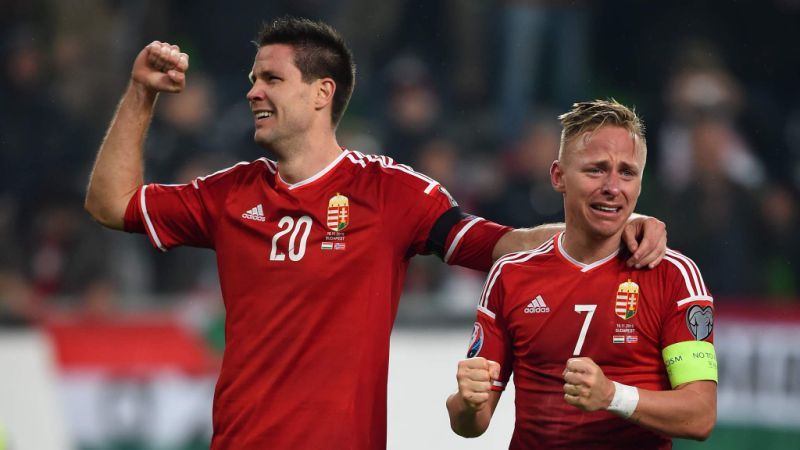 AFTER yesterday's first three Euro 2016 knockout games, there was barely anything to separate the six nations.
But it's Poland, Wales and Portugal who find themselves in the quarter-finals. Today all three games follow a similar pattern – France v Republic of Ireland, Germany v Slovakia and Belgium v Hungary – a clear favourite against a genuine underdog. But will any of those dogs carry a fearsome bite?
Can the Irish topple another European heavyweight?
THE Republic of Ireland beat Germany in Dublin in the qualifiers to secure their place in the play-offs. Then four days ago, they defeated Italy to secure their passage to the last 16 in third place in Group E. They were two classic nights for Irish football, particularly the one in Lille with emotional scenes at the end of the match. Today, their task away to France in Lyon is arguably even greater.
Trying to knock out the hosts at a major tournament is never easy as the majority of the crowd, and the whole of the nation are seemingly against you. But being the underdogs has never worried Ireland. In fact, they relish that in all sports and situations. Martin O'Neill and Roy Keane will fire them up once again, but the big question is whether the players will have the energy after Wednesday night. Robbie Brady was the hero then, and it's a case of finding another unlikely one from guys like Jeff Hendick, Shane Long and Daryl Murphy. The French are the obvious favourites but the Irish have joyfully reminded us they should never be written off.
Player of the Day: Manuel Neuer
MANUEL NEUER is widely acclaimed as the best goalkeeper in Europe. He has won everything on offer for Bayern Munich, he is already a World Cup winner and the Euros are the only thing missing from his collection. Plus he is yet to concede a goal in Germany's three games so far in France. The closest anyone has come was team-mate Jerome Boateng who had to perform a spectacular clearance to prevent an own goal against Ukraine.
But the reality is that Neuer has not been overworked and has been a spectator for much of proceedings. That is true for a lot of club games he plays for Bayern where the action takes place in the other half. Often it feels like he touches the ball more with his feet than his hands with Bayern or Germany monopolising possession. German coach Joachim Low would be delighted if Neuer was a virtual spectator again today against Slovakia in Lille. But for the neutral viewer, it would be great if the Slovakians provided a test and give Neuer the opportunity to demonstrate what a great goalkeeper he is.
Will Belgium draw upon their stroke of luck?
AFTER losing to Italy in their opening game, there was a sense of doom-and-gloom around Belgium. The players were threatening to rebel and the Media had it in for coach Marc Wilmots. Two wins later, the scenario looks a little rosier. That is partly due to two improved performances against the Republic of Ireland and Sweden, but things outside of their control.
The Red Devils would have been expecting Portugal, England and Spain to win their groups and be potential opponents further into the tournament. None of that came to pass and the Belgians have ended up in the weaker half of the draw. Their route to a potential final would now be Hungary, Wales in the quarters and the winners of Poland against Portugal in a semi-final.
Opportunity now knocks loudly for the 'Golden Generation'. A couple of personnel changes from the defeat to the Italians with space found for Club Bruges right-back Thomas Meunier and winger Yannick Ferreira Carrasco has improved the team's balance and produced two solid wins. They will be clear favourites to beat Hungary in Toulouse, a side who no-one expected to see at this stage and suddenly Belgium could then start to think about fulfilling their enormous potential and doing something special.
French of the day: La prolongation (extra time)
---
READ MORE
David Moyes on Northern Ireland manager Michael O'Neill's approach to the Euros
Euro 2016 Daily Digest: The last 16 gets underway with some fascinating encounters