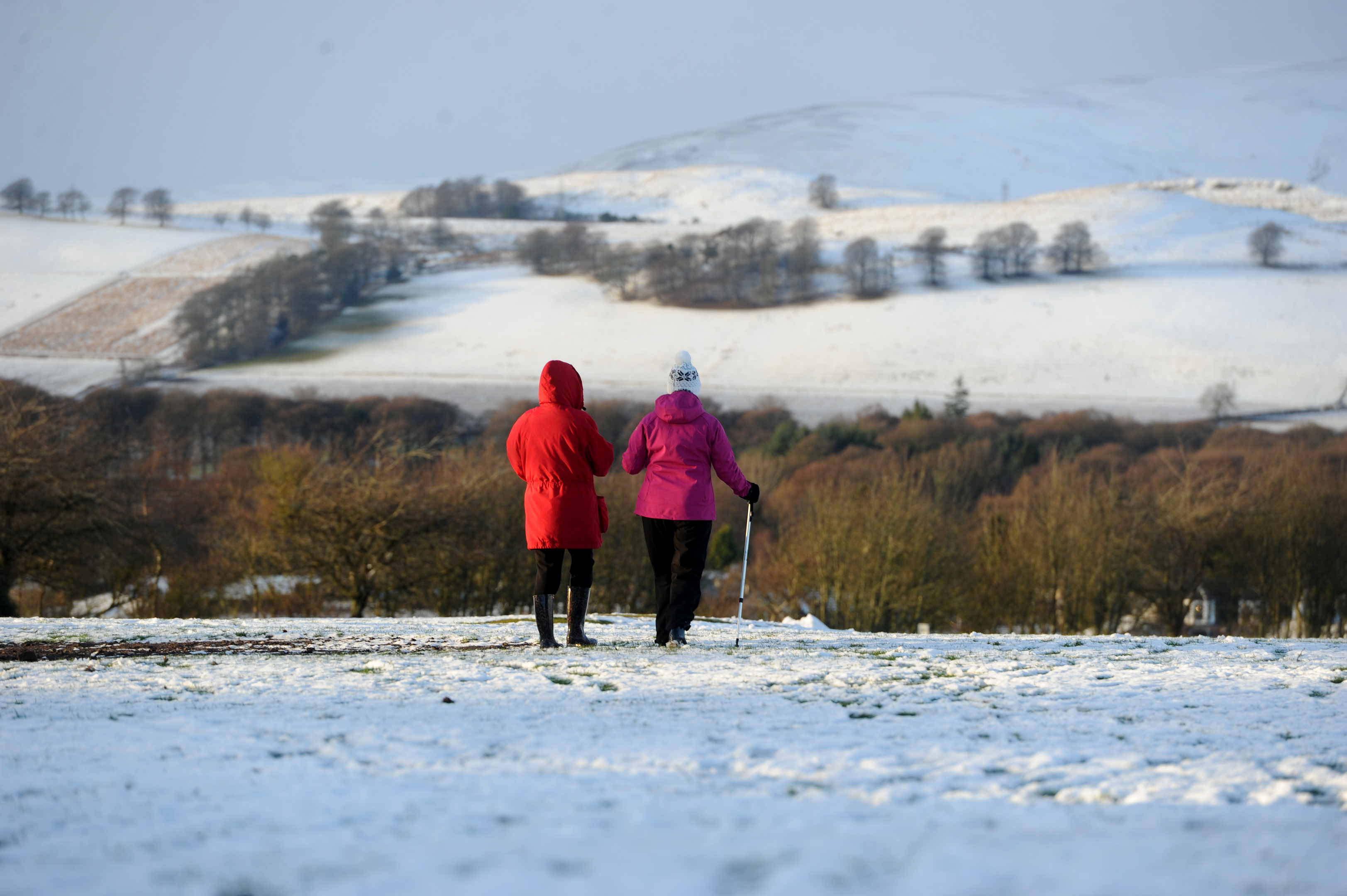 1. Kirrie Explorer
Kirriemuir
Kirrie is small, but packed with its own quirky history – it's the birthplace of Peter Pan author JM Barrie and AC/DC rock god Bon Scott.
Both are celebrated here and the Explorer walk helps you to find out more about this friendly wee place.
The route includes Kirriemuir Hill.
You'll be well rewarded with stunning views from the top but, of course, it isn't compulsory!
Best bits: For such a small place, Kirriemuir has a great selection of cafes. The locals obviously like to eat – and you'll be spoiled for choice!
Difficulty: 1 (3 including Kirrie Hill)
2. Lady's Mary's Walk
Crieff
Start at Macrosty Park and head for the stone bridge, which takes you for a lovely, meandering stroll along the River Earn.
It's mainly flat and, like lots of the best walks, you can complete it as a circular route – it's about four miles – or turn back and retrace your footsteps.
You'll follow the River Earn most of the way, but the circular route also takes you into woods and farmland and up Laggan Hill, so there's lots to see.
And if you need to take the weight off your feet, take a pew on one of the hand-crafted benches along the route.
It's worth exploring Macrosty Park, too.
It's lovely, and if you have young 'uns with you, they'll love to run wild in the play area.
Oh, and don't forget the Pavilion Cafe.
It's fairly small, but the snacks are great. Warm lemon drizzle cake, anyone?
Best bits: Lots of Lady Mary's Walk is through a wide, tree-lined avenue by the river. The fact it's so wide makes it perfect for bigger groups.
Difficulty: 2
Where oh where to go this #WalkWednesday? How about local path networks in and around #Blairgowrie, #Crieff, #Dunkeld & #Birnam, Kinloch #Rannoch, #Kirkmichael and #Pitlochry. ? https://t.co/DCNBCzf7BS pic.twitter.com/LdffjbFsB9

— Perth & Kinross Countryside Trust (@PKCTrust) November 22, 2017
3. Birnam to Dunkeld 
Just off the A90
The walk by the river is actually a glorious mix of country and woodland walking.
See the mighty Birnam Oak, one of the survivors of Birnam Wood, mentioned in Shakespeare's Macbeth.
Try to take a wander through Dunkeld and Birnam, too.
You can make a day of it and stop off at one of the many cafes or restaurants. Or maybe both!
Best bits: The sound of the River Tay running by is amazingly relaxing, making it a perfect place to get away from festive madness.
Difficulty: 2
4. Lomond Fisheries
Leslie, Fife
Walk far enough and you can reach the Lomond Hills. But a
walk around the reservoir area is a more gentle option.
Whenever you go, you'll see dog walkers, cyclists and families out enjoying the area – and it's very popular for fishing, too.
There's yet more company, too, as sheep feed in the area. They are used to their grazing being disturbed by pesky humans, though, and they're pretty gallus about it.
Expect to be ignored while they get on with the serious business of lunch.
It's a mix of flatter areas with some hillier climbs.
Leave your car in the free car park and you can head in several directions towards one of the reservoirs, woodland areas or grassy hills.
It's got vast, open areas which tend to be windy, so wrap up and make sure you don't forget a hat!
Best bits: It's a very popular area – but big enough to enjoy some real peace and quiet if you need to escape in search of calm!
Difficulty: 2
5. Templeton Woods
Dundee
Walk through the woods here and you'd hardly know Dundee's busy retail parks aren't far away.
It's a wildlife haven – keep your eyes peeled for red squirrels and roe deer. And listen out for the
sound of buzzards and jays, too.
There's a visitor centre and several different tracks to enjoy.
Best bits: Make sure you stop off at Pine Cone Cafe. It's so nicely decorated, it rivals Santa's grotto for festive fun.
Difficulty: 1
Lovely views from Norman's Law in North #Fife while maintaining tradition of enjoying wild weather rather than hiding from it! #StormDylan pic.twitter.com/4m0gGeuvY0

— Michael Alexander (@C_MAlexander) December 31, 2017
6. Norman's Law
Luthrie
Fancy working off some of those Ffestive calories? Norman's Law in Fife (just off the A92) is perfect.
More experienced hillwalkers will tell you this 250-metre trek is child's play, but it's a bit more of a challenge for mere mortals.
Park in Luthrie village car park before heading for the hill.
Best bits: It's not the highest hill in Fife but we'd argue it's the one with the best view. At the top, enjoy gazing across to Perth and beyond
Difficulty: 5
7. Lunan Bay
Nr Montrose
Locals will tell you this is one of the most stunning stretches of coastline in the UK – and they'd be right.
The beach itself is flat and relaxing, but some might find the clamber down the sand dunes to reach them more challenging.
However, kids absolutely love them – they're made for playing in and letting imaginations run wild.
Who needs Mediterranean sun?
Best bits: After a storm, you can sometimes see agates glittering on the sand. They make a visit even more worthwhile.
Difficulty: 2
8. Boddin Point Limekilns
Nr Montrose
Follow the track next to the coast and you'll come across a few quirky sights, as well as great views.
For starters, there's a tiny graveyard. In there you can see the headstone of George James Ramsay. According to his gravestone, he was "Born November 24, 1859, Died December 17, 1840".
Let's just say someone was having a bad day at the office when they carved that headstone.
Walk far enough and you can also see Elephant Rock – and it really is elephant-shaped.
You can still see limekiln ruins in the area, but there is a warning sign not to enter.
If you are feeling energetic and fancy a walk right round the coast, you can make your way along towards Ferryden.
There you'll find one or two places to take the weight off your feet and reward yourself with a bite to eat.
We particularly like Diamond Lil's – whether you're vegan or a steak lover, there are brilliant choices here.
Best bits: The whole area is a haven for wildlife and there's a pretty good chance of seeing puffins while you're exploring the area.
Difficulty: 3
9. Loch Faskally and Pitlochry Fish Ladder Walk
PItlochry
Genteel and gentle Pitlochry has so many things in its favour, for many of us it's the perfect place to spend a weekend.
And the walks and views available in the surrounding area are simply lovely.
This Loch Faskally route is one of the best.
It's a circuit which includes a trip over a suspension bridge on the river – it's always worth stopping here to take time to drink in the beauty of the area.
There's also Pitlochry's famous fish ladder, with viewing spots to see salmon using the ladder.
The walk takes you by the Festival Theatre, too.
It has a lovely cafe and, with a seat by the window, you can watch the River Tummel flow by while you enjoy some well-earned refreshments.
We suggest the doughnuts.
Pitlochry in the summer months can be really busy.
At this time of year, the walk is much quieter.
What's not to love?
Best bits: You feel you're in the heart of the country when you're out walking. But Pitlochry, with its many cafes and shops, is always nearby. Best of both worlds!
Difficulty: 3
10. Arbroath Historic Walk
Arbroath Town Centre
Arbroath has played a big part in Scotland's history and a walk around its town centre and harbour area gives you a chance to soak up some of that past.
You can complete a circular walk of Arbroath and the beauty of it is, you can make it as long or as short as you like.
Want a shorter stroll? Park at Arbroath Harbour car park and head towards the town centre and
Arbroath Abbey – the area is well signposted.
Much of the abbey is in ruins, but there's a good visitor centre which explains its fascinating history.
Need to challenge yourself a bit more? As you loop back around through the town, head for Seaton Cliffs.
You'll get spectacular views and there's a tarmac path to make the walk easier.
Fancy a souvenir of your day? We love Smithies Deli, home to many a fine gin and too many good cheeses to mention
Best bits: You can't visit Arbroath without buying some of its famous Smokies. You'll find plenty of bothies selling them around the harbour.
Difficulty: 2
11. Red Squirrel Walk
River Tilt, Blair Atholl
This is a short stroll – the circular route is less than two miles – but it's one of the best places in the area to see red squirrels.
Look out for the signs they are around. If you see piles of cone cores below branches of trees, you'll know red squirrels are not far away.
An easy route that most of us can manage.
Best bits: Feeling hungry after your walk? Order fish and chips from Food in the Park at Blair Atholl and enjoy them outside.
Difficulty: 1
12. Culross Stroll
By Kincardine
The historic village of Culross is a great place for stretching your legs and soaking up a bit of
history at the same time.
With its cobbled streets, well-preserved buildings and houses with pantile roofs, it feels like you're taking a step back in time.
Add to that a park, beach and National Trust properties and it's no surprise that Culross is
such a popular spot for walking.
Best bits: Much of cult TV series Outlander was filmed here and in other Fife locations. Great for fans of the show.
Difficulty: 1
13. Reekie Linn
Nr Altyth
This awesome waterfall in Glen Isla is an amazing sight.
The good news is you don't have to trek for miles to see it.
Park at Craigisla Bridge in Blairgowrie and then walk a few hundred metres.
Soon you'll hear the sound of water – you're almost there.
Some bits are narrow and by a drop and it can be slippy. Walk
with care!
Best bits: It's the sheer beauty of the waterfall. But also the fact you can get a lovely lunch in Cargill's in Blairgowrie after your walk.
Difficulty: 3
14. Monikie Country Park
Monikie, eight miles from Dundee
This park has so much to offer there's something for everyone.
Locals and visitors alike make great use of the fact it's set around two former reservoirs, with windsurfing, dinghy sailing, kayaking and rowboats all available if you fancy a change from walking.
Make sure you do explore with a good walk, though. There are both
guided walks and designated trails, and some of the scenery is just lovely.
Well worth a visit.
Best bits: Cafe Byzantium is a cut above most country park cafes. We tried the freshly made pizza on your behalf and it's as good as we've tasted.
Difficulty: 1
15. Benarty Hill
Nr Ballingry
The bottom of the hill involves going up steps (or you can walk up the side). Either way, you'll
feel you're working.
Continue to the top and you'll be rewarded with views to Loch Leven, to the Lomond and Cleish hills, and south over the Fife towns towards the Forth valley.
The hill is nicknamed the Sleeping Giant. You'll sleep after a walk to the top!
Best bits: Head just beyond the trig point – it's a concrete beacon – for the best of the views. Get there and you're at the highest point.
Difficulty: 4
16. Dundee Women's Trail
Dundee City Centre
Dundee's history is packed with amazing women who made a difference to the city, its people and the wider world.
The Women's Trail celebrates some of those amazing – and sometimes wild! – women.
You can download an interactive map on to your phone, which helps you follow the trail around the city. Even if you don't download the map, though, the trail is easy to follow.
There are 25 plaques around various locations. Each plaque commemorates a different woman with a brief history of their achievements.
Those recognised include Janet Keiller. When her husband John bought a huge consignment of bitter oranges from a Spanish chancer, Janet boiled them up and created marmalade – and went on to create a jam and marmalade-making empire.
The remaining 24 women celebrated by the trail are equally fascinating. Well worth a wander.
Best bits: Dundee has seen lots of new restaurants and cafes open in recent years. Try coffee and always-delicious cake at the Palais in Union Street.
Difficulty: 2
17. Fife Coastal Path
Firth of Forth to Firth of Tay
Stretching for 117 miles, Fife's Coastal Path does what it says on the tin.
It offers dozens of routes for walking along the coastline.
Whether you want a gentle stroll or a more challenging hike, you'll find something to suit along the way.
Everyone who knows the path has their favourite strolls, of course.
The East Neuk is popular – and not just because you get one of the best fish suppers in Scotland here.
Try a wander from Crail to Anstruther. It's fairly easy-going and the views to the Isle of May and the Bass Rock make it well worth it.
Or, if you fancy a bit of a challenge, the Elie Chain Walk is an unforgettable experience.
It's not officially part of the path, but situated on the cliffs just above it.
It's only 0.5km long, with eight chains to help you scramble over rocky terrain – but complete it and you'll feel like you're invincible.
Be sure to check tide times first.
It's not all about the East Neuk, though. We love the stroll between Dalgety Bay and Aberdour, along the easy path locals call The Avenue.
Don't forget a wander round Limekilns, either. It might feel like a sleepy village now, but it's got a fascinating history lots of locals are happy to tell you about.
You see? Something for everyone.
Best bits: There's no better way to spend an afternoon than to take a walk, then choose one of the many cafes or pubs along the route to relax. Bliss!
Difficulty: 3
18. Auchmithie Beach
Nr Arbroath
Whether you choose to walk along the red sandstone cliffs, or stroll the shoreline, Auchmithie is indeed a bonny spot.
On the beach you'll see amazing sea-carved caves. And look out for the centuries-old
arch, too.
Chances are you won't see another soul. Maybe just the odd dolphin-spotter or keen photographer here and there.
Best bits: It's not just the sights, it's the sounds. You'll hear the clunking and bumping of pebbles and stones as you walk.
Difficulty: 3
19. Forfar Loch Walk
Forfar
This is a haven for spotting wildlife – yet it's only a five to 10-minute walk from Forfar town centre.
The loch is part of Forfar Loch Country Park and the walk around it is manageable and uplifting.
Best bits: There's a great chance of spotting foxes, otters, roe deer and kingfishers. Take binoculars, a camera, or both.
Difficulty: 1
20. Ravenscraig Park
Kirkcaldy
This much-loved local park sits on the coastline.
A walk through the park itself is lovely and there's always something going on.
There are wide, paved paths, which are great for wheelchairs and prams.
Or you can choose to head down towards the trees that sit next to the beach and walk through the woodland path.
It's slightly narrower here but it's manageable for most abilities – and worth it for the views across the Forth to Edinburgh.
You can go down on to the beach at various points – whenever you go, you're bound to see children hunting in rock pools for crabs.
You can do the whole park as a loop, or you can continue walking along to the neighbouring village of Dysart.
At Dysart harbour – TV series Outlander is filmed here, as well as in west Fife village of Culross – you can learn about the area's history.
Whether you prefer an easy-going stroll or a scramble along rocks on the beach, there's something for everyone here.
Best bits: If you've walked all the way to Dysart, treat yourself to homemade soup at the Harbourmaster's House. The whole menu is reasonably priced, too.
Difficulty: 2
21. Craigmill Den
Carnoustie
You could easily miss this spot tucked away at the end of Carnoustie, but you'd be missing out on a treat.
It's a great spot for a riverside ramble, sometimes a little overgrown which all just adds to the charm.
It's flat but lovely. It's perfect if you want a relaxing jaunt into the great outdoors without too much effort.
Best bits: Take a trip into Carnoustie after your walk and head for the Two Sisters Cafe. It's got cakes galore and really good flavoured bread.
Difficulty: 1
22. Taybank Circular Walk
Errol
Starting in the village of Errol between Dundee and Perth, this walk takes you through New Farm and into fields.
Follow the path – there's a row of tall trees right next to it – and you will end up at Taybank Path, which leads you down to the Tay Estuary.
It's truly lovely here and, on a cold but sunny winter's day, the light is amazing and the colours vivid.
There's a good chance you'll get it to yourself, too. It's a haven for wildlife and birdwatchers.
Best bits: You get the best of all worlds with this walk – country tranquillity and then back to the pretty village of Errol which is also nice to stroll through.
Difficulty: 2
23. Kinnoull Hill
Perth
OK, who's up for a bit of a challenge? Because there's no getting away from it – this is a bit steep and you're going to have to work at it on the way up.
Is it worth it? Most definitely.
The view from the top, with the silvery Tay stretching out before you, is fabulous.
Not really up to the full climb to the top? Even halfway up you'll get rewarding views.
Best bits: It's not "just" a hill. There are carvings of tree trunks shaped into animals, plus picnic spots where you can take a well-earned rest.
Difficulty: 5
24. Cambo Estate
Nr St Andrews
Cambo has a lovely walled garden which is worth a visit at any time.
Go between January and spring and the 70 acres of Cambo woodland are carpeted in a
blanket of snowdrops. It's a glorious sight.
There's a cafe in the estate courtyard with a menu of filled rolls, cake and soup. Try the badger trail, suitable for those with limited mobility.
Best bits: Cambo often holds events. The next is Nordic Walking: Walk Yourself Fit on January 22. £8 fee applies.
Difficulty: 2
25. Loch Leven Trail
Kinross
You can do this as a circular walk – but only if you're feeling energetic, as it's
more than 12 miles long. Walking at an average pace, it can take up to six hours to complete.
Don't let that put you off. Even if you only fancy a shorter stroll, this is a great place to stretch your legs and enjoy some lovely scenery.
There are lots of places to park all around the loch, or in Kinross itself.
The car park close to Kinross High School is near the lochside.
The area has paths and is mainly flat. There are lots of benches, so pack a picnic and enjoy a bite to eat. It will give you a chance to take in the fantastic views across to Lochleven Castle, where Mary Queen of Scots was held prisoner for a year.
It's only fairly recently that walking right round the loch has become an option, when the last stretch of the trail was completed.
That was partly thanks to an £83,000 bequest from the late Jean Lindsay.
Mrs Lindsay would surely be thrilled to see that the completed trail has become so popular with locals and visitors.
What an amazing legacy to leave.
Best bits: Once you've finished your walk, stop off at Loch Leven's Larder. We can guarantee you'll leave with a treat or two from its well-stocked deli.
Difficulty: 3
26. Botanic Garden 
Dundee
The University of Dundee's Botanic Garden is not far from the heart of the city centre.
However, with its abundance of flowers, plants and trees you'll feel as if you're in another world.
It's perfect if you need a mainly flat, easy-going route and is a good option for wheelchair users.
These gardens aren't preened and pruned to perfection. They are well cared for, but some of the plants and flowers are left to grow gloriously unchallenged.
It makes the whole area all the more appealing.
There's a cafe and plenty of seating, so you never have too far to walk before you can take the
weight off your feet.
You will pay an entrance fee, but you could easily spend a few hours here.
It's the perfect place to find inspiration for your flower beds.
Best bits: The great thing is you can still have a walk even if there's a howling gale outside. Head for the heated glass houses
Difficulty: 1
27. Backwater Reservoir
Glen Isla
You can take a circular route around the reservoir. Along the way, you can climb two hills, which offer outstanding views across Angus.
Get there early when mist is lifting off the water and it's an amazing sight.
It's a fantastic area for wildlife and if you're lucky, you might just spot a golden eagle swooping through the hills.
Many reservoir walks are easy-going and parts of this one are, too, but if you take in the hills it's much more of a challenge.
Take a picnic, pick a spot and marvel at how lovely our country is.
Best bits: It's the utter silence and tranquillity in the area that makes it so special. Even at this time of year, the landscape is beautiful.
Difficulty: 4
28. Murton Trust
Nr Forfar
This lovely little nature reserve is a real gem. You pay for entry to some of the Trust, but the nature reserve is free, with plenty to see.
Best bits: It's a haven for wildflowers and wildlife. At this time of year it's a great spot to get away from everything – and everyone!
Difficulty: 2
29. Hermitage Woodland Walk
Dunkeld
This National Trust for Scotland area is an absolute must if you're out and
about in Perthshire.
Unlike many NTS properties, there is no shop, no visitor centre and no cafe.
And it's all the better for it.
It's a relaxing walk through woodland, leading to the dramatic, rushing Black Linn Falls which are a gorgeous sight at this time of year.
There are different routes you can follow and you'll often see families out with youngsters in pushchairs, as it isn't especially challenging.
One of the most popular walks is the Braan route, which leads you through the woods, along by the river and to a great view of the waterfall. It's circular, too, so you're always seeing something different.
Make sure you head into Dunkeld or Birnam afterwards for a drink and snack, too. We love Aran Bakery, run by former Bake Off contestant Flora Shedden. The sausage rolls are ace.
Best bits: Ossian's Hall was built in 1757 and decorated with mirrors, sliding panels and paintings. It has been refurbished to recreate the original design.
Difficulty: 2
30. Bamse Walk
Montrose
Head for the statue of Bamse the dog at Montrose harbour and find out about the St Bernard's heroics during the Second World War.
He would also visit pubs in Montrose to drag sailors back to their ship.
From the harbour you can walk to Bamse's grave, about a mile away, or complete the Bamse
Walk, which lets you visit some of those pubs
Best bits: Montrose itself is a lovely place to visit and it's easy to see why those wartime sailors loved its pubs. Get a great pint in The Market Arms.
Difficulty: 1
31. Shakin' Brig Walk
Edzell
Head for Edzell's Post Office and you'll see a track with the sign directing you to Gassy Brae and
the Shakin' Brig.
Walk this track far enough and you will actually go from Angus into Aberdeenshire.
No need to go that far, but the further you walk this track, the more dramatic and beautiful the area becomes. There's a shoogly bridge which kids love, too.
Best bits: Pretty Edzell is known as the "jewel in the crown" of Angus and Sinclair's Bistro is the perfect place to stop for cake after a walk
Difficulty: 3
32. Dunino Den
Nr St Andrews 
This is a lovely walk, rich in history, complete with rock carvings and other quirks to look out for.
Start at Dunino Church and there's a path that leads you down to an ancient well set into the stone floor of a rock.
This bit of the walk involves wide, stone steps and they can be slippy when it's damp, so take care.
Local legend has it that there are fairies in the area and there are various charms and hangings along the route, including a rock covered in pennies.
It's off the beaten track so if you're looking for peace, you can't do better.
Best bits: Find the tree in the clearing which is adorned with ribbons, bangles, pendants and baubles. They're left by visitors for luck and it's so pretty.
Difficulty: 2
33. Lochore Meadows
Lochgelly
This country park has a great adventure playground for children, but is also a perfect
walking spot.
You can walk right around the loch and it's a good area to take a wheelchair or pushchairs as there are lots of flat paths.
There are picnic benches and seating and on a sunny winter's day it's a truly uplifting place to be.
Best bits: There's always something going on. From watersports on the loch to kids having a ball in the park, there are plenty of sights to see.
Difficulty: 1
Winter walks: 33 ideas for days out in Aberdeen, the North East & the Highlands and Islands
Dundee named one of 22 top places to visit in 2018 by Bloomberg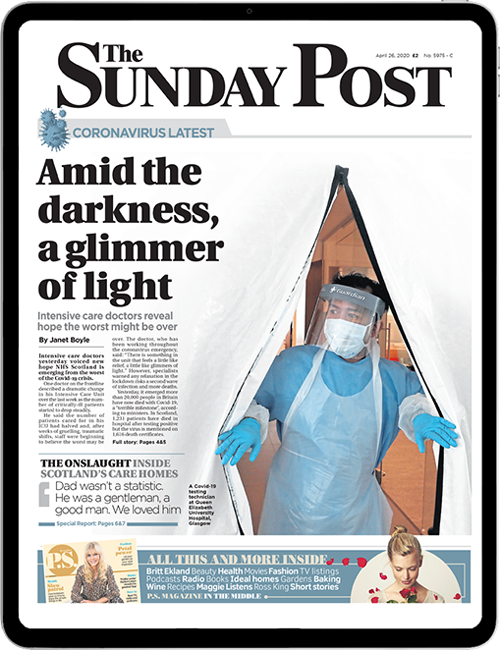 Enjoy the convenience of having The Sunday Post delivered as a digital ePaper straight to your smartphone, tablet or computer.
Subscribe for only £5.49 a month and enjoy all the benefits of the printed paper as a digital replica.
Subscribe