Exclusive poll reveals that many feel honesty is in short supply from both camps in independence referendum debate.
More than a third of Scots don't think they are getting honest answers from either side of the independence referendum battle.
An exclusive new opinion poll for The Sunday Post shows 39% of voters feel the information coming from the Yes and No camps is not trustworthy.
And with less than five months until polling day, a further 27% claim they do not feel they've got enough information about the debate to make an informed decision.
The poll of 1,000 Scots showed 29% felt the Yes campaign was providing the most trustworthy information compared to 21% for the No campaign, while a further 10% claim both sides are equally honest.
A breakdown of the figures shows 62% of undecided voters did not trust either side to give them the truth on independence.
Respondents were also asked to rank both campaigns for trustworthiness on a scale of one to 10, with the pro-independence campaign edging out its pro-Union rival.
Strathclyde University polling expert Professor John Curtice said: "Those who don't trust either side is a big problem, but then people don't trust politicians.
"The campaign is only going to get more strident, which is probably not going to help these people.
"Neither side is particularly gloriously trusted, but Better Together does appear to have more of a problem with trust, even with their own supporters.
"It should be exercising their minds as it is very hard to convince people of your message if they don't trust you.
"If people are becoming increasingly sceptical about the No side then it probably does reflect what we have seen in other polling that the purveyors of the Yes message have a higher trust level than their counterparts on the Better Together side."
The pro-independence cause appears to have been handed a boost by last weekend's SNP spring conference and the widely criticised intervention by the former secretary general of Nato and Labour peer Lord Robertson, who claimed a Yes vote would have a cataclysmic impact on the world.
The poll by Survation, conducted last week, now puts the overall Yes vote on 38%, up one point from a poll by the same firm published on April 7, and the No camp on 46%, down one point from the last poll, with the Don't Knows at 16%.
Once the Don't Knows are stripped out, the Yes vote stands at 45%, up two points from the last Survation poll, and the No vote stands at 55%, down two points from the last poll.
Respondents were also asked to rank which campaign has been the most positive, with Yes attracting an average score of 5.9 out of 10 compared with 4.5 for the No campaign.
A quarter of Scots think David Cameron should resign if Scotland votes to end the Union, but just over a third of poll respondents think Alex Salmond should go if it is a No vote.
However, the First Minister will be encouraged that two thirds of SNP supporters do not feel he should quit.
Professor Curtice explained: "If we strip away the fact that No voters will automatically say Salmond has to go, what is interesting is that you actually find that Yes and SNP supporters do not think his job is on the line so it appears it would be a case of thanks for trying, we forgive you and carry on.
"That does not account of course for some sort of internal SNP implosion in the event of a No vote and, on the other side, the bigger problem for David Cameron if there's a Yes vote actually comes from the rest of the UK."
Blair Jenkins, chief executive of Yes Scotland, said: "This is a very encouraging poll the narrowest gap yet in a Survation poll and shows Yes continuing to make steady progress.
"It is really good news that people regard the Yes campaign as the more trustworthy and more positive of the two."
A spokesman for Better Together said: "This is yet another poll that shows that the majority of people want Scotland to stay in the UK. We can have the best of both worlds in Scotland. We will be fighting for every vote between now and the referendum in September."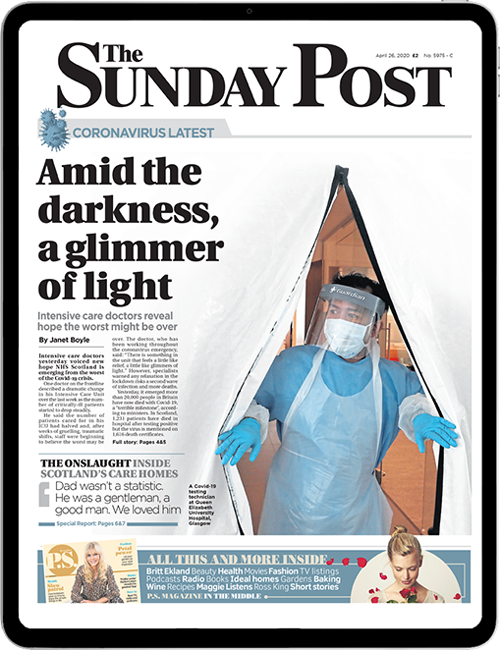 Enjoy the convenience of having The Sunday Post delivered as a digital ePaper straight to your smartphone, tablet or computer.
Subscribe for only £5.49 a month and enjoy all the benefits of the printed paper as a digital replica.
Subscribe