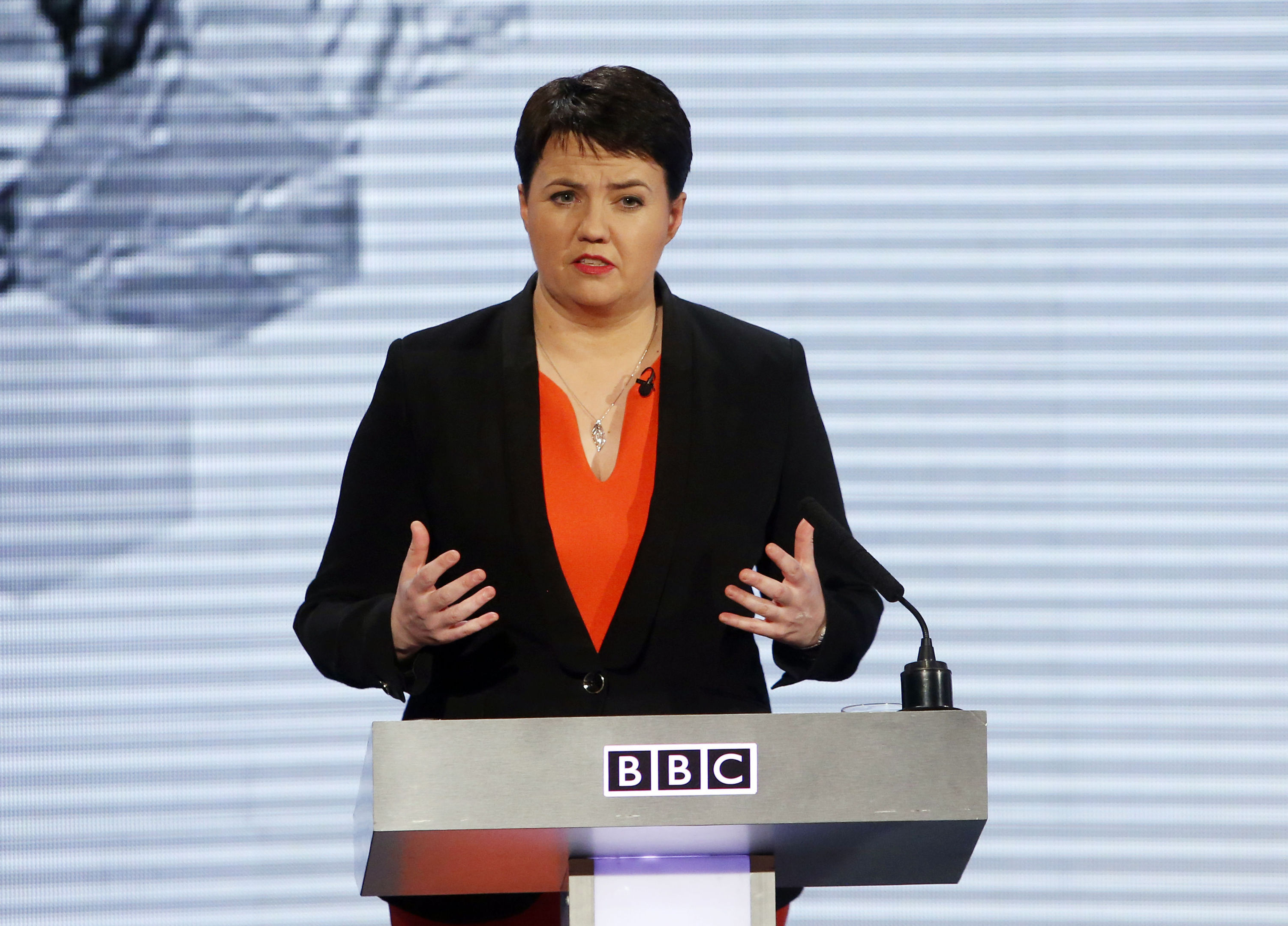 The Tory chief is alone among the party leaders in Scotland to score positively with the over-60s.
She even outstrips her Nationalist rival Miss Sturgeon who since becoming First Minister and SNP leader in 2014 has had her popularity registering off the scale in most surveys.
Indeed, the most recent poll of all voters by Survation earlier this month revealed she had a positive rating of 21.
However, our poll of older voters – which asked to what extent people think favourably or unfavourably towards the country's key political figures – showed her with a net favourability score of minus one.
It suggests Miss Sturgeon is very much a "Marmite politician" – you either love her or hate her – among older voters as almost as many people favour her as don't.
By contrast, Ruth Davidson has a positive rating of six among older voters, but minus six among all voters.
Professor John Curtice said: "It is an indication of the strength of Ruth Davidson's cross-party appeal that she has the highest net favourability rating of all the leaders."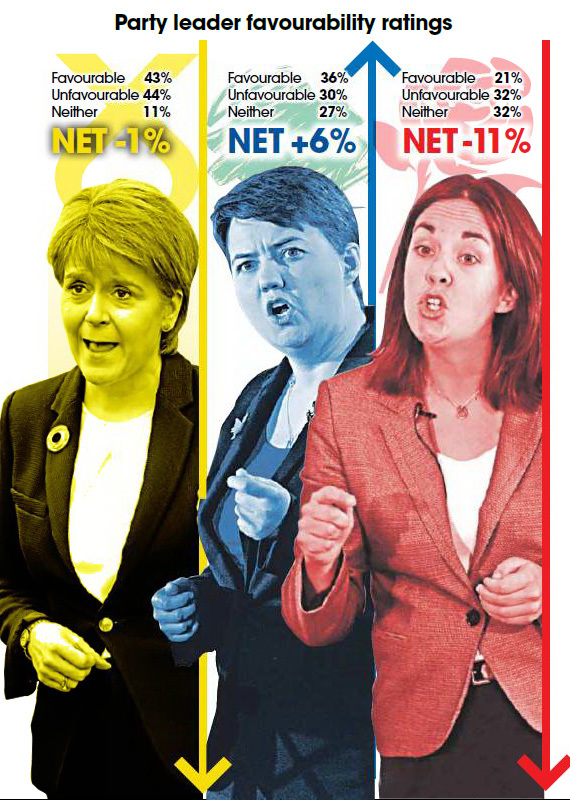 The Sunday Post's poll also shows older voters are generally a lot more sceptical of Scottish political leaders than the wider electorate.
Kezia Dugdale's favourability rating among all voters is minus nine but older voters put her at minus 11.
She also has the added headache that 15% of pensioners are unsure if they are favourable to her or have just not heard of her.
Just 21% of voters do think favourably of Miss Dugdale, which is only just ahead of Lib Dem leader Willie Rennie on 18%.
Where Miss Sturgeon fared much better was when the poll asked who pensioners would prefer as First Minister – her or predecessor Alex Salmond.
Half of the respondents opted for Miss Sturgeon, with only 14% choosing Mr Salmond. The remainder said they were unsure.
Interestingly, 74% of the SNP voters who responded to this question backed the current First Minister compared to 20% who said they preferred Mr Salmond.
This will perhaps fuel speculation among SNP supporters that they may have fared better in the Scottish independence referendum with Miss Sturgeon, seen by some as a less divisive figure, at the helm.
Critics may, however, point out that Miss Sturgeon was officially in charge of the Yes campaign.
SNP Record: Thumbs up on key issues
THE SNP'S record of running the country for nearly a decade will be a huge focus in the coming weeks.
But the party has little to fear from older voters. Our poll shows positive ratings for all of the big ticket areas such as health and education, despite often well documented issues such as the problem of bed blocking and the worsening schools' attainment gap.
Voters were asked how satisfied they were with the Scottish Government's handling of law and order and 43% were satisfied and 30% dissatisfied.
On education the split was 42% to 33%, while on the the issue of the NHS 43% were satisfied compared to 39% who were unhappy.
There was also positive ratings for transport issues but the Scottish Government's record on the economy scored minus two, with more people unsatisfied than satisfied.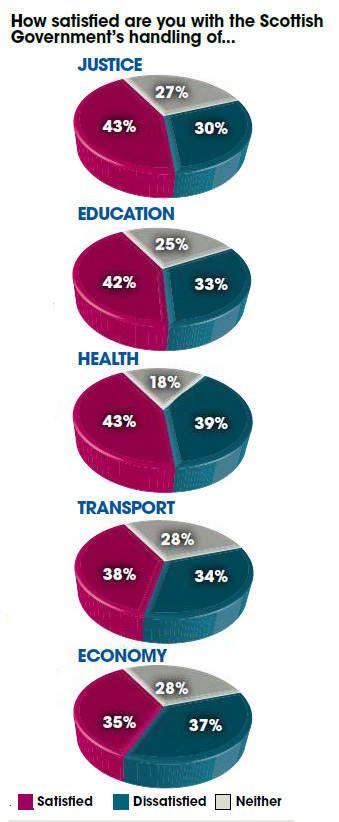 The scores for the SNP's record in charge of Scotland are worse than the ratings in the regular polls but, crucially for the party, they remain mostly positive.
The NHS ratings in the last all ages Survation poll was 51% satisfied and 26% dissatisfied.
A huge gap compared to what older voters said in our poll but OAPs are more likely to have more contact with NHS services so arguably have a better idea of how it is performing.
It is unusual for a party looking for its third term in office to see its ratings for crunch areas like health remain so positive after so long in power.
---
READ MORE
Exclusive: Pensioner power to sink Labour in Scottish elections