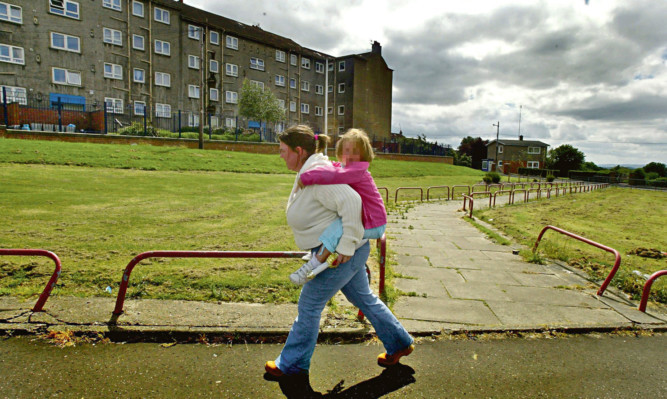 Former chief medical officer claims most deprived areas are now left without a voice after independence rejected.
Scotland's former top doctor has said the country's poor were "put back in their place" by a No vote.
Sir Harry Burns took to Twitter to suggest the lower the income of Scots the more likely they were to vote Yes with the middle classes voting to keep the status quo. His comments immediately provoked a fierce online debate.
The former chief medical officer also said the shorter the life expectancy of voters which researchers say is tied to income in Scotland the bigger the chance of them voting Yes.
Sir Harry who now works as a professor in global public health for a top Scottish uni said the poor had been left without a voice following last week's historic poll.
He claimed there was a "strong inverse correlation between life expectancy and the decision to vote Yes" and "also a correlation with low income and a Yes vote".
He said: "The comfortable middle class voted to stay comfortable. So, who now speaks for the poor?
"When you think about it, the poor spoke for themselves by voting in huge numbers. They were put back in their place."
Sources close to Sir Harry said it was unusual for him to post controversial tweets unless he felt strongly about a subject. However, Scottish Labour slammed his comments.
A spokesman said: "Sir Harry Burns is a hugely respected figure but these comments are unfair and misleading. Many people from different backgrounds and circumstances voted in the referendum for different reasons and they all did so because they thought it was best for their family and their country.
"We do not believe the best way of tackling poverty is to create a £6bn black hole in the country's finances. We believe we can achieve equality and social justice by using the opportunity of devolution and the strength of the UK."
Sunday Post analysis into last Thursday's vote show the four areas with Yes majorities Dundee (57.3%), Glasgow (53.5%), West Dunbartonsire (54%) and North Lanarkshire (51.1%) all share one important characteristic: they house some of Scotland's most severe areas of poverty.
Other areas with marginal No votes were Inverclyde (50.1%), North Ayrshire (51%), Renfrewshire (52.8%) East Ayrshire (52.8%), which have similar socio-economic profiles.
But in the most affluent areas of Scotland, the No margin of victory was widest.
For example, Glasgow's two most affluent suburban areas East Renfrewshire (63.2% No) and East Dunbartonshire (61.2% No) stand in marked contrast to the city.
Other Scottish cities with a strong upper and middle class element had comfortable No majorities Aberdeen (58.6%), Edinburgh (61.1%) and Stirling (59.8%).
Scottish Green Party co-convener Patrick Harvie said: "The 88%, 90% turnouts tended to be in areas where there was less social deprivation areas where, you could argue, people are well-served by the current constitutional framework.
"In areas where there's more social deprivation, people would have more to gain from a change to the constitution and the UK's economic system.
"Everyone in Scotland is wondering what comes next. It has to be about reducing the power imbalance in society."
A shock report in July found one million Scots were living in poverty. The statistics showed almost one in five is on the breadline and the problem is getting worse.
Official statistics for 2012-13 showed how many Scots were left struggling to get by after meeting housing costs. They included 220,000 children, which was up 30,000 on the previous year.
The figures also showed the poorest households had been hit hardest by austerity cuts, losing an average of £20 a week. But those in work are also suffering because of low wages and rising costs of living. Six out of every 10 kids in poverty are from families where at least one adult is working.
Sir Harry now works for Strathclyde University after stepping down as the Chief Medical Officer for Scotland five months ago after nine years at the top. He quit to concentrate on health inequality.
After graduating from Glasgow University in 1977, Sir Harry spent 15 years as a surgeon. He went on to become director of public health for Greater Glasgow health board in 1993, until his appointment as Scotland's chief medical officer. Sir Harry, who was knighted in 2011, has become well known for highlighting the links between poverty and poor health.
In 2012, he told the Scottish Parliament's audit committee: "Health inequalities are the biggest issue facing Scotland just now, because not only are health inequalities a problem but they are really a manifestation of social inequality."
He has previously waded into the referendum debate in July when he said how independence could be "very positive" for the country's health.
Last night, poverty campaigners supported Sir Harry's stance. Cat Boyd, spokeswoman for the Radical Independence Campaign, said: "All the way through the referendum we said independence was a class issue and the rich were voting No. We are talking about the working class people who have been disenfranchised.
"People were voting for change.
"It was people from working class communities that marched out to those ballot boxes and voted Yes because they were acutely aware of what Westminster has done it has created alienation."
Sir Harry wasn't at his Barrhead home yesterday but a relative said he would not comment further.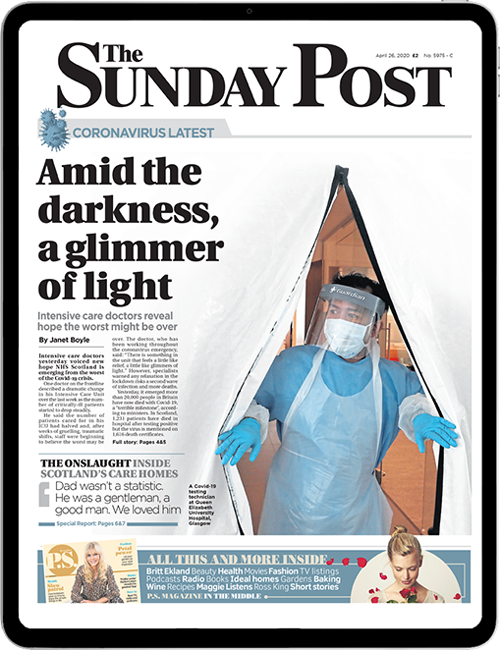 Enjoy the convenience of having The Sunday Post delivered as a digital ePaper straight to your smartphone, tablet or computer.
Subscribe for only £5.49 a month and enjoy all the benefits of the printed paper as a digital replica.
Subscribe