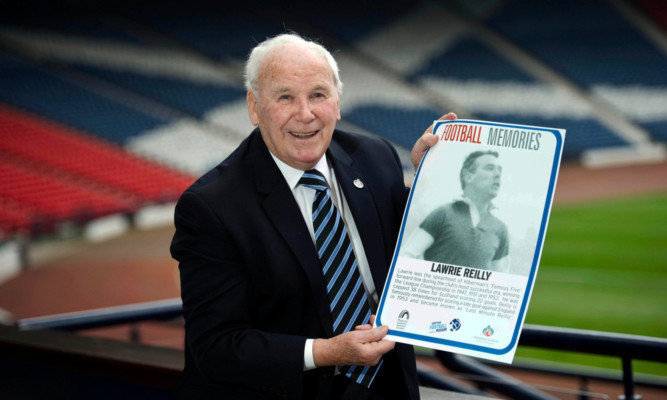 The Hibs legend 's attitude would teach today's stars a thing or two.
Hibs couldn't have chosen a worse night to sustain their biggest
European humiliation in 58 years.
The pre-match tribute to the late Lawrie Reilly was supposed to inspire the Easter Road side to overturn a two-goal deficit from the first leg in Sweden.
Instead, they ended up shipping seven goals to Malmo for the worst aggregate result ever recorded by a Scottish side in Europe.
Fortunately, Reilly's memory will not be the least bit tarnished by that appalling performance.
His achievements are far too impressive to be dragged down to that level.
Reilly's astonishing playing career was rightly lauded upon his passing last week, aged 84. But they only half told the story behind the Hibees'
legendary No 9.
In a week when Celtic striker Gary Hooper engineered a transfer to Norwich City, while Wayne Rooney and Luis Suarez tried their damndest to break lucrative contracts at Manchester United and Liverpool, Reilly's behaviour should be a lesson to them all.
This was a man who played against England at Wembley, despite requiring stitches in a badly-cut foot following a daft prank in the dressing-room before the game involving Tommy Younger and Tommy Docherty.
None of today's prima donnas would have played. But Reilly (above) insisted he turned out for Scotland, saying there was no greater feeling than to wear the dark blue strip with the huge lion rampant badge.
This was the same Reilly who felt morally obliged to ask his beloved Hibs for a transfer when they refused to organise a testimonial he was legally due.
Arsenal made it known they wanted him at Highbury, but Reilly didn't push things. All he wanted was Hibs to do right by him.
So highly regarded was Reilly, the SFA stepped in to broker a deal and Lawrie happily saw out his career as a one-club man.
Yet, ironically, when he was forced into premature retirement aged just 29, the same SFA would not allow Lawrie to make a token appearance in his own benefit game because they had no jurisdiction over a, by then, unregistered player.
Not once did Reilly complain. He was from an era that accepted footballers were no different from the fans who paid to watch.
It's a pity few of today's players have the same attitude.