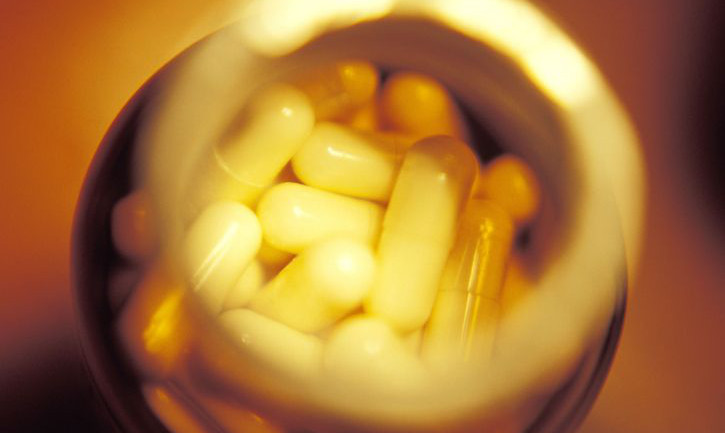 "We can pop more pills and hope they have no harmful side-effects or we can try to change our lives."
What has Glasgow Sheriff Court got to do with heart disease?
Bear with me.
Long ago in its Miles Better phase a sign outside the new Glasgow court proclaimed that it was the biggest in Europe. Whoops. It took a wee while before the penny dropped.
The largest court wasn't testimony to the most peaceful society. Quite the opposite.
Peaceful societies don't have big jails or massive courtrooms. They have people who resolve disagreements among themselves.
As with prisons so with health.
Many Scots think a nearby A&E department is the best sign that Scotland takes health seriously. In fact it proves the opposite.
Healthy nations have fewer hospitals because healthy people are able to take good care of themselves.
And that brings us to statins. Does a healthy society need folk to pop more pills to fend off heart disease or to get off our backsides more often?
The National Institute for Healthcare and Excellence (NICE) has suggested that most people over the age of 50 should take cholesterol-lowering statin drugs 'just in case' they're heading towards heart disease.
If that recommendation by Britain's main health agency is approved prescriptions could rise from seven to 12 million.
What's wrong with that? If a "silver bullet" can prevent heart disease, isn't that great news?
Believe me, as a lass whose father died from a heart attack 30 years ago, I'd back anything that really helped.
But I fear that mass prescription of statins is not the answer.
According to Sir Richard Thompson, president of the Royal College of Physicians, the evidence backed by NICE is based on industry-sponsored research which exaggerates the benefits and underplays the side-effects of statins.
And it appears eight of the 12 NICE panel members have direct financial ties to statin manufacturers.
In a letter to the UK Government Sir Richard and eight other leading doctors have called for extra prescriptions to be halted until proper independent research is carried out.
Surely that's right? There's no doubt statins reduce the risk of stroke and heart attack for those at risk but doctors fear they may do more harm than good in healthy people.
The powerful drugs can produce diabetes, depression, fatigue and muscle weakness which make folk less active.
Researchers in the USA examined 3,000 male pensioners and found those on statins did 40 minutes less moderate physical activity a week than those who were pill-free. Muscle weakness discourages physical activity and that increases the risk of heart disease. Bad news.
But researchers from Glasgow University disagree. They followed 6,595 middle-aged Scotsmen for 15 years and found those on statins were less likely to need hospital treatment.
They estimated that for every thousand patients on an average dose of statins
for five years, the NHS could save £710,000, have 163 fewer hospital admissions, 1,836 fewer days in hospital and a 43% reduction in heart failure emergency admissions over 15 years.
So who's right?
Deep down we know Scots must change the habits of several lifetimes to create a healthier society.
Let's be honest. Heart disease in the developed world is caused by bad diets, stressed lifestyles and physical inactivity.
We can pop more pills and hope they have no harmful side-effects or we can try to change our lives. One solution is easy, the other is hard.
A healthy society has fewer hospitals and less pill popping, poverty, constant emotional strain, insecurity and spectator sport.
Let's fix our eyes on that horizons and meantime back Sir Richard's call for more independent statin research.