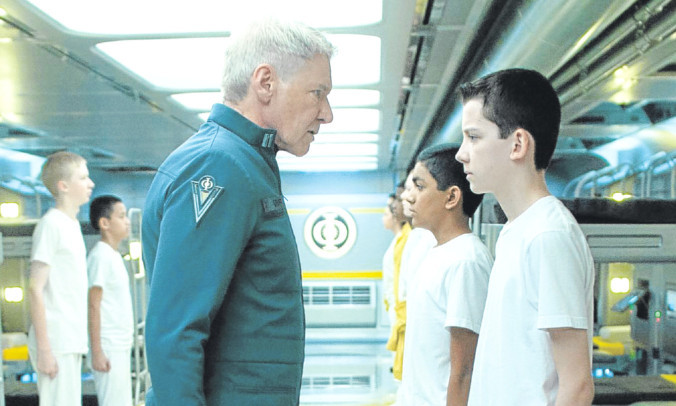 Another week, another awards ceremony.
It sometimes seems like this town feels naked if it doesn't have a big bash to wrap itself up in. But there has to be a start and end to it and the big beginning for movies anyway was this week's Hollywood Film Awards.
It's the first big ceremony of what's a long, LONG season running through until the Oscars next year. Trust me, the tux is constantly pressed and the ball gowns are always at the ready. And that's just me!
I remember seeing something in one of the local papers about the Hollywood Film Awards when I first moved to LA. I bought a ticket thinking it sounded terribly grand and went along to find it all very quaint and quite pleasant, but nothing more.
Cut to 2013 and you've Julia Roberts, Sandra Bullock, Harrison Ford, Jake Gyllenhaal and Matthew McConaughey basically some of the biggest names in the business. It's an incredible line-up.
Awards season has become such a political business out here. People run campaign races for the Oscars, so if they have a scent of success they really go for it.
Sandra Bullock got Best Actress for her performance in Gravity and indeed she is good and Academy Award voters are watching. They see her really going for it, talking to all the crews on the red carpet and picking up the award and think: "Oh, she must be so good."
When I chatted to her she was being smart about the months of awards ahead.
"There's no preparation," she said. "You're just grateful you're invited to the party. If you're not invited, don't take offence and enjoy it on TV. So I'll enjoy it either way."
That lady hasn't been at the top in Hollywood for decades for nothing!
Somebody else that most definitely falls into that category is the legend, Harrison Ford. He has red carpets nailed. It's like the man's on one of those moving walkways you get at airports. He does it so cleverly, drifting along so you get one question as he's incoming and another as he's moving away.
But the the other night he stood for a while, happy to chat for a little bit after he'd done the American networks. It was definitely a different kind of Harrison. He's giving the impression that he's mellowed and is actually enjoying the success he's had. He won a lifetime achievement award and I was joking with him that he could spend a lifetime getting lifetime achievement awards. But he still sounds keen to keep going.
"I'm delighted I've been offered the things I have but there are a lot of things out there I'm hoping I'll be able to do."
It was great to see Matthew McConaughey looking better than he does on screen in acclaimed film Dallas Buyers Club he plays a hard-partying Texas cowboy given 30 days to live in the 1980s.
He lost the best part of 50 pounds for the role and said it was when friends were shocked at how ill he looked that he knew he looked like he needed to. Everybody's asked him about the weight loss so I asked what it was like to be able to eat again.
He told me he spent two hours making the perfect cheeseburger.
Seconds to eat it?
"Oh no, I made eating it last a long time!"
I also caught up with Robert Kazinsky, who spent hundreds of episodes as ladies' man Sean Slater in EastEnders. He's doing really well out here and is in the film Pacific Rim. He was along quite early and I was asking him about his best Hollywood moment so far. He said that without a doubt it was the Pacific Rim premiere at the Kodak Theatre on Hollywood Boulevard, which he used to live right next to. Every Friday they'd close it down for a premiere and he'd be stuck in his house, unable to get out.
"I'd hope and dream that one day that would be me. Finally, there I was in my limo, signing autographs. Here was my movie. The posters were everywhere and it made all the efforts to get here worthwhile. It really was a dream come true."
And it's a very long way from Albert Square!