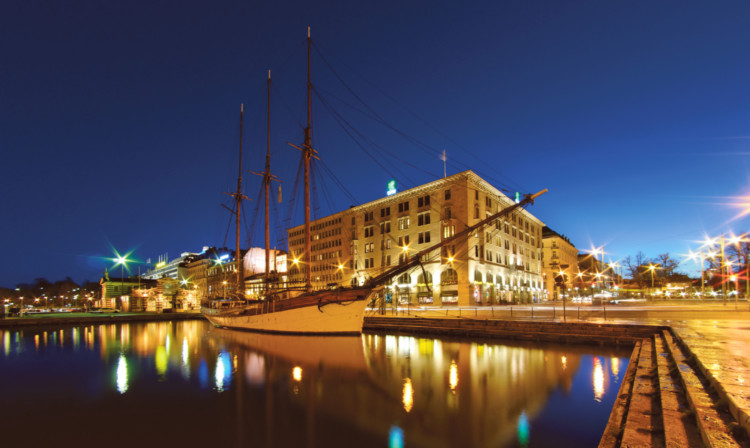 Cool is the word to describe this fascinating city.
It's a snow-covered northern nation of five million people sandwiched between two former ruling powers.
But when Finland celebrates a century of independence in 2017, it'll be in better shape than neighbouring Sweden or Russia with world excellence in education, productivity and innovation and a quirky, design-crazy, award-winning capital city.
Yet for many, Helsinki is just a half-day stop on Baltic cruises and Finland no more than the home of Santa Claus.
That's all about to change. Half of Finland lies within the Arctic Circle.
Not surprisingly, Finland is also the world's sauna capital its Parliament even has a sauna debating chamber.
The sauna is not in the least bit naughty to the Finns, it's a semi-religious experience once described as "the art of being alone, together."
Helsinki used to have hundreds of public saunas, but now every home has one so only four public baths remain.
Try one it's a great way to warm up in winter and marvel at the weird ways of the Finns.
But remember, public saunas are single sex because bathers go nude. Secondly, the steam is extremely hot. Thirdly, locals use birch twigs to hit themselves and increase blood circulation!
I'd recommend the new Cultural Sauna (Kulttuurisauna) after a morning coffee at the vibrant Hakaniemi Market Hall on Tram 6 or Yrjnkatu, Finland's oldest swimming hall.
This 1920s bath is beautifully colonnaded and tiled, with swimmers ploughing up and down the lanes starkers (though visitors can wear costumes) and saunas upstairs with tables overlooking the pool.
It's authentically old-fashioned, spotlessly clean, and good value at £9 for the day.
But summer is the big Baltic secret long days with dependable sun. And since Helsinki is a compact city blessed with great public transport you can see more in a weekend than you'd ever think possible.
Start at Kauppatori, the Market Square, the busy centre of Helsinki with the main tourist office and Senate Square behind (visit the impressive Lutheran Cathedral and brilliant Helsinki City Museum).
Pohjoisesplanadi (the language bears no resemblance to any other Nordic tongue) has posh design stores like Marimekko with textiles and bright, geometrically patterned houseware.
After a quick window shop hop on the Number 2 or 3 tram (drivers sell tickets), pick up a leaflet and begin your own self-guided city tour as the tram snakes round the major sights in just over an hour.
We hopped off to see the spectacular Concert Hall in the massive new Music Centre. The lighting system resembles logs tumbling down a mountain river and there are tours every Friday.
At Stop 9 we saw the astonishing Temppeliaukio Church, carved from solid rock and a great venue for concerts thanks to marvellous acoustics.
We passed the Olympic Stadium (from 1952), Parliament, National Museum and Kiasma, the Modern Art Gallery.
When you complete the tram tour in Market Square, stop for coffee and cake in the beautiful glass-walled Restaurant Kappeliin in Esplanadi Park.
Then, why not nip on to the ferry for a 15-minute sail to Suomenlinna, the maritime fortress built on bare granite islands 200 years ago by the Swedes.
Today Suomenlinna is a UNESCO World Heritage Site and Finland's most popular tourist attraction. It's a tiny municipality with 800 residents and . . . an open prison!
Constant repairs to keep sea-walls, ramparts and buildings intact are carried out by inmates who become stonemasons during their "stay."
The Finns are supremely rational folk, but sometimes they let their hair down and break all the rules.
Those are called Restaurant Days or Cleaning Days great Finnish innovations dreamt up in 2011 by three friends frustrated with planning and licensing restrictions.
One day they created pop-up cafes across the city without permission. City officials wisely decided not to interfere.
Now Restaurant Day is the world's biggest food carnival and takes place in 55 countries, four times a year.
We met co-founder Timo Santala at Kellohalli, once an abattoir, now a lively restaurant and vegetable distribution complex, where pasta and delicious ice cream are made on the premises.
Cleaning Day is similar, and every family can sell unwanted knick-knacks on the pavement for 24 glorious, unregulated hours.
But the biggest event is Restaurant Day the last one saw 500 eateries pop up in front rooms, hot air balloons and even a Siberian Yurt.
Catch one if you can.
FACTBOX
Restaurant Days 2014 are May 17, August 17 and November 15. See restaurantday.org.
KLM fly Edinburgh-Helsinki via Copenhagen. Full details at klm.com.
To book the Hotel SokosPresidentti, visit sokoshotelpresidentti.fi.
Helsinki's trams Tram 4 is also an architectural tour, Tram 6 is a design and culinary tour (taking in the Arabia pottery factory). And the adventurous must try the Metro east to stroll through Vuosaari, one of eight waterfront developments in the city, along with swimming gear to sample the beach at Aurinkolahti. Full details at visithelsinki.fi/en.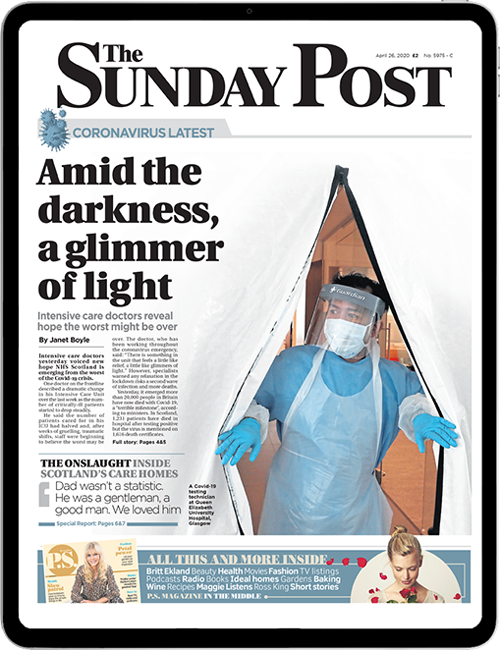 Enjoy the convenience of having The Sunday Post delivered as a digital ePaper straight to your smartphone, tablet or computer.
Subscribe for only £5.49 a month and enjoy all the benefits of the printed paper as a digital replica.
Subscribe