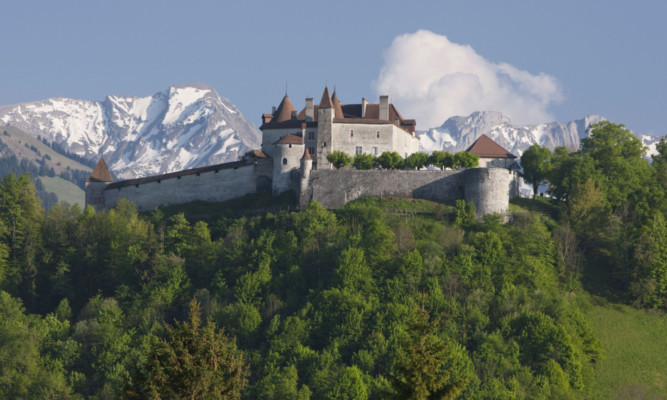 Switzerland was recently named the world's happiest country in a survey of 158 nations (we're a rather miserable 21st!)
Having recently travelled again to the country, I can see why it's just so darned beautiful, everything works and the weather, food and drink are all pretty marvellous.
The Swiss are wealthy, healthy and live among, arguably, the most beautiful scenery in the world.
I travelled to the Fribourg region, 90 minutes from Geneva or Zurich. Often bypassed by visitors keen to hit the Alps, this area abounds with lush Alpine valleys, medieval villages and towns, and rich pasture, where black-and-white cows, with bells around their necks, fill the mountain air with that familiar jingle-jangle that tells you you're in Switzerland.
At the linguistic border between French and German-speaking cantons, there are several gems you should visit or base yourself in. Murten is one.
This little medieval town, on the southeast bank of the lake of the same name, has preserved its appearance, with picturesque alleyways in the Old Town and a lovely lakeside promenade offering a range of water sports.
Located on the language border, between Lausanne and Berne, there are Middle Age towers and ramparts to explore, and a wonderful castle. Arcaded shops and welcoming cafes abound.
Food and drink is as varied as it is delicious in Switzerland. The local speciality is 'Nidelkuchen' a unique, delicious cream tart. This pastry is produced exclusively at the Aebersold bakery, in the heart of Murten.
Having tried that, we were off on the short drive to The Vully, one of the smallest wine regions of Switzerland. Sample some excellent Swiss wines just metres from the vines they come from.
The Vully is a panoramic area with views of Lakes Neuchatel and Morat, the Jura Mountains and the Alps. Known for its fish and spakling white wines, it's a perfect base for a walking or cycling holiday.
The next logical stop is the medieval village of Estavayer-le-Lac. Reflecting the purity of the Gothic style, the arcades of Chenaux Castle and Saint Lawrence's Collegiate Church (14th Century) dominate the city. It's absolutely beautiful.
A great place to stay and eat is Chteau de la Corbire a beautifully-restored 19th Century castle with fabulous food and 15 beautiful rooms with views of the Jura Mountains or Alps from around £100 a night per double. See chateaudelacorbiere.ch
But my absolute favourite? It's 800-year old Gruyre yes, the one famous for its cheese.
This is chocolate-box Swizerland with a magical 13th Century hilltop castle; cobbled streets, fabulous old buildings, all surrounded by eye-watering Alpine scenery and lush meadows.
Of course you need to visit La Maison du Gruyre the cheese dairy, to learn more, see it being made, and taste the delicious stuff.
Gruyres village is compact and car-free, offering rich history and beauty at every single turn. It's honestly ridiculously pretty just like something out of a storybook.
Personally I'd spend at least two days there, but as ever when they're whisking travel writers round we had all of two hours. Anyway, I'll be back under my own steam that's how much I loved it.
Not that the next stop isn't also fabulous.
Saillon is another medieval gem and a falconry demonstration awaited us after a walk up to a perfectly-preserved medieval village. This whole undiscovered area is awash with history, fabulous small towns and rich heritage and culture.
Using the train to get around makes sense. Swiss trains are comfortable, go pretty much everywhere and always on time. A Travel Pass is well worth considering.
The all-in-one-ticket solution enables you to travel the length and breadth of Switzerland by train, bus and boat, including scenic routes such as the Glacier Express, Bernina Express, Golden Pass Line or Wilhelm Tell Express, the public transportation in more than 75 cities, a 50% price reduction on most mountain railways as well as free admission to more than 480 museums. Passes from £145.
10 thing you probably didn't know about Switzerland
1. The British actually invented Winter tourism in Switzerland in 1864.
2. The Matterhorn is the most photographed mountain in the world and is featured on Toblerone packaging.
3. Switzerland has the most beautiful cows in the world, which are being dressed up in flower headgear every September!
4. Swiss inventions include: the pencil, fondue, milk chocolate, optical and contact lenses, Swiss army knife, Nescafe, the Red Cross, cellophane, velcro and the computer mouse.
5. The Swiss consume around 94,000 tonnes of chocolate a year.
6. Switzerland is the home of the mountains it has 51 peaks higher than 4000 meters.
8. You can cross the country and never be further than 10 miles from a lake.
9. Switzerland has won more Nobel prizes than any other country.
10. Switzerland is home to the highest railway station in Europe The Jungfraujoch.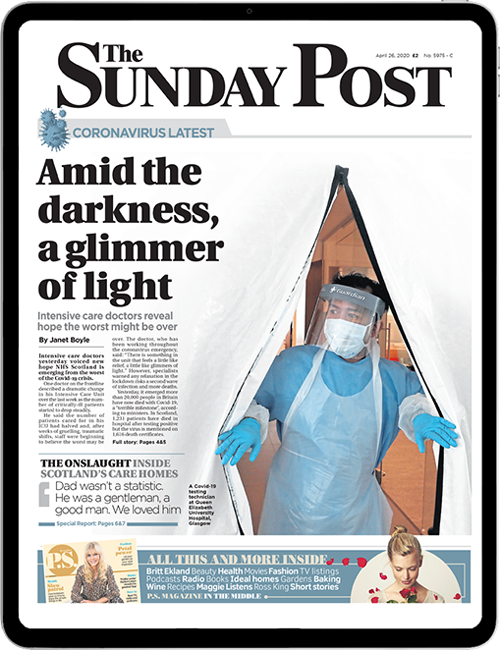 Enjoy the convenience of having The Sunday Post delivered as a digital ePaper straight to your smartphone, tablet or computer.
Subscribe for only £5.49 a month and enjoy all the benefits of the printed paper as a digital replica.
Subscribe