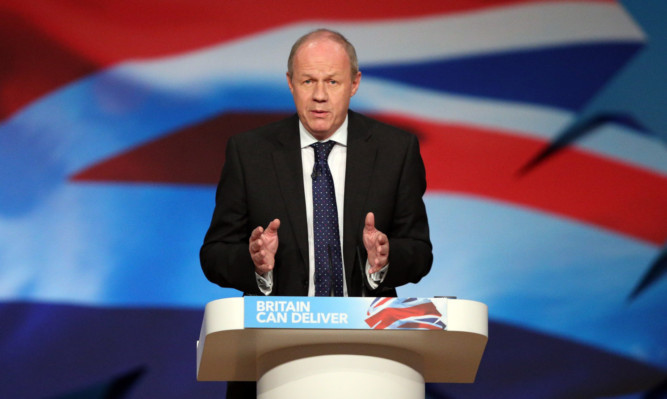 Life at Westminster is often compared to a sitcom sometimes you don't know whether to laugh or cry.
For example, a strange tale emerged of two ministers in their student days. While at Cambridge puny-looking Attorney General Dominic Grieve apparently tipped the rather more hefty Damian Green, who is now in charge of the police, off a bridge and into a river. Men behaving badly.
These two are the last candidates you'd cast in a remake of that series (though Grieve and Green does have the ring of a crime-fighting duo about it).
The incident this week when a Downing Street photographer zoomed in on his picture of hapless aide Patrick Rock walking into Number 10 and found he could read the notes the adviser was carrying was described by many as coming straight out of political comedy series The Thick Of It.
That's giving the satirists unfair credit. Ministers most famously Hazel Blears and Caroline Flint in the last government were making this mistake long before it was written into the last series of that show.
Rock's notes revealed top level discussions about releasing the Coalition's progress report on how many promises they'd kept and how many they'd broken since taking power.
When it was published it was hard to see what all the fuss had been about the vast majority of the government's promises have been kept. Don't get carried away though, they included things like "we will not condone torture". It says something about the previous administration's record that a British government feels it necessary to pledge that, so they shouldn't need to be congratulated for achieving it.
Still, the thing about little achievements is fail them and it does become news little achievements like getting out of bed on time on these cold, dark winter mornings.
Skills Minister Matthew Hancock was supposed to be appearing on breakfast telly on Thursday morning but he overslept and missed his slot. This was Hancock's Half Hour in bed.
But Hancock's cock-up might not be so funny to jobseekers. If they fail to turn up for a job interview for example, if they overslept by accident they could face having their benefits docked.
No such financial worries at Westminster. You have to ask who, when polled on the issue of politicians pay, would say MPs' salaries should be raised. Only fools and horses perhaps? And MPs.
The body charged with working out the vexed issue of MPs' pay in the aftermath of the expenses scandal asked members what they should be receiving.
To be fair, ask anyone their ideal wage and they'll say more than they're on right now. But it doesn't seem unreasonable to expect MPs to not just be aware of the public outrage over expenses and the general cynicism towards politics but to take that into account when answering such a question. They didn't.
Currently MPs are paid £65,738. On average they think they are worth £86,250 a rise of 32%. Tories typically want a salary of around £96,000 while Labour members want the most modest increase to £76,000.
Bearing in mind these are average figures and we know one member recommended a pay packet of £40,000 the maths tells us at least one MP thinks they are worth well in excess of £100,000 a year. Someone to the manor born, presumably.
The irony of the exercise is, of course, that by acting so stupidly MPs proved themselves unworthy of a penny more of public cash.
Ultimately we pay their wages because MPs are public servants. The electorate may feel justified in asking themselves are you being served?