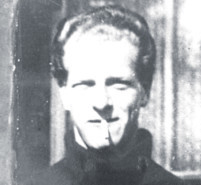 The distraught family of a hero policeman who was murdered by a drug dealer and his pal discovered one of the killers had made a fresh bid for freedom during a Google search.
Paul Fyfe was killed in a knife attack by drunk and drugged Mohammed Hirsi while Hirsi's friend Ameen Jogee egged him on. Hirsi licked blood from the knife after plunging it into Paul's chest. Both were convicted of 'joint enterprise' murder and jailed for life three years ago.
Mr Fyfe's devastated family have already had to re-live the agonising details of the crime during two failed appeals. And it's now emerged Jogee is launching a third appeal, this time to Britain's highest court.
To compound their heartbreak, Paul's family only discovered the convicted murderer's freedom bid while surfing the internet. If successful, the Supreme Court appeal could open the floodgates to hundreds of criminals being freed.
"I am very angry and worried about what is going to happen," said Mr Fyfe's widow Tracey, 52.
"If the law is changed, Jogee and other murderers will be free to roam the streets."
Tracey's daughter Tara, 30, found out about Jogee's bid three months after the appeal had been allowed after searching for 'joint enterprise' on the internet. The law exists in England and Wales, but not in Scotland, and has proved controversial over the years as it effectively hits multiple defendants with the same serious level of charge. Its closest equivalent in Scotland is 'art and part' which can see people jailed for aiding and abetting a crime.
Tara's sister Emma, 27, said: "She had been searching through the internet and just came across it. We were told after the last appeal case that that was it it was all over but we are still not being allowed to move on and grieve properly."
Mr Fyfe, 47, originally from Aberdeen, joined the army aged 16 and enjoyed an illustrious career, serving in Iraq and Bosnia. He later joined the police and rose to the rank of detective constable once winning a bravery award for pulling a suicidal man from a gas-filled car.
On the night of his murder, he had dinner with his wife at their home in Leicester. However, Mr Fyfe, who was working as a legal advisor at the time, later called to see friend Naomi Reid, with whom he had previously had a relationship. When he arrived, she was arguing with aggressive Jogee and Hirsi, who were high on cocaine. They eventually left but returned after going out drinking despite Naomi sending Jogee a text telling him not to bring Hirsi to her house again.
When Mr Fyfe stepped in, Hirsi brandished a large knife he had taken from a block in the kitchen. Jogee stood on the doorstep egging him on while clutching a brandy bottle as Hirsi drove the four-inch blade into Mr Fyfe's chest. He died before the paramedics arrived.
The senseless killing has left a hole in his family's lives. Youngest daughter Jessica, who was only 15 at the time, now suffers from anxiety.
Emma added: "He also had a 10-month-old grandson, my son Edward, to think about. He lived to be a granddad but that has been taken away from him."
Hirsi and Jogee blamed each other for the murder during their trial at Nottingham Crown Court in 2012. They were both convicted under the joint enterprise law, Hirsi for 22 years and Jogee for 20 years. Jogee's sentence was reduced to 18 years at a hearing the following year.
That was despite the Appeal Court judges hearing of Jogee's string of previous convictions for assault, possession of offensive and banned weapons and aggravated vehicle taking. He also has convictions for drug crimes.
Jogee's mother Rachel Whitehead, 41, of Leicester, has protested her son's innocence, claiming he had no idea what Hirsi would do. She has worked with campaign group Joint Enterprise Not Guilty by Association (Jengba) in the hope of getting her son released.
The convicted killer's legal team will argue that joint enterprise "over-criminalises" people who may have been at a murder but, crucially, did not deal the fatal blow. They will also argue the conviction is against Jogee's human rights.
Barrister Felicity Gerry QC described the hearing as "hugely important".
However, Tracey is clear that the cell door needs to be firmly slammed shut on anyone convicted of joint enterprise murder.
"Paul was my life and the girls' life now all our future plans together have gone. We can't just forget about him and let his killers get away with it," she said.
"I don't think that people understand how important the law of joint enterprise is. If it is changed, it will literally mean dangerous people getting away with murder."
Jengba's Jan Cunliffe, who is campaigning to change the law after son Jordan was jailed under joint enterprise, said: "What we are all hoping for is that the Supreme Court will see sense and bring in some structure to this law, which will stop innocent people from going to prison."
Famous joint enterprise cases
DEREK BENTLEY
In 1952 Bentley stood trial for a botched confectionary warehouse burglary in London. Then 18, he and 16-year-old Christopher Craig were caught in the act. Craig shot dead policeman Sidney Miles but Bentley was convicted of murder under joint enterprise and hanged. Craig couldn't be hanged because he was 16. The case centred on Bentley supposedly shouting "let him have it" before Craig fired. Police argued he was urging Craig to shoot, while the defence said the learning-impaired robber was urging his accomplice to give up his gun. Bentley was posthumously pardoned. The story was turned into a 1991 film Let Him Have It starring actor Christopher Eccleston as Bentley.
STEPHEN LAWRENCE
The black teenager was murdered by Gary Dobson and David Norris in 1993. They attacked him as he walked down the street but nobody could prove who inflicted the fatal blow. In 2012, 18 years after the killing, both were convicted at the Old Bailey under joint enterprise. Dobson and Norris the key suspects in the original police inquiry were jailed for at least 15 years and 14 years respectively after police unearthed new forensic evidence. The killing led to a justice campaign by Stephen's mother, Doreen Lawrence.
GARY NEWLOVE
Newlove confronted a gang of youths who he believed had damaged his wife's car in Warrington, Cheshire, in 2007. During the short confrontation, he was kicked to death. Jordan Cunliffe was one of three convicted of his murder. At the time, he had severe keratoconus, a degenerative eye condition and this meant he qualified for registration as a blind person. Cunliffe denied being involved in the assault but was convicted under joint enterprise. Jordan's mother Jan is campaigning for his release.
MAGDA PNIEWSKA
In 2011, the Supreme Court ruled members involved in gun battles should be charged with murder if a bullet kills an innocent member of public. The case involved the death of 26-year-old Polish care worker Magda Pniewska, who was killed by accident during a "Wild West" shootout in London. A youth nicknamed "Bandana Man" was suspected of firing the fatal shot. He was arrested but never charged. Armel Gnango, 18, was the other gunman involved. Although he didn't kill Pniewska, he was convicted of attempted murder and sentenced to 12 years. This was quashed by the Court of Appeal but re-instated by Britain's most senior judges in the Supreme Court.