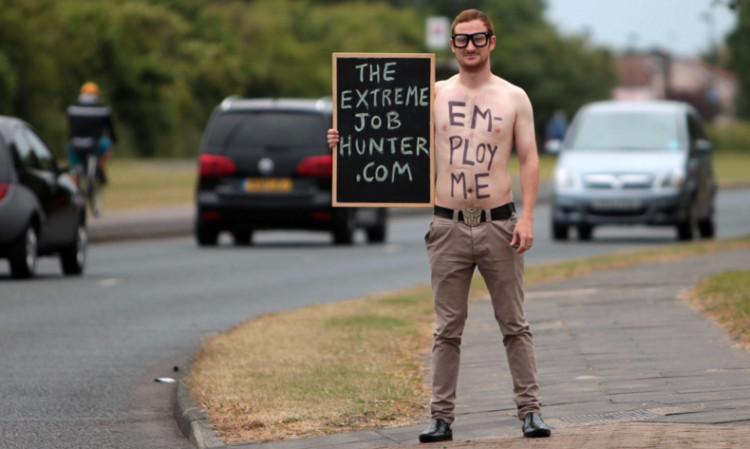 A dad who resorted to a year of attention-grabbing stunts to find work has finally landed his dream job based in the USA.
Desperate Dan Conway, 28, lost his job a week before his second child was born and, despite sending out hundreds of CVs kept getting knocked back. But the determined university graduate refused to give up and set up The Extreme Job Hunter website in his hope of finding work.
Outlandish stunts included posting a video of his three-year-old daughter Lucy asking "please get my daddy a job", posting himself for sale on eBay and walking around Newcastle as a half-naked human billboard.
Married Dan even took part in a gravy wrestling competition to boost his profile to thousands of online fans but he still couldn't secure a full-time job.
Now the jobseeker has accepted work as a marketing executive for US based company, Vitamins Direct, a well-paid position that will involve working from home and some travel to the company's headquarters in Florida. Dan, of Whitley Bay, North Tyneside, said: "This will mean a whole new world for me and my family. For the last year or so, we have been scrimping and saving to make ends meet.
"Money has been tight and we've been limited in what we can do. Hopefully, this is going to transform our lives."
Dan created his website four years after graduating with a degree in advertising. He had initially hoped to find a career in advertising or social media but could only find work as a part-time youth worker at a school for children with additional needs.
He was made redundant in June last year. The "soul destroying" experience led him to set up the website.
His first appeal was a video made with Lucy in which the toddler helps her father chalk messages explaining why he would be a great employee. He also started a competition to give away an iPad to anyone who could find him work, sent companies doughnuts and pizzas as 'bribes' and offered to work for free.
Other stunts included sending Monopoly money, CVs hidden in piatas and an online video called A Song for Tony Hall, in the hope that the BBC director would employ him. Despite his best efforts, Dan had been ready to throw in the towel a month ago.
The bills were piling up and his family wife, Natalie, and children Lucy, two and Jack, one was quickly running out of money. The family's car broke down and they couldn't afford the £1,000 to get it back on the road.
Dan said: "I was having to jump on the Metro or a bus to go around finding work but I still didn't have any luck."
Eventually, Vitamins Direct contacted him and after a few interviews, vice president Glen Robinson offered him the job.
Dan said: "They really like my website and everything I was doing and that they had a position. They said they wanted me to do what I was doing but do it for them, promoting their social media and website.
"The meetings led to me doing a video promoting their company and they said, if it got a good reaction, they would take me on full-time. They really liked the video and offered me the job."
Dan added: "I'm really chuffed. I'll have to fly to the US a few times but I think I can manage a few trips to Florida!"
Vitamins Direct president Glen Robinson, said: "We had been looking to hire a social media manager and all the people we were interviewing were just so boring. We wanted to hire the life of the party and share it with our customers.
"Dan demonstrated that so the choice was easy."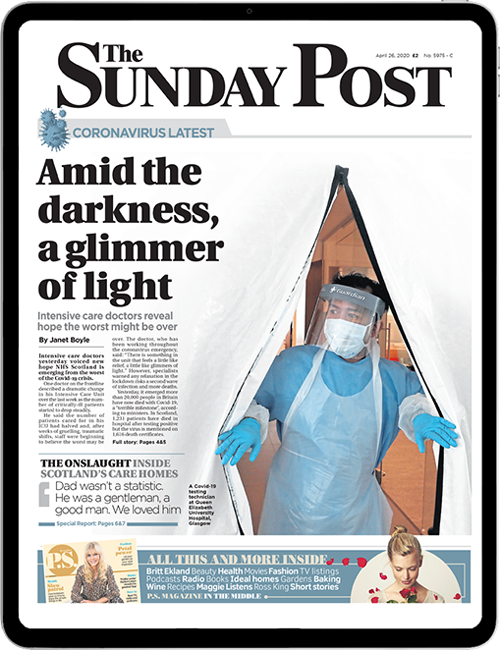 Enjoy the convenience of having The Sunday Post delivered as a digital ePaper straight to your smartphone, tablet or computer.
Subscribe for only £5.49 a month and enjoy all the benefits of the printed paper as a digital replica.
Subscribe