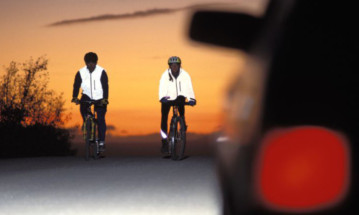 Scores of cyclists are being hit with fines every day for offences including not turning their lights on and failing to maintain reflectors.
A Sunday Post investigation has revealed police forces across the north of England are hitting cyclists with thousands of £30 fixed penalty notices (FPNs).
Over the last five years forces in Lancashire, Cumbria, North Yorkshire and the North East slapped 2,649 riders with fines totalling £79,470. Among them is at least £18,270 raised by fining riders for not having lights, £9,210 for not turning their lights on and £660 for not maintaining lights or reflectors properly.
Riders have also shelled out £9,450 for contravening road or traffic signs such as pulling up in front of stop lines at traffic lights or failing to stop at red lights.
Last night cycling campaign groups and charities accused police of being heavy-handed.
Rhia Weston, cycling charity CTC's road safety campaigner, said: "CTC advocates and encourages safe cycling and safe cycling equipment, including adequate lighting and pedal reflectors. However, dealing with infringement of the law relating to the use of safety equipment is not always best done by issuing FPNs.
"Imagine, for example, someone who has not bought lights because they cannot afford them then they are forced to pay a £30 FPN. It would be more sensible to request the cyclist purchase the lights then produce a receipt for that purchase.
"Training programmes in safe cycling, like the ones offered by CTC, should be favoured by the police and those applying the law as an alternative to issuing FPNs."
Jason Torrance, director of policy at charity Sustrans, claimed many roads are too dangerous for bikes, meaning cyclists are forced on to pavements and hit with fines.
He said: "Many cyclists may feel roads are a dangerous place to be on two wheels, and so often feel the need to resort to pavements. A large proportion of Fixed Penalty Notices issued to cyclists in the north are for 'cycling on a footway' and we would encourage cyclists to respect the law and also urge drivers to share roads with cyclists in a safe and courteous way.
"Sustrans campaigns to encourage more people to cycle as a cheaper, healthier and greener alternative for their everyday journeys. Improving on-road conditions for cyclists, including setting and enforcing 20mph zones in residential areas and more driver training, would significantly encourage more people to cycle."
But Nigel Humphries, of the Alliance of British Drivers, said: "There are far too many petty tickets handed out to people not causing a problem but I would point out the hypocrisy from cycling groups. They want motorists treated with an iron fist while they are let off."
Mr Humphries, who is also a cyclist, added bikers failing to use lights in urban areas should be let off with safety advice and fines only given for cyclists in unlit areas.
North Yorkshire Police issued 1,284 fixed penalty notices, more than any of the other forces surveyed which included Lancashire, Cumbria, North Yorkshire, Humberside, Cleveland, Durham and Northumbria.