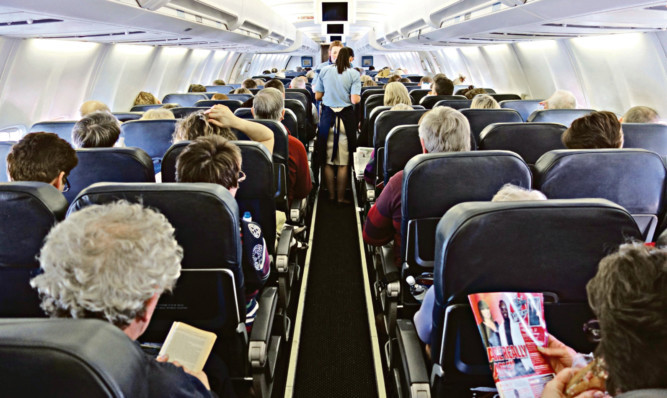 Plane passengers who suffer medical emergencies at 30,000 feet are being put at risk of dying because of safety rules which prevent doctors from helping.
A number of major airlines have revealed they would only allow trained medics to help in an in-flight emergency if they can prove their credentials.
The step leaves desperately ill people to be treated at the hands of less experienced cabin crew and comes despite soaring numbers of incidents.
One highly-experienced doctor told The Sunday Post how a passenger died on his flight after he was told he couldn't help because he wasn't carrying medical ID. And with medical experts insisting doctors are not required to carry any proof of their qualifications, critics have called for an immediate review of in-flight emergency protocol.
Frank Brehany, director of consumer rights group Holiday Travel Watch, said: "I'm shocked to hear that a doctor who could have helped the crew's ability to deal with an emergency was refused and it raises questions about how airlines deal with medical emergencies. It would be fairly evident if the doctor is directing the crew themselves that they have or have not got medical qualifications. It's common sense that there's a lesser chance of someone passing themselves off as a doctor.
"There's a better chance of a medical volunteer being qualified to use their skills rather than relying on a crew member who is not as qualified."
The Sunday Post was alerted to the situation after we revealed last month how trainee Dundee doctor Craig MacLean, 22, saved his first heart attack victim while flying with KLM to the Middle East. His case prompted a highly-experienced anaesthetist, who asked to remain anonymous, to contact us to reveal he had found himself responding to a call for help only to be told to sit back in his seat if he couldn't provide official proof of his medical experience. Tragically, he said the sick passenger died after he was forced to stand aside.
Insiders claim airlines have put in place the rules to minimise the risk of being sued by the family of patients who don't survive emergency treatment.
Dr Nicole Trask from The London School of Anaesthesia has responded to three in-flight medical emergencies while travelling as a passenger. She said many airlines now demand identification from doctors before they'll let them treat people.
She said: "I believe if a medical professional answers a call to help they should be able to act without providing proof of their credentials and qualifications. Firstly it's exceedingly unlikely they will be carrying such evidence on their person in an off-duty situation. Secondly they have an ethical obligation to answer that call. If that person is not allowed to fulfil that ethical duty it is bound to weigh heavily on their conscience and potentially put lives at risk.
"Increasing numbers of airlines are making use of ground-based doctors but I believe the presence of an on-board medical professional helps no end as crew members have, at most, basic first-aid and resuscitation training depending on the airline."
Dr Jean Turner, a retired GP, and former director of Scotland Patients Association, said: "It's a shame that this doctor was not allowed to help. I think the general public would assume that it's better to have a doctor step in. It could also be good for the crew involved."
Thanks to increasing flight numbers, there has never been so many dramas in the skies. It was recently revealed how the daughter of Virgin tycoon Sir Richard Branson helped save the life of a fellow passenger after they suffered a heart attack on a flight to Antigua.
Qualified doctor Holly Branson, 32, administered oxygen to Paul Norbury and checked his blood pressure after he fell ill 45 minutes into the journey. She also spoke with ground-based doctors and agreed with them to divert the plane so he could be taken to hospital after deciding he was suffering a mild heart attack.
Many in-flight medical "emergencies" are minor conditions that are exacerbated by altitude, stress and fatigue, such as dizziness, fainting and gastric problems. Other conditions may be self-induced, for example by mixing sedatives with alcohol. But possible heart attacks and strokes often require the plane to be diverted which can prove very expensive.
Major airlines have contracts with ground-based medical teams, such as MedAire in Arizona, which provide in-flight advice by satellite phone or radio link to more than 100 airlines. Turkish Airlines, Lufthansa and Austrian Airlines all allow doctors to register their details in advance, so cabin crew will know where they are sitting.
Last year airline cabin crew dealt with heart attacks and strokes linked to pressurised cabins, blood clots and multiple in-flight births despite stringent rules on when pregnant mums can fly, among many countless worrying examples. It's estimated healthcare professionals are available in 78% of in-flight medical emergencies.
Would the airlines ask for your help?
THE Sunday Post contacted several major airlines to ask them if their cabin crew would encourage people with medical training to assist in an in-flight medical emergency. We also asked if they would ask for proof they were a medical professional and what kind of proof they would need to see.
Ryanair said medical volunteers would need to produce "a valid ID for authentication" but did not state what ID they would accept. Aer Lingus said cabin crew members would be "instructed to check for ID including such detail as they are medically qualified via a medical licence /hospital ID". However, other airlines did not fully clarify their position on the need for ID. Emirates said it uses MedLink a service providing cabin crew with a direct communication link with ground-based doctors who can provide advice on how they and any medical volunteers should proceed. However, the airline did not explain what its position is regarding medical volunteers.
British Airways said staff would take steps to ensure medical volunteers are appropriately qualified to assist but didn't state what proof, if any, they would look for. Jet2 said crew would need to be "suitably satisfied" that volunteers were qualified medical practitioners but did not state whether they would ask for ID when we asked them about this. easyJet acknowledged that "most of the time a medical professional will not be carrying their medical identification or qualification documentation with them". However, it said cabin crew could still establish someone's professional status by other methods, including discussing details about their current medical role and place of employment.
All the airlines contacted stated that their staff are trained to deal with medical emergencies.
MEDICAL DEFENCE UNIONS WOULD PROTECT DOCSTHE issue as to whether doctors are legally protected to intervene in the event of airline emergencies is a grey area. The Medical and Dental Defence Union of Scotland explained that it indemnifies its members against any legal liabilities which might arise out of Good Samaritan acts anywhere in the world. These acts are defined as "the provision of medical and dental services in emergency situations outside the scope of an individual's normal contractual obligations or clinical practice". Similarly, the Medical Protection Society a UK-wide professional body said it would "assist doctors with concerns arising from a Good Samaritan Act performed anywhere in the world". Both organisations stated that they are not aware of any requirement for doctors to carry forms of identification showing their medical qualifications. There is no known global unified code which sets out the legal protection that would be afforded to doctors who intervene in emergencies on an aircraft.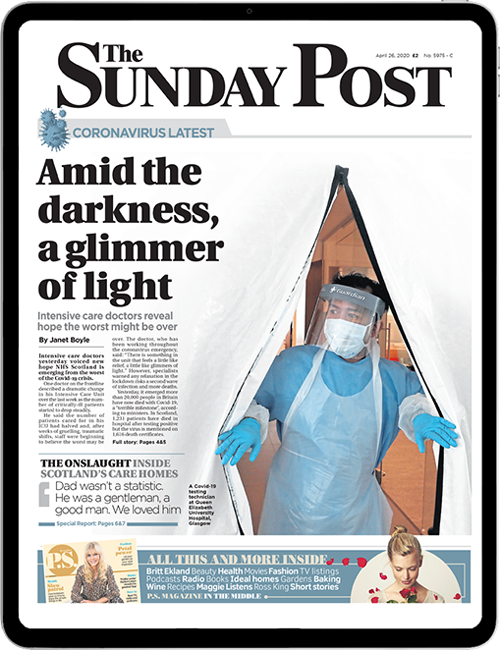 Enjoy the convenience of having The Sunday Post delivered as a digital ePaper straight to your smartphone, tablet or computer.
Subscribe for only £5.49 a month and enjoy all the benefits of the printed paper as a digital replica.
Subscribe