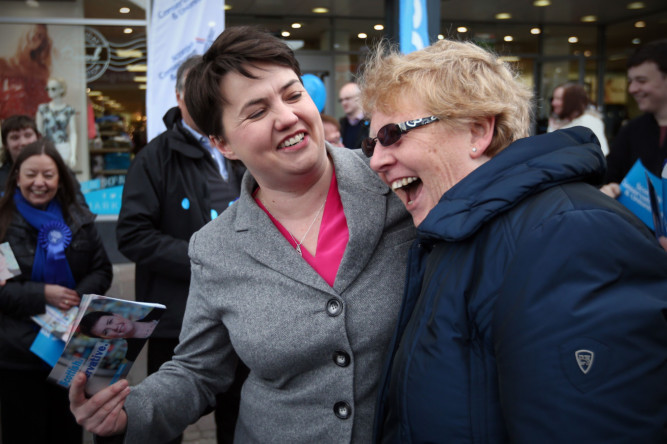 The Scottish Conservatives are still hindered by association with London.
Downing Street has no strategy when it comes to Scotland. Its focus is simply about getting over the next hurdle.
Last year, the hurdle was winning the independence referendum. To leap that hurdle, Scotland was lauded, Scotland was loved. Scotland was capable of going solo, but why do so when we can do so much together? Narrowly, it worked.
The next hurdle was staying in Downing Street. To leap that, we needed the Carlisle Principle, an annual review of Scottish devolution to ensure Holyrood doesn't give Scots any goodies the English don't have.
Privately, leading Scottish Tories were livid and are demanding a change of approach now that the campaign is over.
They have spent years defending their patriotism, fighting back against 30 years of assertions by the SNP that the "evil Tories" are anti-Scottish.
The rhetoric probably helped David Cameron back into Downing Street by pulling England towards the Tories and pushing more of Scotland into the welcoming arms of the SNP, both at the expense of Labour.
However, it has been poisonous for the Union and the Scottish Conservatives. The irony is the PM holds the antidote. It is federalism.
Federalism is the recovery formula for both country and party. It can heal the British state. And it can free the Conservatives in the north of England and Scotland to make the case for workers' conservatism without London's influence.
British devolution is a recipe for conflict. It isn't going to work. There is increasing realisation the only outcomes are independence (for Scotland) or federalism.
The paltry powers offered by the pro-UK parties were met with the punishment they deserved. Poll after poll will tell us the same thing Scotland does not want to be independent, but wants more powers for its parliament.
Andy Maciver is director of Message Matters, and former Scottish Conservative Head of Communications.