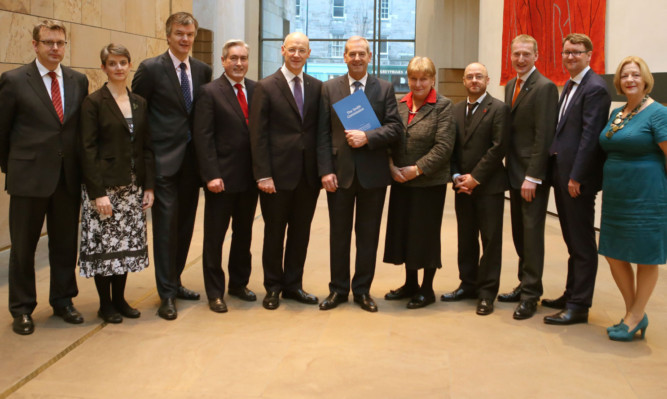 Hard talk, hokey cokey and a naked Tory…welcome to Scotland's future.
In the end it didn't go down to the wire.
One negotiator at last week's Smith Commission talks offered a wry smile: "The wire was eight o'clock, we walked out of the room at 10 to eight."
But after weeks of bargaining behind closed doors and, frustratingly for the media, with barely a leak about what was going on, the story of what went on is beginning to be told.
The SNP were first to break the consensus with John Swinney criticising the package agreed very shortly after putting his name to it.
And that has brought forth a tide of niggles, nuggets and naked Annabel Goldie stories as each party jostles to claim credit for what was produced.
It's worth looking first at whether the Smith Commission proposals are worth claiming credit for.
Hogging the headlines are the steps on income tax and welfare. Scotland will get the power to set income tax bands and will collect what's raised in Scotland.
The power to set the tax-free allowance remains with Westminster, though Holyrood can vary it upwards by setting a 0% band which would have the same effect.
For all that it looks like a grand gesture handing Scotland control of income tax, there are sceptics.
Professor David Bell of Stirling University and part of the Centre for Constitutional Change explained: "The most likely outcome is Scottish income tax rates will mirror those set at Westminster in the short-term and not move significantly away."
He says a 1p increase in income tax would raise around £400 million. In the grand scheme of things that won't pay for a lot but it will lose a lot of voters.
Professor Bell added: "Politically, it's become very difficult to change the rate of income tax. It has only reduced over many years. And you have to ask how different the Scottish electorate really is to the rest of the UK. The losers from any tax change make more fuss than the winners."
However, Professor Bell believes the welfare changes are significant. And that part of the agreement was one of the most hotly-contested.
The power to create new benefits has been dubbed the "hokey cokey clause" as it was often in the agreement and then back out again.
The Conservative team of Annabel Goldie and constitutional lawyer Adam Tomkins infuriated their fellow commissioners by constantly shifting position, apparently at the behest of Iain Duncan Smith and George Osborne in Westminster.
One opponent called them The Grand Old Duke and Duchess of York.
As negotiations became increasingly heated in the final days a break was called at one point in order to try and pin down the Conservative position on whether all elements of the new Universal Credit including unemployment benefits were up for discussion.
A so-called "coffee break compromise" was drawn up, only for the Conservatives to trash it soon after on the orders of Westminster.
But that then left them with little room to manoeuvre when it came to granting Scotland the power to create its own benefits, essentially giving Holyrood the power to create a separate Scottish welfare system as long as they can raise the money to pay for it.
The SNP were apparently fairly cool on the idea. One negotiator sneered: "The nationalists hate the idea there's a power but no money with it."
Personality politics played a large part in the outcome.
Many on the unionist side are poisonous about John Swinney now since he was apparently a pleasure to work with until the agreement was signed then he started slagging it.
Tory Professor Tomkins particularly got up the nose of some negotiators with a number lining up to deride him as a hot shot constitutional lawyer but unused to practical politics.
One person who was in the room said: "One of his contributions saw the whole room laughing. But we weren't laughing with Adam."
Annabel Goldie apparently had a habit of starting her contributions by explaining she'd thought of something while in a state of undress, usually in the shower or while swimming.
That sounds like a smart negotiating technique from the oldest head around the table.
And it was nothing to do with Linda Fabiani pouring a glass of water in Lib Dem Tavish Scott's lap that was an accident.
The Green team seem to have surprised some with their professionalism and infuriated others who accused them of a lack of it. Said one opponent: "They didn't know if it was Christmas Day or Tuesday."
Labour rising star Gregg McClymont has been singled out for praise.
He's credited with defusing what one of the other parties described as "a fandango on abortion" when it was raised. The final report accepted that reserving abortion is "anomalous" but kicked it into the long grass.
Ultimately agreement was reached on the final document late on Wednesday.
Lord Smith has been praised by all concerned. He kept to the tight timescale by putting issues to the vote and if there was a four-to-one split the policy went into his final report.
That's why Labour had to fall in line on the issue of devolving all income tax everyone else wanted it so they had little choice but to dress up an enforced position as a principled U-turn for the good of the nation.
And it wouldn't be Scottish Labour if there wasn't factional fighting.
One of the team spat: "Douglas Alexander was nowhere near the negotiations, then he turns up on Friday making out that he's secured a great deal for Scotland!"
Whether the Smith commission proposals turn out to be a great deal depends on how they are used.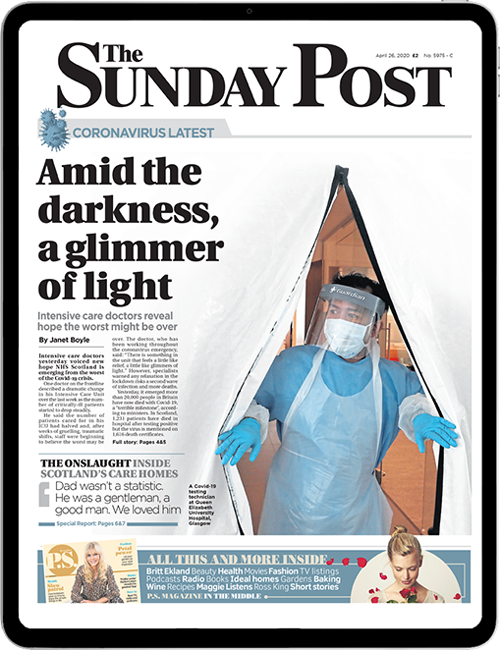 Enjoy the convenience of having The Sunday Post delivered as a digital ePaper straight to your smartphone, tablet or computer.
Subscribe for only £5.49 a month and enjoy all the benefits of the printed paper as a digital replica.
Subscribe