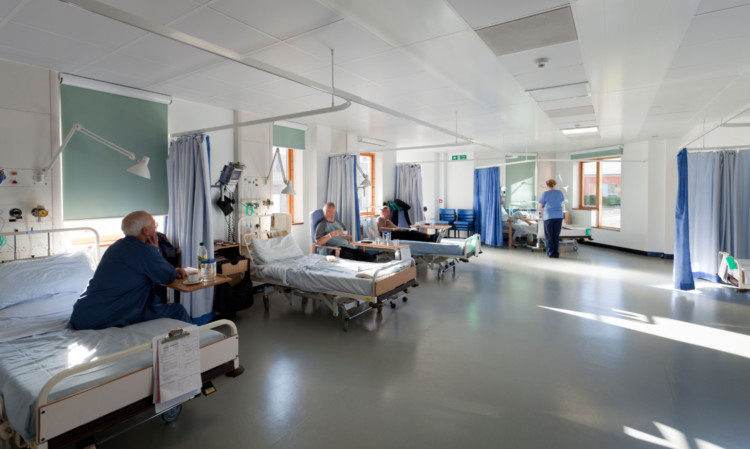 Hospital beds in Scotland are disappearing at a faster rate than in almost any country in the western world.
The Organisation for Economic Co-Operation and Development has looked at the number of hospital beds per person across 34 developed countries.
It revealed that in England and Wales there are 2.95 beds per 1,000 people, compared with 6.37 in France, 7.65 in Austria and 8.27 in Germany. While the report didn't include data for Scotland, the Scottish Government's own figures show the ratio here is 4.67. But that is 21% down on 2004.
It means Scottish hospitals have got rid of beds at a faster rate than almost anywhere else, with more than 5,000 disappearing in just seven years.
Critics have raised fears hospitals are being stretched to breaking point. Margaret Watt, of Scotland Patients Association, said: "This is outrageous.
"People have died as they couldn't get into hospital because they were kept waiting in A&E. The distress it causes patients and families is huge but sadly, the situation seems to get worse year on year. I have never known it as bad as this and our national treasure, the NHS, is becoming a nightmare for patients.
"It used to be the pride of the world but savage cutbacks threaten its future."
Ms Watt revealed her organisation was approached several times a week by patients who have been trapped in A&E while staff struggle to get them a bed.
She said she has been contacted by NHS staff terrified that if they blow the whistle on bed shortages they will be disciplined or sacked.
She added: "If they speak out about this they fear losing their jobs."
In 2004 the average number of staffed beds available in Scotland was 29,886, which worked out as 5.88 beds for every 1,000 people.
Three years later, when the SNP came to power, the number had shrunk to 27,735, or 5.2 beds per capita. The downward spiral has continued during their tenure, with the statistics for 2011 showing almost another 3,000 beds had been lost, leaving just 24,760 spaces at a ratio of 4.67.
According to the OECD, only Finland and Ireland have seen bigger decreases.
The report also shows countries including Belgium, Japan, Poland, Slovenia and Switzerland all have more beds for their population than Scotland, England and Ireland.
Jackson Carlaw, Tory health spokesman, said: "There is no doubt that an increasing lack of acute hospital beds in Scotland would put patients' lives at risk.
"What really matters however, are the actual health outcomes from hospital.
"It is critical that those who should no longer be in hospital are encouraged to go home and, where necessary, provided with the continual support that they may need.
"With the pressure of an ageing demographic, the Government must work to ensure our hospitals are adequately equipped to ensure effective care."
Labour's shadow health minister, Neil Findlay, agreed the Government's record wasn't good enough.
He insisted: "The health service has struggled to cope with the growing demands on services as the SNP have systematically cut bed numbers, which means patients are left on trolleys in corridors for hours or treated in cupboards.
"The Health Secretary, Alex Neil, has no long-term plan to solve the problems being faced.
"His only plan is to lurch from one crisis to the next in what the Royal College of Nursing calls 'a sticking plaster approach' to managing the Health Service.
"It can't go on and Alex Neil must take control of this situation."
However, the Scottish Government insisted their health policy was on track. A spokeswoman said: "Care patterns have changed over the years, with more care delivered in the community, shorter hospital stays and more same-day surgery without the need for any overnight stay, which is good for patients. We know that the number of beds should vary throughout the year to reflect demand.
"Since 2006/7 inpatients and day cases have increased by more than 10%. That is why we are developing an evidenced-based bed-planning toolkit to help Health Boards ensure they have the right number of beds in the right place and at the right time."
The OECD report also showed that, in 2011, 84% of NHS beds south of the Border were full at any one time above the OECD average of 78%.
The ratio for Scotland in the same year was 80%.
Nearly 40 elderly Scots a day are being hospitalised after suffering a fall.
Research by the Scottish Conservatives shows there were 14,346 emergency admissions among over-75s last year.
The alarming haul is up from last year's 13,355 and significantly up from a decade ago when the tally was 10,924. NHS figures also show there were 574 deaths in over-75s as a result of a fall. Around half of the falls occurred in the home, the data revealed.
Jackson Carlaw MSP, Scottish Conservative Health Spokesman, warned the figures are a sign of the strain the NHS faces from Scotland's growing elderly population.
He said: "While it's extremely welcome that people are living longer, there are problems emerging within that. The fact 276 people aged 75 and over are being rushed to casualty every week as a result of a fall is extremely worrying. Unless we take action, this number will only increase as our population ages.
"As we know from these figures, a fall at home for a frail person can be fatal, but it can also leave a lasting impact for the rest of a person's life. Our NHS is already stretched to the limit, so if we can reduce these admissions, that would allow nurses to focus on other challenges."
In February, Health Minister Alex Neil admitted the level of bed-blocking, where patients ready to leave are not discharged because there is nowhere for them to go, was "unacceptably high".
Almost 135,000 days' of hospital bed space was lost because of the problem in the last three months of 2013, an increase of 10,000 over the same period in 2012.
A survey also found 254 patients had been waiting to leave hospital for more than four weeks in January, 2014, a spike of almost 50% on January, 2013. Mr Neil defended the Government amid scathing criticism from the outgoing president of the Royal College of Physicians of Edinburgh.
Dr Neil Dewhurst claimed the number of hospital beds being occupied "commonly exceeds" what is regarded as the maximum safe level.
The Health Minister said: "Although the current level of delayed hospital discharges is 68% lower than it was in 2007, it is still unacceptably high and shows there is still much to do, one person inappropriately delayed is one too many."
The hospital bed crisis is having devastating consequences and leaving a trail of unanswered questions.
In December, we told how heartbroken George Andrews blamed the NHS for the death of his partner, Jean Graham, and was set to launch legal action.
The 77-year-old was twice turned away from Glasgow Royal Infirmary with a blood clot over the space of a busy weekend.
Distraught George is convinced her condition could have been correctly diagnosed if doctors had been able to admit her.
He told us: "I feel the hospital was under serious pressure to get her a bed and turned her away. As a result, she was misdiagnosed and sent home when she was really desperately ill."
On two consecutive weekend nights, Jean was taken by ambulance to the large teaching hospital's A&E unit just a mile from their home in the Dennistoun area of Glasgow.
Former engineer George told how she had to wait FIVE hours on a hospital trolley to see a doctor. He revealed: "When she did see a doctor she was sent home, but deteriorated over the next 18 hours."
George called NHS 24 and a GP who was dispatched to the couple's home sent her straight back to the Royal Infirmary. He said: "But by 10pm that night we were still waiting with her on a trolley, five hours later.
"A doctor eventually saw her and said that, since she hadn't been sick or had diarrhoea in recent hours, she should go home and take fluids. But she was not sick as she had nothing left in her system. They should never have sent her home. We both felt utterly abandoned."
By the next day Jean had become weaker and lost the use of her legs. The frantic couple then put out a 999 call for another ambulance, their third in three days.
This time doctors agreed it was serious but she was still not transferred to a ward and ended up on a trolley. George said: "She was scanned and diagnosed with a blood clot on her bowel. By then she was too weak to move or even sign the consent form for surgery.
"But she never made it out of the operating theatre and died on the Tuesday morning."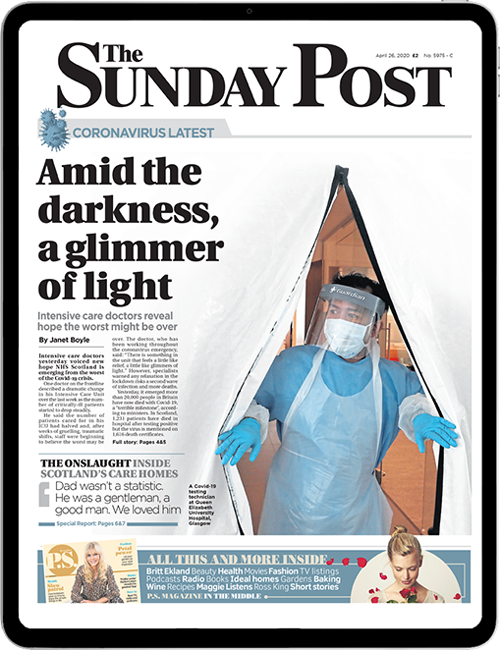 Enjoy the convenience of having The Sunday Post delivered as a digital ePaper straight to your smartphone, tablet or computer.
Subscribe for only £5.49 a month and enjoy all the benefits of the printed paper as a digital replica.
Subscribe