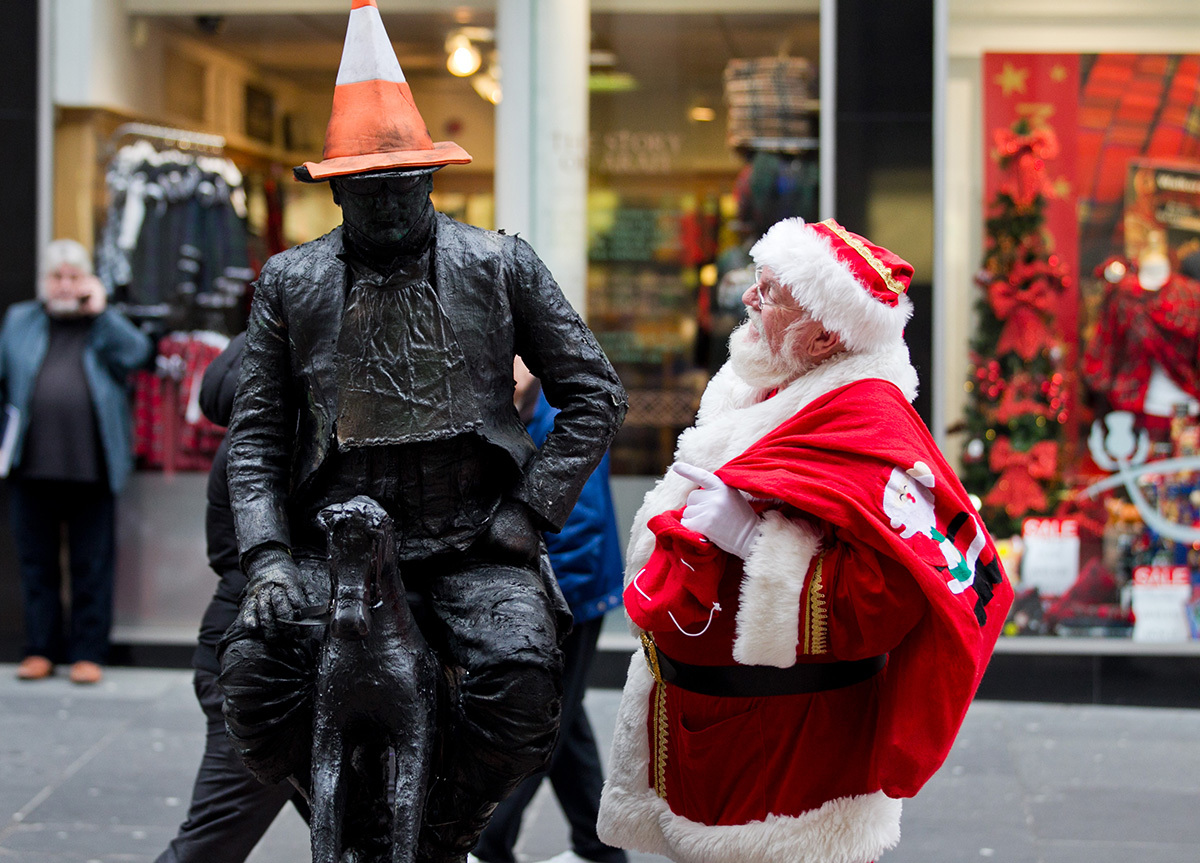 WE'VE all spent the week agonising over airstrikes in Syria, worrying about the Forth Road Bridge and being battered by storms.
Merry Christmas, everyone!
We're supposed to be full of yuletide joy! But, with all the miserable news, you wouldn't be blamed for just shutting your curtains tonight and praying it's January 4 when you open them again.
So, in an attempt to sprinkle a bit of Christmas magic, The Sunday Post enlisted the fat, jolly bloke who drinks a lot of whiskies on Christmas Eve to spread some festive cheer.
We got on the special Sunday Post hotline to Santa Claus himself to persuade the big man to undertake a special mission.
Santa kindly agreed to take a break from building iPads and Playstations (the elves have really had to up their game from the days of rocking horses and tanner ba's).
With less than three weeks before the big day, Santa was determined to ensure there was some peace and goodwill on our streets this Christmas. 1. Making shoppers smile
Glasgow city centre was full of people when the big man and I arrived. Most looked trapped in Christmas shopping doom, traipsing soaking pavements and braving queues.
The bustling Buchanan Street, at the centre of Scotland's busiest shopping district, was full of wild-eyed mums and harassed dads.
Most were jinking among each other in an attempt to get to the next department store. The last thing on anyone's mind was Yuletide merriment.
I worried a bit for Santa, and told him as much this could backfire spectacularly.
Him wandering around, trying to get people in the Christmas spirit? Let's just say my fellow Glaswegians can get a biter…crabbit at times.
But this was Santa he simply fixed me with a cheerful smile and a glint in his eye. "Not to worry," he boomed. "Watch this."
He immediately dived in to the merry-making and started off with busker James Webb, a kilted piper.
While James played, Santa broke into a Scottish jig beside him, earning a spontaneous round of applause from the weary shoppers.
I defy anyone to not laugh when confronted by Father Christmas doing a Highland dance.
2. A boost for our boys
Next up were three soldiers from 6 Scots, the 52nd Lowland Regiment, out recruiting on Buchanan Street. It's obviously a sombre time for the military there's no way this lot were feeling festive, I thought.
"Check Santa oot," said a beaming Corporal Steven Wilkinson as he bounded up to Santa, "I've been good this year!"
The lads, who'd been pounding the chilly streets for most of the day shared a bit of good-natured repartee with
St Nick before hoisting him up for a picture.
A crowd of grinning onlookers wrestled with their carrier bags as they aimed camera phones at the scene.
"This is what all the training was for lads," quipped Cpl Wilkinson as he strained under the big man's weight.
Santa wandered among the shoppers, booming out hearty laughs as he went, cheering up parents and delighting children in the process.
3. Sharing the goodies…
Santa dropped into a branch of Greggs for a sausage roll.
This is surely where he'd meet his wintery Waterloo. Busy fast-food counters are often notorious for their Colditz-castle style customer service.
This time there were no freebies for Santa but the girls gave him a welcome warmer than their piping-hot cheese and onion pasties anyway.
Father Christmas wasn't interested in the sausage roll we bought though. "Mrs Claus has put me on a diet," he harrumphed.
With that he strode over to a Big Issue seller, called Florentin. He couldn't speak much English and looked entirely bemused as Santa thrust one of Greggs' finest meat pasties into his hand.
At first he looked a bit like he wanted to back away from us via a Chris Eubank-style reverse-walk, but instead gave a hearty smile of thanks.
4. Sharing the love with the ladies!
Next up were a couple of charity collectors a couple of young ladies who seemed almost smitten with Father Christmas.
"Have you been naughty or nice," he said. "I'll know if you're telling the truth."
Hang on, was Santaflirting?
Women stroked his beard. He gave them playful winks. Kisses on the cheek were exchanged.
Steady on mate, I think Mrs Claus reads The Sunday Post.
5. Bringing cheer to the Polar Express
We had one more mission for him and that was to see if he could cheer up commuters on the busy Glasgow to Edinburgh train.
Immediately the carriage, filled with shattered shoppers, brightened up the atmosphere changed from Cassandra Crossing to the Polar Express in the space of a few moments.
Santa moved aalong the carriage, singing Jingle Bells with the tired but happy travellers.
Normally these folks would be staring into their smartphones and minding their own business but instead there was a real festive atmosphere as they began to belt out the Christmas classic.
"That's the secret," Santa explains. "The more you give to people, you more you get back from them."
Result
We spent nearly four hours on the streets and, in that time, I identified something called The Santa Zone.
It exists about 30ft in every direction around Father Christmas, and you know you've entered it because you immediately start grinning like an idiot.
From crowds of teenage girls to men well into their pensionable years, everyone turns into a four-year-old child in the presence of that white beard, familiar beaming smile and hearty ho-ho-ho.
So there you have it smiles, kisses, hugs, dancing, generosity laughs and a good old sing-song.
Thanks to a bit of Santa, it IS beginning to feel a lot like Christmas.
Watch this year's hilarious Irn Bru Christmas advert – click here to read more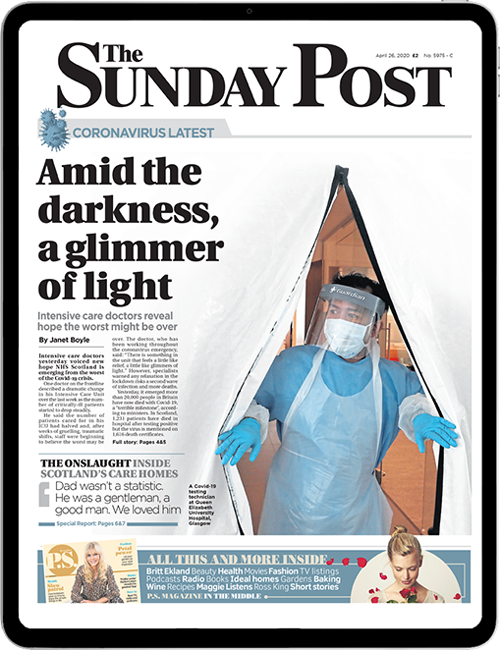 Enjoy the convenience of having The Sunday Post delivered as a digital ePaper straight to your smartphone, tablet or computer.
Subscribe for only £5.49 a month and enjoy all the benefits of the printed paper as a digital replica.
Subscribe