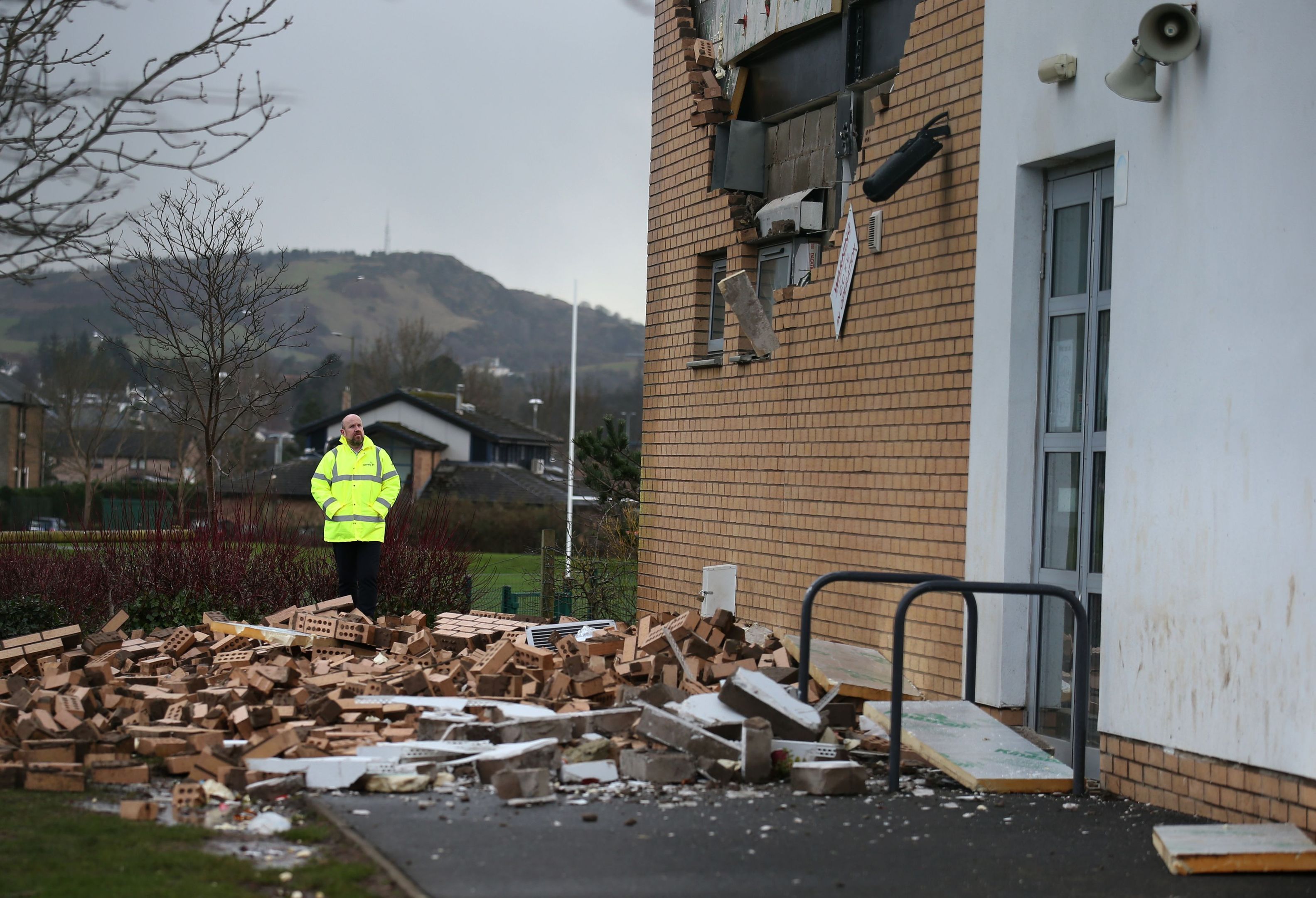 On Friday night, parents in Edinburgh were left facing chaos after the sudden announcement that 17 schools were to be closed indefinitely due to serious defects in the way they were constructed.
The schools were built by Miller Construction as part of the city's private finance programme.
The firm also erected PFI schools in Glasgow, Fife and Inverclyde as well as hospitals, police stations and schools in other parts of the UK.
The crisis was yesterday deemed so serious that First Minister Nicola Sturgeon called an emergency meeting of the government's resilience committee to co-ordinate a response.
She later ordered all 32 councils to carry out urgent safety checks on every school in the country.
Land expert and Green Party candidate Andy Wightman said the episode raised serious concerns about all public buildings funded by PFI, which involved private-sector investment in public-sector schemes.
He said: "The private financing of schools, invented by the Tories and championed by Labour, is not only a feature of Edinburgh.
"Nor is it even restricted to schools, with hospitals and other health facilities also built in this way.
"So the school fiasco opens up a massive can of worms as to what the true legacy is of years of private financing of core public services."
He called for "a root-and-branch review" of all PFI contracts, including the cost, condition and future funding of all buildings.
The problems in Edinburgh began when Storm Gertrude in January blew down hundreds of bricks from an external wall of the city's Oxgangs Primary School.
Subsequent safety inspections found problems with the way the wall was erected in 2005. Similar faults were uncovered at three other schools.
The Edinburgh Schools Partnership (ESP), the private consortium formed by Miller which built, manages and operates the schools on behalf of the City of Edinburgh Council, told councillors last week the schools were safe.
However, on Friday evening, the advice changed. The ESP issued a letter which stated contractors carrying out remedial work at Oxgangs and another primary school had "discovered further serious defects".
It went on to confirm that as a result of these discoveries the schools were no longer safe to occupy.
The letter also warned that "it is impossible to confirm whether these defects may exist at other estate buildings".
Councillor Jason Rust, Tory education spokesman, said: "The situation has been changing so much that it hardly gives parents confidence that the council has a real handle on what's going on.
"Some people appear to have received text messages and others didn't. We need better communication and need to know what is being done to bring the contractor to task."
Schools were built by Miller at eight sites in Fife between 2005 and 2007 as part of a £63.5 million deal.
Miller was also the main contractor on four schools built in Inverclyde, and three in Glasgow.
On top of that it constructed scores of major public-sector buildings, including several schools, in English cities, including London.
Miller was bought by Galliford Try in 2014 and remains a key partner for the Scottish Futures Trust – a government quango – in building projects across Scotland.
Education Secretary Angela Constance said: "It is too early to assess any wider implications for schools in other parts of Scotland. However, Scottish Government officials have written to all local authorities to ask them to carry out checks on their own estate as soon as possible.
"We understand that all of the affected buildings in Edinburgh were completed over 10 years ago.
"We will ensure that, as more information about the nature of the issue in Edinburgh is established, this is passed on to local authorities to assist them in this process."
A Glasgow City Council spokeswoman said:  "Our contractor 3Ed carried out surveys following the issues raised by ESP with their buildings.
"We do not have the reports in writing from 3Ed but they have reassured us verbally that nothing has been found which would cause us concern or make us feel that we should be closing our schools.
"In light of the most recent news they have taken the decision to undertake more surveys next week."
Shelagh McLean, Fife Council's head of education, said "thorough inspections" carried out on its PFI schools over the Easter holidays had raised no structural issues.
A spokeswoman for Galliford Try said: "While the initial remedial work at Oxgangs Primary School has been completed successfully we have discovered an additional potential issue with the wall construction built by the former Miller Construction business in 2005.
"As a responsible contractor we value the safety of the children, the staff and the community above all else and support the council's precautionary closures of those buildings. "
The ESP will take on all costs of repairs but Edinburgh Council chiefs say they will be "investigating" compensation claims from the PFI operator.
History
Public Private Partnerships – a collaboration between private firms and public bodies – were at the heart of UK Government policy for more than 20 years.
In 1992 the Private Finance Initiative (PFI) was created by John Major's Tory government.
Traditionally, roads, schools, prisons and hospitals had been paid for from money raised in taxes. But under PFI private contractors stumped up the up-front construction costs and then rented the finished project back to the public sector – often at an exorbitant rate of interest.
It was the equivalent of the Government buying major infrastructure projects on a credit card.
By the time Tony Blair came to power in 1997, far from reversing the policy, the projects picked up steam.
He and successor Gordon Brown were in charge when councils, NHS boards and police forces agreed hundreds of PFI contracts worth in excess of £43 billion.
Critics warned they were just mortgaging the future and the long-term cost of paying the private sector to run the schemes would cripple the country.
In 2003 the National Audit Office insisted that, on the whole, PFI deals provided taxpayers with good value for money. But by then the brand had become so toxic it was rebranded public-private partnership, or PPP.
The SNP scrapped PFI when it took power in 2007 and the Scottish Futures Trust, a not-for-profit organisation to fund major building plans, was set up in its place.
Since the onset of the banking crisis in 2008, estimates suggest that the number of PFI deals closed across Europe has fallen by more than 40%.
Your share of the bill is £3000
Last year it was claimed every man, woman and child in the UK owed more than £3,000 due to PFI deals.
The astonishing £222 billion bill is still owed to banks and businesses, it's been reported.
There are plenty of examples where they have gone wrong.
In 2014, it was reported how a troubled NHS trust was spending £3.56 million a month – 16% of its budget – on a PFI project.
Sherwood Forest Hospitals Trust, which runs two hospitals in Nottinghamshire, said it would have to pay back £2.5bn for a £300m hospital.
Police Scotland's Jackton training campus near East Kilbride in South Lanarkshire cost around £30 million to build 14 years ago.
But it has been reported that the final bill – paid off in around a decade's time – will stretch to more than £100m.
In 2010, it was revealed NHS Lothian health chiefs faced a final bill of £1.26 billion for Edinburgh Royal Infirmary.
Despite that, a newspaper probe claimed even after paying that whopping amount it would never own the capital's flagship hospital.
And last year it was revealed one of the first hospitals to be built under PFI, Hereford County Hospital in England, had put patients at "likely catastrophic risk".
Its faulty ventilation system spread dangerous infections from operating theatres around the building.
Exam fears after school closures
PUPILS, parents and teachers are facing a nightmare due to the chaos and uncertainty caused by the school closures.
With exams due to begin shortly, pupils have no idea where they will be sitting them.
Meanwhile teachers are still in the dark over where they will be working.
And parents groups fear a childcare crisis as mums and dads struggle to find anyone to look after their children.
Exam authorities are promising to work with the council over how the closures will affect the hundreds of pupils about to sit exams at the end of the month.
A spokesperson for the Scottish Qualification Authority said: "We will work with the local authority and any affected centres."
Teachers have also complained over the lack of information about what is happening.
Council chiefs in the capital say they will be spend the rest of the weekend coming up with a contingency plans for where their teaching staff should work during the "indefinite" closures.
A council spokeswoman said: "Teachers at the affected schools will not be told to stay at home."
Eileen Prior, of the Scottish Parent Teacher Council, said: "For parents in Edinburgh whose young ones go to these schools it is a real nightmare."
---
READ MORE
Agreement reached on Holyrood funding in 'significant day for devolution'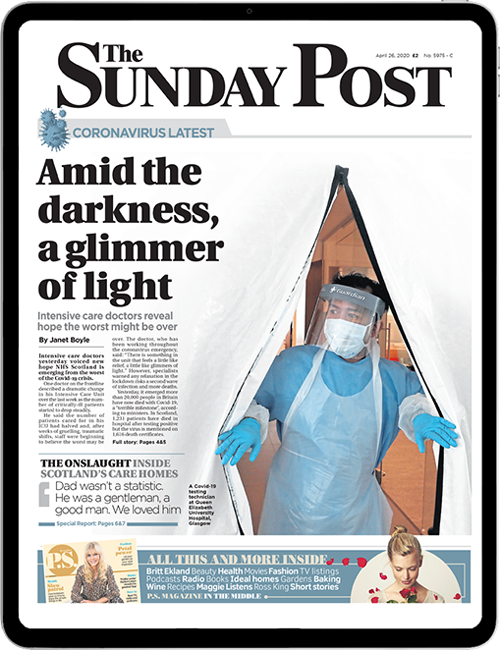 Enjoy the convenience of having The Sunday Post delivered as a digital ePaper straight to your smartphone, tablet or computer.
Subscribe for only £5.49 a month and enjoy all the benefits of the printed paper as a digital replica.
Subscribe