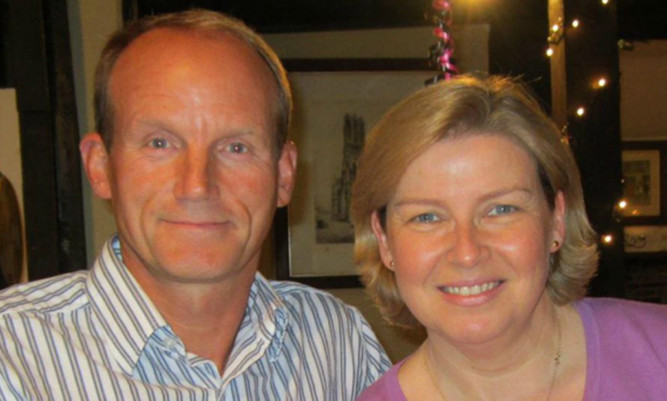 The grieving husband of a woman who died of cancer after being exposed to asbestos during her schooldays has vowed to carry on her fight for justice.
Iain Naylor's wife Sandra passed away last August, aged 52, following a painful battle with mesothelioma.
The mum-of-two blamed her diagnosis on asbestos dust from building work while she attended Caldervale High School in Airdrie, Lanarkshire, between 1974 and 1979.
Sandra launched a legal action against the local authority two years ago. But she succumbed to her illness before it reached a conclusion.
Her husband Iain, a golf professional, has now instructed Edinburgh solicitors, Balfour Manson, to pursue the case on her behalf.
He said: "We are angry beyond words that Sandra was exposed to asbestos years after the first warnings went out in 1967 about the dangers in schools.
"Together we sought legal advice but Sandra never lived to see justice.
"I will carry on that fight in her memory and for others whose lives have been cut tragically short."
Sandra was just one of thousands of youngsters potentially exposed to asbestos during their schooldays.
Between 1947 and 1975 around 13,000 schools were built when use of the substance was at its peak.
The average time from exposure to contraction of the cancer is 35 years and lawyers believe the peak of cases will come after 2020.
Iain and Sandra met when they worked at Drumpellier Golf Club, in Coatbridge, North Lanarkshire, in 1982.
They moved to Heathfield, Sussex, where they brought up their children, Jack, 23, and Zoe, 21.
"Sandra suffered badly after diagnosis in November 2012 and it was incredibly painful to see her go through this and die at such a young age," added Iain.
"She was the love of my life. We had been married for 28 years.
"She was devoted to her family but will never see either of our children marry or any future grandchildren.
"It has hit us all very hard and I have to cope for the sake our children."
Solicitor David Short, whose Edinburgh-based law firm specialises in asbestos cases, said, aside from at school, Sandra had no knowledge of any other asbestos exposure during her life.
He added: "The timing of the contracting of lung cancer by our client fitted the model case of a lung cancer victim from asbestos who suffered from mesothelioma."
Asbestos in Schools campaigner Michael Lees lost his 51-year-old wife Gina to mesothelioma in 2000.
He said: "Gina was exposed to asbestos in her years as a school teacher.
"But the first warnings about the danger to pupils and staff were given by Dr Trevor Lloyd Davies, Senior Medical Inspector of Factories in 1967.
"Children and staff are still being exposed even though safety audits are taken, because so many schools were built with asbestos."
John Fearn, manager with Asbestos Action Tayside, confirmed they had been approached by teachers, school cleaners and janitors for help.
"One cleaner died after sweeping up asbestos from classroom floors," he said.
"Making schools safe for staff and pupils is vital."
A spokesman for North Lanarkshire Council confirmed they were aware of Sandra Naylor's death but said they could not comment on ongoing legal cases.
Did you or anyone you know develop mesothelioma or pleural plaques after attending Caldervale or any other school? Call 0141 567 2776 or email jboyle@sundaypost.com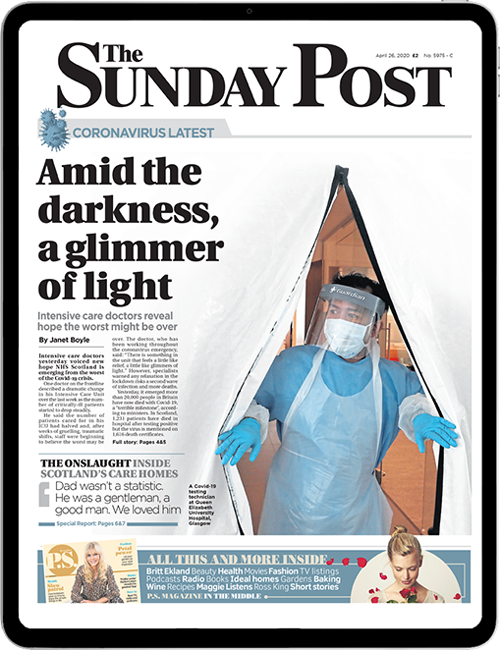 Enjoy the convenience of having The Sunday Post delivered as a digital ePaper straight to your smartphone, tablet or computer.
Subscribe for only £5.49 a month and enjoy all the benefits of the printed paper as a digital replica.
Subscribe