JAMES TAVERNIER has put any thoughts of leaving Rangers to the back of his mind.
The defender won't contemplate a return to England until he has seen action in Europe with the Ibrox club.
A series of outstanding performances and 10 goals from the right-back position has attracted the attention of clubs and supporters from south of the border.
Newcastle United fans are beginning to wonder if it was a mistake to let Tavernier leave St James' Park for Wigan in 2014.
There has been recent speculation that clubs like Fulham and QPR were eyeing Rangers boss Mark Warburton. It wouldn't be a surprise if English clubs also have a look at some of his players.
Tavernier, having found the regular football he was craving, isn't hoping for an early exit.
The 24-year-old said: "The club has shown faith in me by bringing me here, so I want to show respect to them.
"My ambition is to put this club where it belongs in the top flight.
"This club also needs to be in Europe and that's where I want to play for this club.
"We want to be able to compete with teams from the top leagues. That's my main ambition in the short term.
"Later down the line, if the club decides to sell me there will be a decision for me to make. At the moment, I'm truly happy at this club.
"I feel comfortable here. My family has moved up to Glasgow and they're happy with the city."
Tavernier got a little taste of European action earlier in his career.
He went on: "I played Europa League with Newcastle and I know it's a tournament players want to play in.
"Obviously, the Champions League is the top flight and the Europa is below it, but it's still a great competition.
"It's a cup that you can possibly win and you get to play against good opposition.
"European football is massive and this club has always been involved in Europe. It needs to be back there."Alan Brazil: Mike Ashley is worse news for Rangers than EBTs – click here to read moreAs well as enjoying the lifestyle in Scotland, Tavernier has really bought into the Mark Warburton method of preparing for games.
He insists the Rangers management team have improved him as a player during his first five months in a light blue jersey.
He said: "The gaffer and Davie Weir have improved me so much and given me a stability to work from. It's a foundation that I can build my game on.
"Every day they're showing me personal analysis and I'm trying to get better and cut mistakes out. It has been a great learning curve for me.
"As a team, we're still learning every day and still getting better.
"We've had a small break during the international games, and when we came back the energy was fantastic.
"I've been at other clubs where you've had time off and it has taken you a few days to get back into it.
"It wasn't the case here. Everyone is so hungry and fighting for places.
"You really need that in a team to be pushing one another to get the best out of each other."
Mark Warburton knows there could be bids arriving for his players in January.
English clubs have money to burn and can easily take a chance on a signing from Scotland.
The Rangers manager said: "The better the team performs, the more that 'what if?' scenario you have to be aware of. All we have to do is make this the best place, so they want to stay here.
"A player only goes if he says he wants to go. It's as simple as that. But a player only leaves at our price, no-one else's price
"If we get our structure right and they do leave, we have done good business and we go and replace them.
"Right now, I don't want anyone to leave the club."Gordon Smith: Rangers title success is far from a given – click here to read more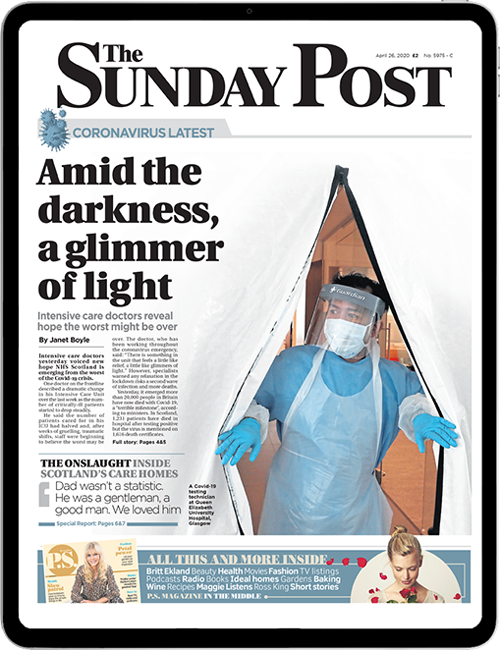 Enjoy the convenience of having The Sunday Post delivered as a digital ePaper straight to your smartphone, tablet or computer.
Subscribe for only £5.49 a month and enjoy all the benefits of the printed paper as a digital replica.
Subscribe