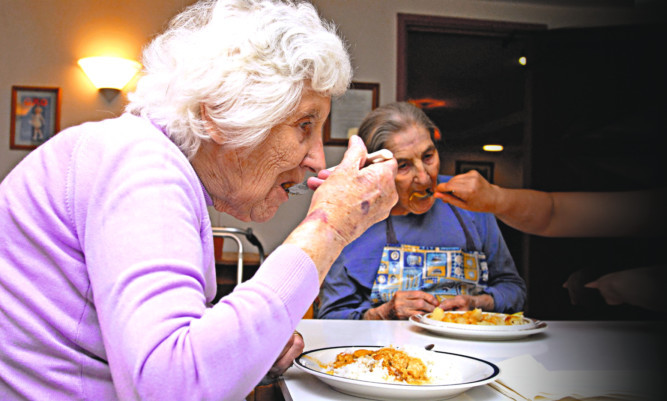 Elderly people living in care homes are being fed meals costing little over a pound.
A Sunday Post probe has exposed a postcode lottery, with some councils feeding residents for almost half the amount others spend. In the most penny-pinching areas the ingredients for a typical meal cost just £1.10.Support our Care Home campaignOne caterer, who worked as a kitchen manager in a care home, told us she fears private care homes are "as bad if not worse" than their local authority-run equivalents. Critics and relatives claim the frail and vulnerable are being put at risk of malnutrition by the paltry amounts being spent on food.
Councils spend as little as £1.10 per meal
Sandwiches for dinner in some areas
Thousands found to be 'at nutritional risk'
Their warning comes amid evidence some care home residents are being served gloopy "unrecognisable" slops as their main evening meal.
Jeanette Pieper, chair of the Scottish Pensioners' Forum, said: "This is shocking. Residents should get the same standard in every council-run care home. I am concerned at the difference in what is being spent as it is a pretty wide gulf. I would also have concerns about the quality of meals with those on the lower end of the scale."
Putting a halt to the poor meals being served to residents in care homes ties in with our Who Cares? campaign goal of improving standards across the board. With that in mind, we asked each council how much they spend on food ingredients, excluding other catering costs such as labour, equipment and management costs, for each care home resident per day.
In an freedom of information response, East Renfrewshire Council said it spends £3.11. However, when we contacted the council to point out this was the lowest amount in Scotland the local authority said the figure they had provided did not "take into account all the food we buy in and serve" and revised the figure to £4.78.
The council also said its home provides "healthy well-balanced food for residents".
Fife Council said it spends £3.30 which works out at just £1.10 per meal. In comparison, South Lanarkshire Council spends the most, forking out £6 on ingredients for each resident a day, equivalent to £2 a meal.
Elsewhere, Scottish Borders Council said it spends £3.58, while Dundee City Council spends £4.10 and Edinburgh City Council spends £4.71.
Some councils said they do not operate homes any more, with some giving up the responsibility within recent years.
Aberdeen City Council said it now purchases the majority of its care home places from the independent sector but stated it spent £3.13 on ingredients for each resident per day when the homes were under its control in 2013.
Glasgow City Council said it didn't know how much was spent on ingredients for residents per day.
A survey by charity the British Association for Parenteral and Enteral Nutrition in 2011 found 45% of residents in care homes were malnourished or at risk of malnutrition.
The amount spent by some councils on food for elderly residents is just pennies more than what goes on providing grub for criminals. Prisoners serving time in Scotland's jails are said to have an average of between £2.47 and £2.75 spent on their food every day.
Judy Downey, chair of the Relatives and Residents Association, a pressure group for people in care homes and their loved ones, said food served to residents varies hugely from home to home. While some are served solid fare, many OAPs have meals with little nutritional value plonked in front of them daily.
"In some homes we have been told residents just get sandwiches for dinner," she said for example. "I have been told the amount spent on food in some private care homes is as little as £20 a week.
"We've had some chefs from care homes phone us up to say they had to leave their jobs because they couldn't provide food for residents on the budget they were given.
"I've been in lots of places where the main meal is two fish fingers and some spaghetti on toast. Others have been given frozen meals of a poor quality. For some people in care homes, mealtimes are the highlight of their day. The food served to them needs to be decent food and a decent experience."
A spokesman for the Care Inspectorate said care home residents have a right to expect varied meals which are nutritious.
He said they should also "reflect personal food preferences and take account of any special dietary needs".
He added: "Food should also be well prepared and cooked, and attractively presented. Our health improvement team work with care services to explain what we expect to see in good eating, drinking and nutritional care.
"Where we find that residents' needs are not being met, we do not hesitate to take action and we can make recommendations or requirements for improvement."
All the councils we contacted stated that the food they serve sticks to nutritional guidelines set out by different sources such as charities and Government bodies. Local authorities also argued they provide nutritious meals for the amounts they spend.
Martin Thom, older people service manager for Fife Council, said that "when it comes to food, cheap does not necessarily mean poor quality" and cited the fact that chefs at some of the council's homes won Scottish Regional Care Cook of the Year in 2014 with a budget of £1.50.
He added: "I'm reassured that we produce nutritional, good quality, well-cooked meals which are of a high standard and fully meet the needs of our residents."
Edinburgh City Council said it uses a dietician to carefully plan meals using "the best quality ingredients at extremely competitive prices". It also said it adheres to and surpasses national nutritional guidelines and is confident its residents "receive nutritionally-balanced meals".
Dundee City Council said it "aims to provide quality meals for residents of its care homes".
South Lanarkshire Council said they "are committed to providing the best possible care for residents".
Scottish Borders said relevant staff were not available for comment when contacted yesterday.
Online Form – Who Cares Sunday Post CampaignOnline Form Generator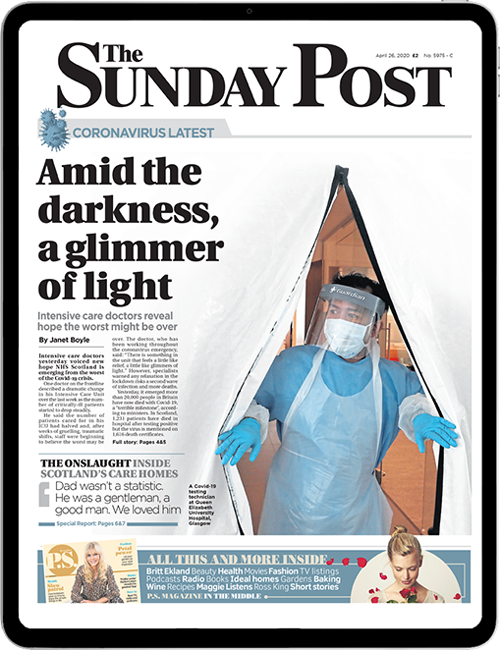 Enjoy the convenience of having The Sunday Post delivered as a digital ePaper straight to your smartphone, tablet or computer.
Subscribe for only £5.49 a month and enjoy all the benefits of the printed paper as a digital replica.
Subscribe