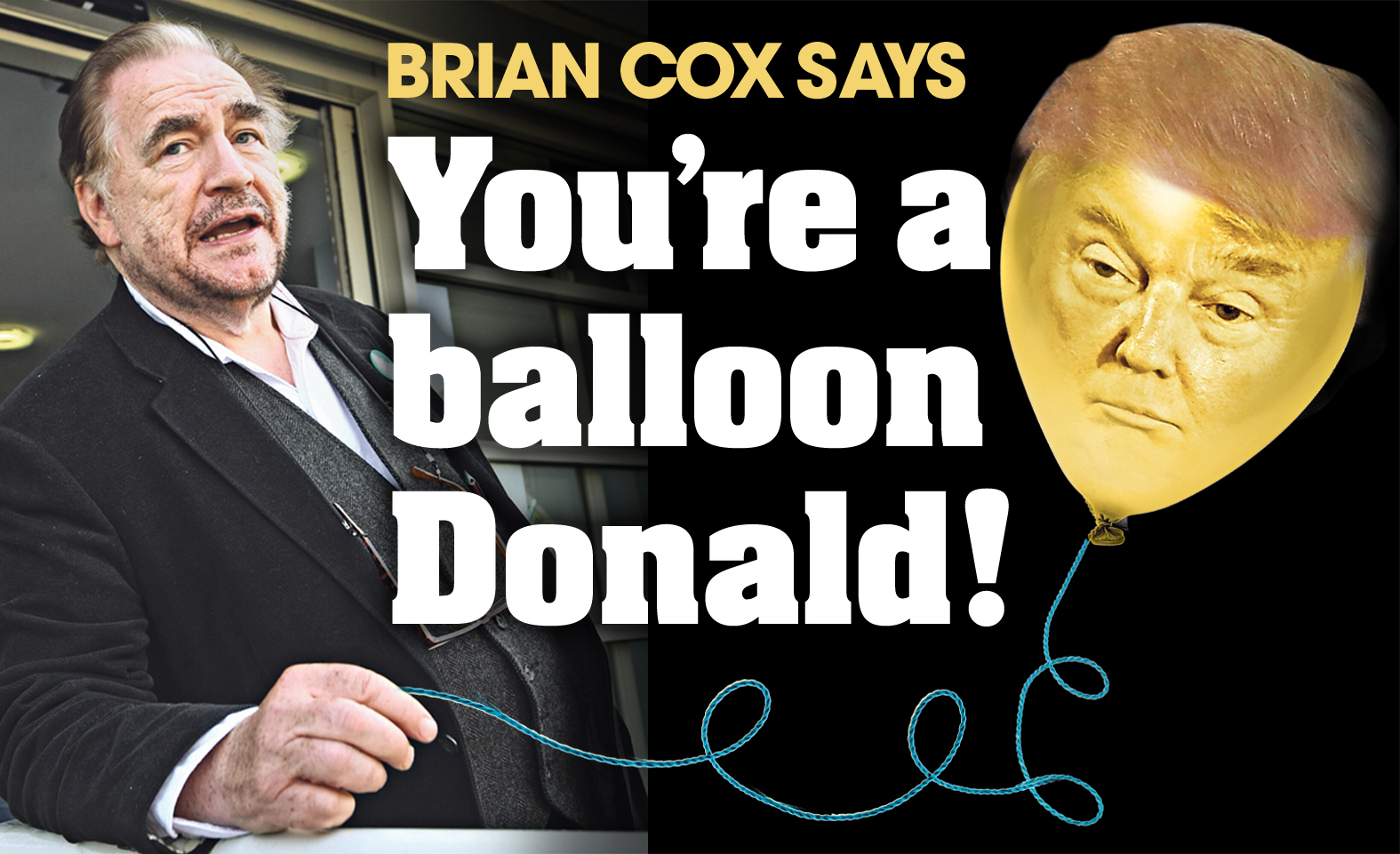 The veteran actor let rip at the outspoken tycoon in a style befitting his Dundee roots.
When asked what he thought of Trump, Cox said: "As we say in Scotland – the man's a balloon."
The New York-based 69-year-old, who plays General Kutuzov in BBC1's War and Peace, was fed up with the hot air Trump has been spouting over Muslims.
He said: "The stuff he's been saying isn't going to cut any ice."
Republican candidate Trump sparked anger when he called for a halt on Muslims entering the US in the wake of the Cali-fornia shootings in which 14 people died.
According to online Scottish dictionary FirstFoot.com, a balloon is defined as: "Someone with an exaggerated opinion of their own importance. Similar to heid-the-ba' and ba'-heid. Sometimes used more generally for a fool, but especially one who is an extremely confident fool. Example: 'Ignore him, wi' his big BMW an' his swimmin' pool – he's a big balloon.'"
The Sunday Post contacted Trump's camp for a response to balloon-gate but didn't get anything back.
It's not the first unfavourable balloon comment directed at the former star of the US version of The Apprentice.
Following last week's defeat in Iowa, one US political figure, Richard Viguerie, of ConservativeHQ.com, said of Trump: "I think his balloon has been punctured."
Speaking to The Sunday Post from the US, Cox discussed Winston Churchill who he's set to portray in a biopic recounting the 48 hours before the D-Day landings.
During his career, Churchill served as an MP in Cox's home city of Dundee between 1908 and 1922 and proved unpopular with the locals. In 1943 he refused to accept the freedom of the city.
"He was not the most popular man," said the Emmy award winner.
"My uncle told me when I was a wee boy that he went to Churchill's meetings and disrupted them."
The SNP supporter said he also expects big things from Britain's youngest MP, the SNP's Mhairi Black.
"She will be a future leader," he said.
"She talks sense and will go far."
Russian general had the right idea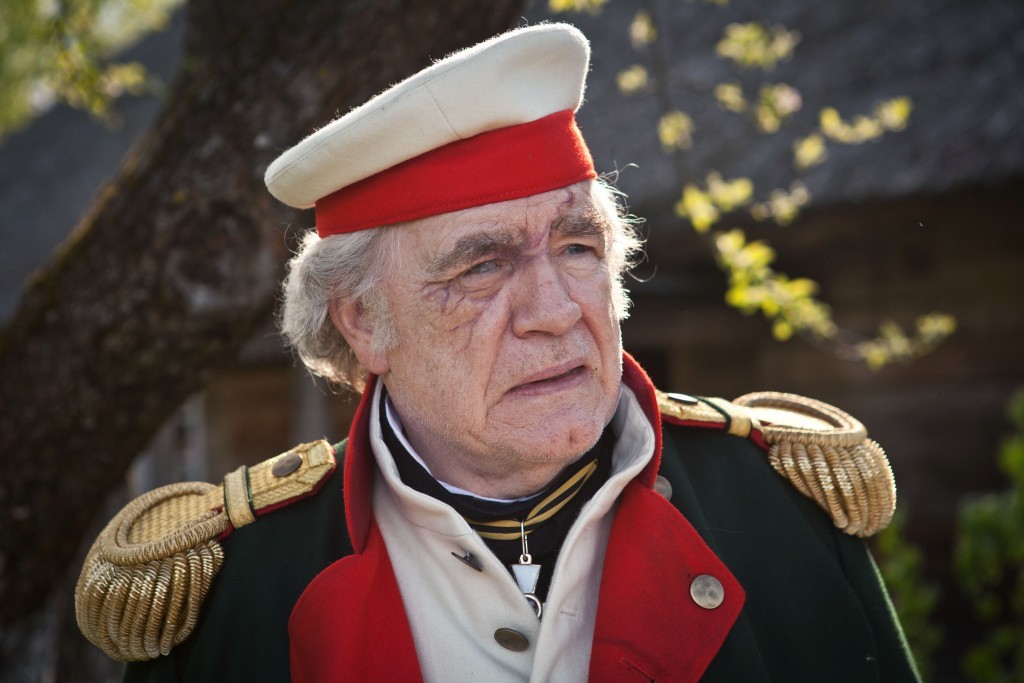 TONIGHT will see the last episode of BBC drama War and Peace starring Brian Cox as Russian General Mikhail Kutuzov.
The character has been central in some of the bloodiest war scenes ever shown on British TV.
He was a celebrated military leader with many decades' experience and led Russia's army against Napoleon.
The drama shows how he faced criticism for arguing that his army should retreat in order to draw Napoleon's army away from their supply lines, making them weaker.
His tactic proved successful in the end as Napoleon's army was almost completely wiped out by freezing temperatures, food shortages, disease and Russian assaults.
Cox said he discussed Kutuzov with his daughter, who was aware of the general's importance to the Russian people, prior to taking on the role.
He said: "He wore the French out. He realised the further he got them to come the further they'd have to retreat. He was absolutely right.
"I had a lot of help from my daughter Margaret. She lives in Russia and so knew about Kutuzov and how much of a hero he is to the Russian people.
"Kutuzov knew what had to be done. When the French retreated from Moscow they were decimated."
Millions of Brits will watch the last episode on BBC One at 9pm tonight. And they won't be alone.
The BBC has said thousands of people in Russia have watched the show through pirated live streams.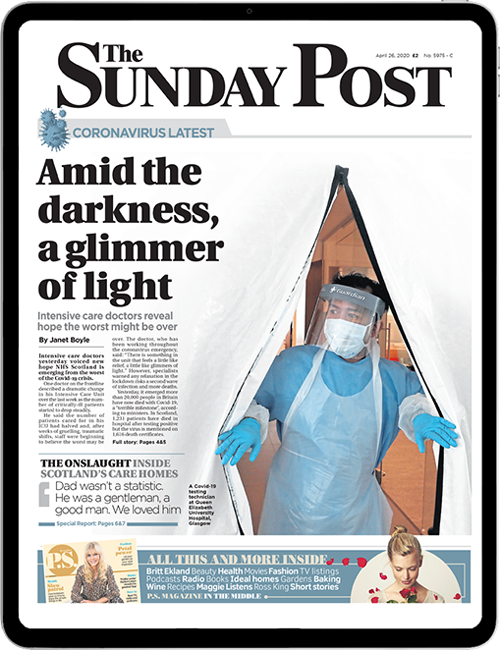 Enjoy the convenience of having The Sunday Post delivered as a digital ePaper straight to your smartphone, tablet or computer.
Subscribe for only £5.49 a month and enjoy all the benefits of the printed paper as a digital replica.
Subscribe