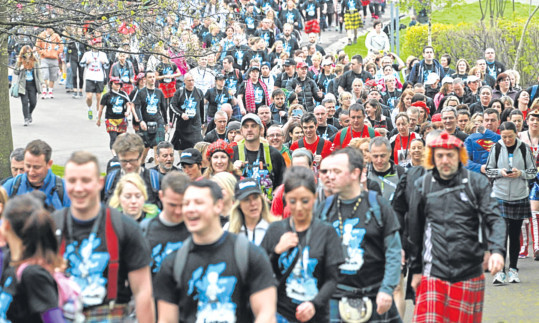 A former charity chief has demanded regulators launch an immediate investigation into Kiltwalk.
Bosses at the hugely popular charity walk have been rocked in the past week after a host of charities severed ties or said they were to reconsider their involvement with the charity.
Concerns have been raised over the amount of cash actually making its way to the good causes meant to benefit.
CLIC Sargent, Cash for Kids, Aberlour and the Edinburgh's Sick Kids Friends Foundation have all severed ties with Kiltwalk.
It has been revealed £783k from a total income of £1.6m including a £150,000 gift in kind donation from the Sunday Post was passed on to charities in 2013.
Now the former chairman of the Tartan Army Children's Charity (TACC), the organisation behind the original idea and who announced last week it was scrapping its involvement with Kiltwalk, has spoken about his anger over the way it operates.
Ally Hunter, the former chair of the TACC and a board member of 10 national and local grant-giving bodies, said: "It sickens me.
"I'd like the charity regulators to look into why so little money is going to good causes and I've asked them to investigate.
"Charities I am involved in agonise over a £100 black hole whereas Kiltwalk seem to be spending close to half their income over £750,000 on running the thing.
"I have nothing but respect and admiration for the people raising the money, the Kiltwalkers. But I feel Kiltwalk has lost its direction."
Kiltwalk was the brainchild of the TACC and started in 2010 with 400 people raising £100,000 for good causes in a charity walk from the national football stadium, Hampden, in Glasgow.
The following year, another 400 people alongside the then current Scotland manager Craig Levein repeated the feat. But the event's rapid growth meant TACC felt it could no longer run it.
Months later TACC member Carey McEvoy launched Kiltwalk as a separate entity.
Ally, 36, said: "Kiltwalk was our main asset for fundraising but because we are all volunteers we felt we couldn't give it the time it required to make it better. TACC could see the potential it had and agonised over what to do.
"We hoped it would be able to help more vulnerable children by letting it be set up as an individual organisation. We agreed that we would remain one of the main charity partners and would have a member on the board of trustees."
TACC decided to sever all ties earlier this year when it was given a cheque for £50,000 for the Kiltwalk two years ago instead of the £100,000 it thought it would get.
Kiltwalk bosses said costs had been inflated by re-structuring of the organisation due to the event's rapid growth.
They said that between 2012 and 2014, Kiltwalk had grown at an unprecedented rate, from 1,500 to 12,000 walkers, which meant significant investment had been required.
There are no rules governing how much charities should hand over to good causes and experts say charities in Scotland undergo even less regulator scrutiny than their counterparts south of the Border.
Management consultant David Craig, who has written a book called The Great Charity Scandal, said more needs to be done in Scotland.
He said: "The Office of the Scottish Charity Regulator (OSCR) provide nowhere near the amount of information provided by the Charity Commission in England and Wales."
The Sunday Post became Kiltwalk's official media partner for 2013 and 2014. We parted ways in June 2014.
Our involvement helped Kiltwalk boost its income from £400,000 in 2012 towards an expected record-breaking £2m in 2014, new figures are expected to show next month.
At the beginning we were given assurances Kiltwalk aimed to pass on almost every penny of its donations to good causes. However, accounts were not filed for 2013 until the end of 2014. There is no suggestion Kiltwalk has done anything untoward or wrong.
Kiltwalk did not respond to our questions about any OSCR probe or gave any detail behind its escalating costs.
But in an earlier statement they said: "We are greatly looking forward to all six of our events in 2015 in the belief that we will be able to transform the lives of hundreds of thousands more children."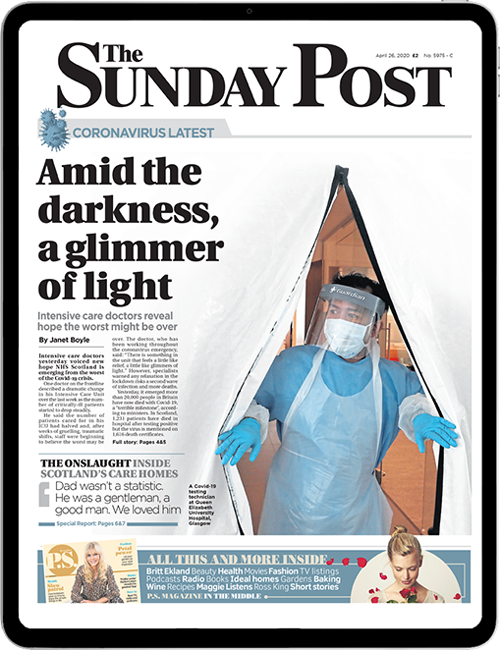 Enjoy the convenience of having The Sunday Post delivered as a digital ePaper straight to your smartphone, tablet or computer.
Subscribe for only £5.49 a month and enjoy all the benefits of the printed paper as a digital replica.
Subscribe