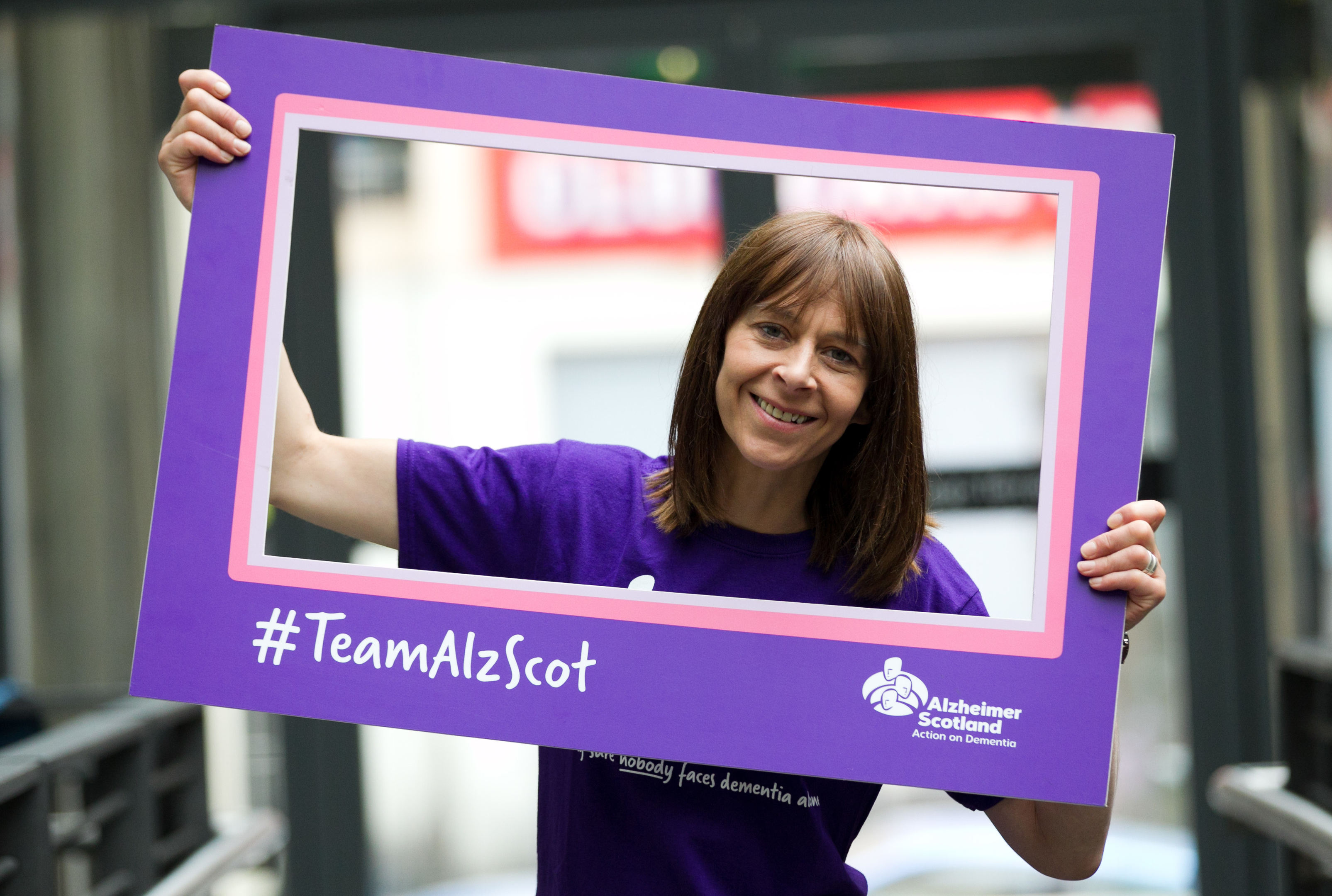 GAME OF THRONES star Kate Dickie can vividly recall the moment she realised her mum had dementia.
The Scots actor – just a teenager at the time – was in the car with her dad as a programme about the condition played on the radio.
By the time they'd reached their destination, they looked at each other and knew the symptoms they were hearing described mum Mary to a tee.
She died a few years later, aged just 55.
Kate made the decision to never talk publicly about her mum's fight with Alzheimer's.
She didn't want to come across like she was looking for sympathy, so kept her family's struggle with the illness locked away. Until now.
What prompted her change of heart was a meeting she had with Alzheimer Scotland last year, organised through a mutual friend.
The Red Road and Prometheus actor had no idea of the services now available to people living with dementia – the 24-hour helpline, dementia cafes, singing groups, gardening activities, respite care, the list goes on.
It was an eye-opener.
And while part of her wished her family could have tapped into those resources 20 years ago, she also realised that by telling her story she could perhaps inspire other families in a similar position to reach out and seek the help that's now so readily available.
"It was exciting for me to see the amount of support the charity gives," Kate said.
"It's been a really positive experience for me and I can see the difference it would have made to our family.
"From people asking Alz-what when we were dealing with it to everyone knowing what it is now is great.
"I think folk are becoming less scared to talk about it and are becoming more aware, and a lot of that is down to things that Alzheimer Scotland does."
Mary, an active, sociable and bright lady, was in her 40s when she started displaying symptoms, but no one thought for a second that Alzheimer's could have been the cause – including the doctors.
"She was 47 when we first noticed something not quite right," Kate explained.
"Mum was stumbling over her words but when she went to the doctor it was put down to the menopause.
"Any out-of-character behaviour she was showing was blamed on that.
"A couple of years later she was really getting her words mixed up and then Dad and I heard the radio programme about dementia.
"Even though it sounded just like her, we said it couldn't be, because she was only 49."
Kate took her mum back to the doctor for tests and the devastating news was confirmed.
"I don't think it had entered the doctors' heads. Certainly 20-odd years ago I don't remember it being talked about as something young people could get."
Life changed for Kate, her three older siblings and their parents at that moment.
Kate said: "Mum was really sweet – a giving, loving woman.
"She worked at an outdoors centre where she cooked and looked after the dorms.
"She was always baking and the house was forever full of freshly-made cakes and puddings.
"I loved that she would go swimming with her friends and then they would go for bags of chips afterwards.
"She knew I was going to be an actor and her and Dad always supported me.
"They paid for me to go to the Scottish Youth Theatre's summer school.
"They lived in the outskirts of Newton Stewart in Dumfries and Galloway, but after the diagnosis moved into the town centre.
"Although we didn't have support from an organisation like Alzheimer Scotland, we did have an amazing community.
"It was a small town full of kind, wonderful people and they all looked out for her. Folk in the cafes and bank knew Mum.
"Sometimes she would just get in the back of a car with someone for a lift home and thankfully they were always trustworthy.
"I had moved out of home by then and I was studying acting at what's now the Royal Conservatoire of Scotland in Glasgow. I was only 17 at diagnosis. I was at college worrying about mum and also my dad, wondering how he was coping."
Mary slowly went downhill, but her family was always there for her.
"My mum loved Scrabble, so we kept that up for as long as we could, even when she was just looking at letters and struggling to spell simple words like 'it'."
Mary hung on to the idea that it was the menopause that was causing her symptoms and once it was over, she would be back to her old self.
"My dad thought it would destroy her if she knew otherwise, that she would never get any better, so we couldn't let her think anything different."
Kate paused and then said with a slight shake of the head: "She probably thought the menopause was the worst thing in the world."
Mary stayed at home until her final year. After a brief spell in a nursing home, she was admitted to a hospital in Dumfries.
"Mum loved singing and that was the last thing she continued to do," Kate said.
"That's why I know she would have loved the singing groups that Alzheimer Scotland has now.
"She went to church every week and she sang How Great Thou Art all the time.
"Over time the words became fewer and fewer, until it was just one line or a word.
"She wore a wee path in the grounds of the hospital, walking up and down, singing her song."
Mary died in November 1994.
"It's strange that when we were going through everything with Mum I would speak to everyone about it, trying to make people aware," Kate said.
"I even did a talk at college about dementia. But over the years I closed up. It was too painful.
"Now that I see how Alzheimer Scotland can enrich lives, I decided it was time, because I can't say enough about the work that goes on nowadays."
And Kate also gives her full backing to Memory Walks, taking place throughout Scotland in September to raise awareness and funds for Alzheimer Scotland.
"It's such a great idea," she added.
"I think the camaraderie on the walks and knowing you're not the only person or family going through this must be very important, too.
"I didn't know any teenagers at the time who were going through what I was going through. If I'd known there were others, I would have sought them out and compared notes.
"Dementia is something a lot of us will go through or someone in the family or a person you know will go through.
"Our family felt very lonely living with it, so it's important people feel able to talk about it – and this is a great way of doing so."
---
LAST year's Memory Walk could have been an excruciating one for Margaret MacLaren.
Three days before she pulled on her walking shoes, Mary Baxter – the woman she had come to call mum – died after losing her fight with dementia.
It would have been perfectly understandable for Margaret, her daughter Rheann and Mary's daughter Ann to pull out of the event last September.
But, if anything, it only made them more determined to be involved and, by the time they crossed the finishing line, what could have been an unbearable day became a very special one.
"We'd already signed up to do the Lochore walk in Fife when mum died but there was no hesitation in us going ahead with it," said Margaret, from Dunfermline.
"It was an uplifting experience and not depressing at all.
"We wore T-shirts with a picture of mum and were able to chat with people beforehand – other families and people from Alzheimer Scotland.
"It was emotional but it was also lovely to think we were giving something back."
Margaret and Ann grew up on the same street and were best friends. When Margaret was a teenager, her relationship with her own family became strained and Ann took her under her wing.
The relationship grew deeper and Margaret came to regard Mary – or Mimi as she was also known – as her mum while Ann became a sister.
Margaret went on to have three children and Mary saw them as her grandchildren.
So when Mary was no longer acting like herself, Margaret, Ann and the rest of the family grew concerned.
"The first thing we noticed was she wasn't eating and lost a lot of weight," Margaret explained.
"She was also becoming confused about certain words, her personal care was failing and she wasn't going to bed."
The early symptoms were put down to old age but she was eventually diagnosed with Alzheimer's when she was 80.
Over time she required more and more care and became anxious about being left alone in her sheltered housing accommodation.
Mum-of-one Ann said: "We realised she required full-time care, so we visited a number of homes.
"When we came across Bandrum Nursing Home, it was just perfect.
"The staff were so welcoming and comforting and they looked after us as well as Mum."
Mary moved in last April and her family couldn't believe how much she picked up.
Ann continued: "Instead of living in a world of anxiety and being uptight, she was all smiles and so happy to see us when we visited.
"The carers worked miracles.
"It was so special getting her back for that time.
"We never thought we would hear Mum say she loved us again, but we did."
That's why the three ladies have already signed up to do a Memory Walk again this year.
Margaret – who will also abseil off the Forth Bridge next month in aid of Alzheimer Scotland – said: "We're doing it in memory of the most loving, beautiful and giving woman we were privileged to know.
"Hopefully the Memory Walks grow bigger and bigger each year and it's great to see the amount of support Alzheimer Scotland is now getting.
"Mum was there when I needed her, so I will be there doing this for her."
---
READ MORE
Deirdre Davis reveals River City plot echoed her family's experience of Alzheimer's
Facing Dementia Together: Kenneth Branagh learned about Alzheimer's for Wallander role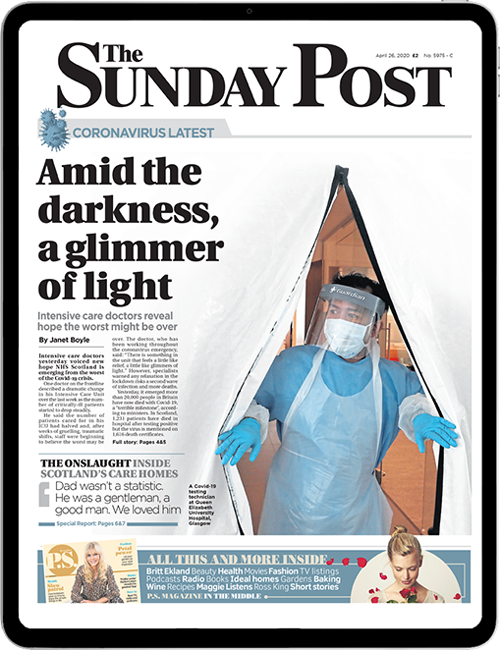 Enjoy the convenience of having The Sunday Post delivered as a digital ePaper straight to your smartphone, tablet or computer.
Subscribe for only £5.49 a month and enjoy all the benefits of the printed paper as a digital replica.
Subscribe