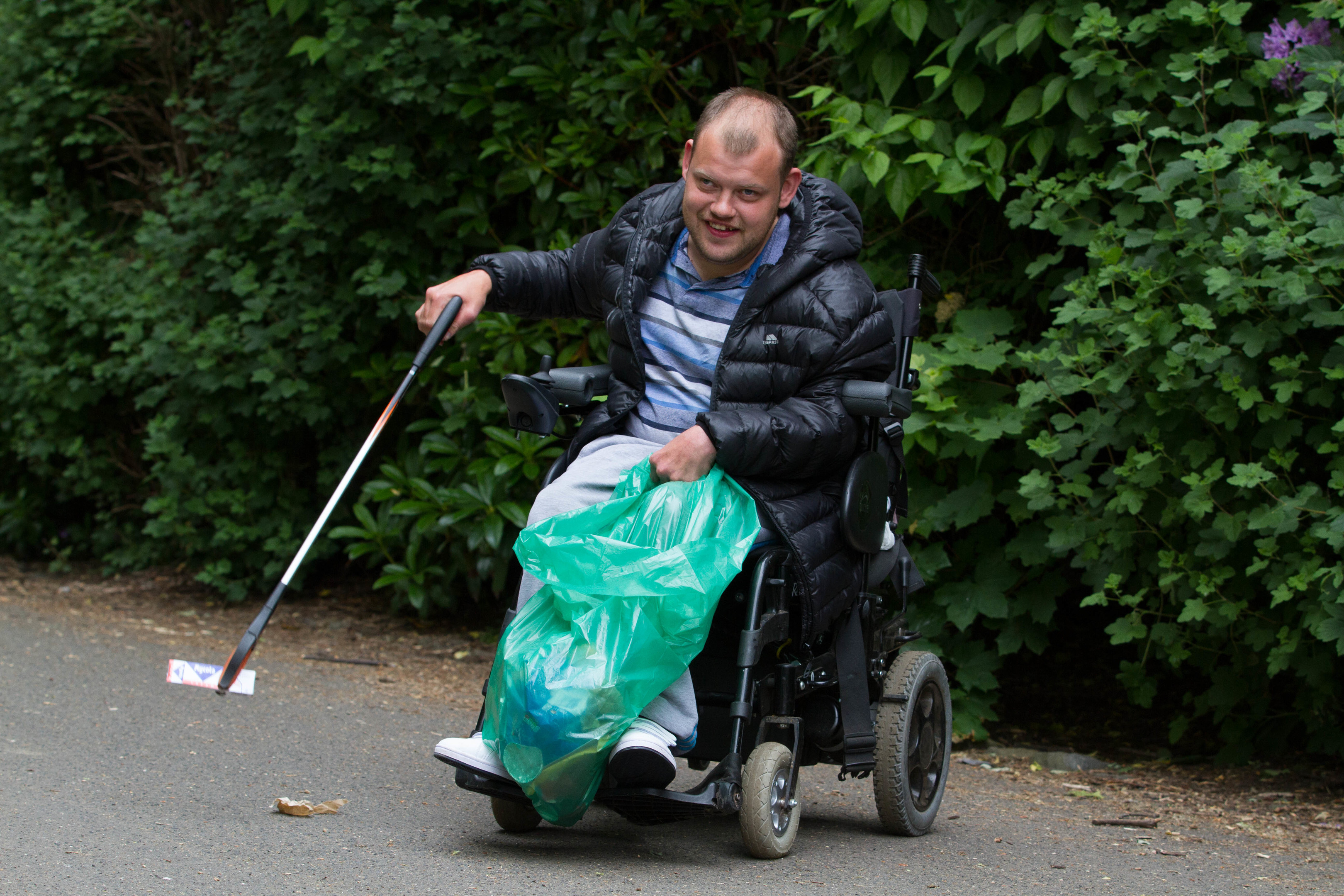 A DEDICATED litter picker has collected so much rubbish in his spare time it would stretch higher than some of Europe's tallest peaks.
Litter-hating Eddie Kirkwood has spent every day for the last seven years collecting all manner of clutter from the streets around Glasgow.
And if you piled his rubbish bags on top of each other they'd reach almost as high as Mont Blanc at 15,777ft!
And Eddie's manky mountain would put our own Ben Nevis in the shade, towering over the 4409ft peak at a staggering 15,300ft.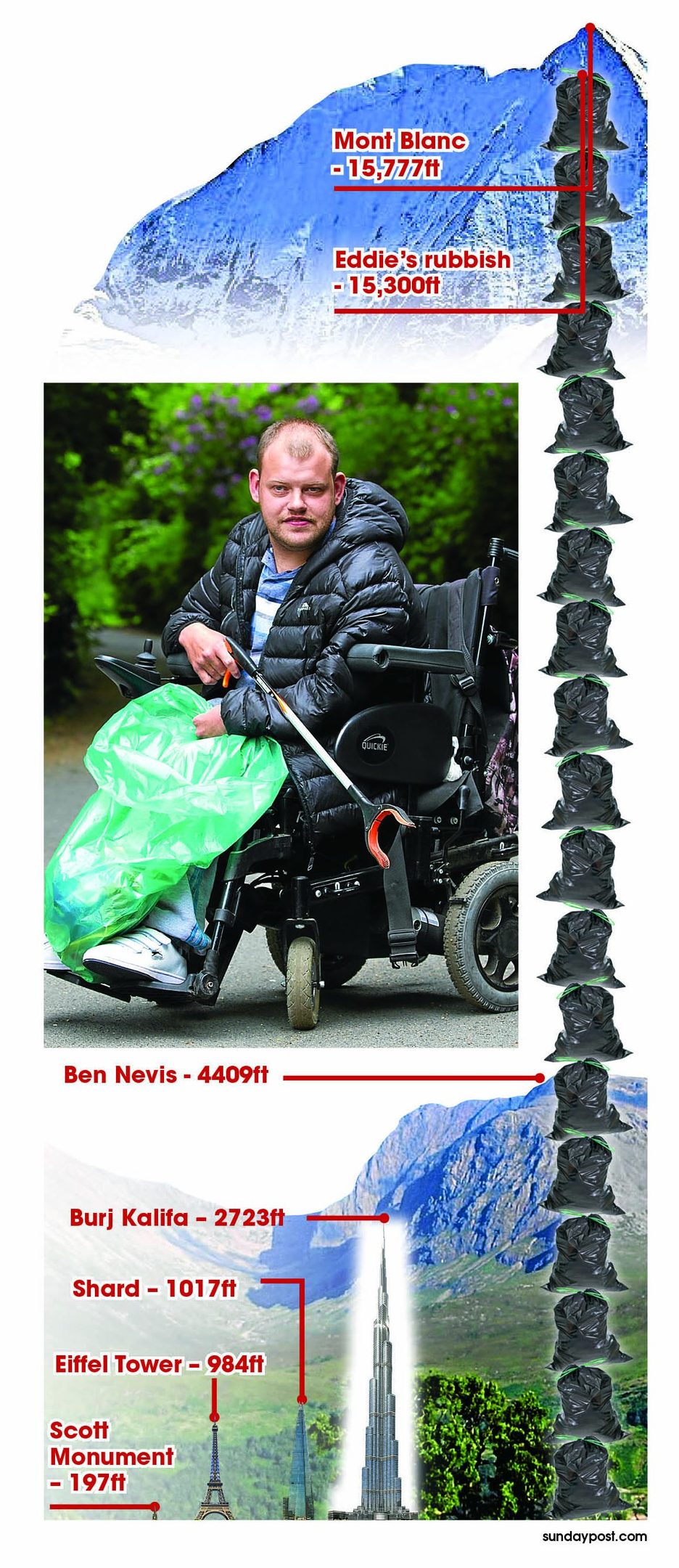 The 24-year-old, who has cerebral palsy, spends hours painstakingly picking up rubbish with a grabber.
A video of his efforts was posted on Facebook this week by a grateful local and has since been watched by more than half a million people.
And many of them are helping to raise money to buy him a new hi-tech wheelchair to show their gratitude.
Proud mum Janet Findlay, 51, said: "He just went out and did it one day and he's been doing it ever since.
"He goes out every day – rain, sun or snow – and fills three bags.
"Everybody thinks he's amazing. People stop me in the street to tell me what a great job he does."
Pal Kenny Munro even said he thought Eddie was getting paid to pick up litter because he refers to it as his "work".
Kenny said: "He likes to work. Even when it's raining he's out picking up rubbish."
Eddie's sister Maxine, 25, said: "He's an inspiration to us all. He's collected mountains of rubbish over the years.
"He goes out at 9am every day and sometimes doesn't come back till 9pm.
"It's a real job to him.
"He's even cancelled family celebrations to do it.
"He'll take out a roll of bin liners and be back a couple of days later needing more."
Eddie isn't paid for his tireless efforts but does it purely out of civic duty.
Grateful locals have even taken to buying him equipment such as extra grabbers, bin bags and waterproofs to help him in his quest.
Now, people have banded together to raise £5500 to buy him a new wheelchair so he can take part in his favourite sport – wheelchair football.
They are hoping the chair will help Eddie, who plays for Glasgow Gladiators Powerchair FC, lead his team to glory next season.
TV star Michelle McManus described Eddie as an "absolute legend".
She said: "Each day he goes out to pick up litter in Shawlands and the surrounding area and our community is such a better place because of him."
Meanwhile Eddie said he's happy to keep cleaning up.
He said: "I was getting fed up with the mess and I wanted to keep vermin away.
"I enjoy doing it.
"Someone has to give something back."
Carole Noble, operations director with Keep Scotland Beautiful, praised Eddie's crusade against clutter.
She said: "I would like to thank Eddie for his continued commitment to cleaning up litter.
"His efforts set a fantastic example of how local residents can help have a positive impact on environmental quality.
"Eddie is a true hero"
Donate to the fundraising campaign to buy Eddie a new wheelchair: https://crowdfunding.justgiving.com/Eddie-Kirkwoods-Powerchair?utm_id=108
---
READ MORE
The great charity bag rip-off: Some of the companies involved
Michelle McManus "These have been the best 10 years of my life"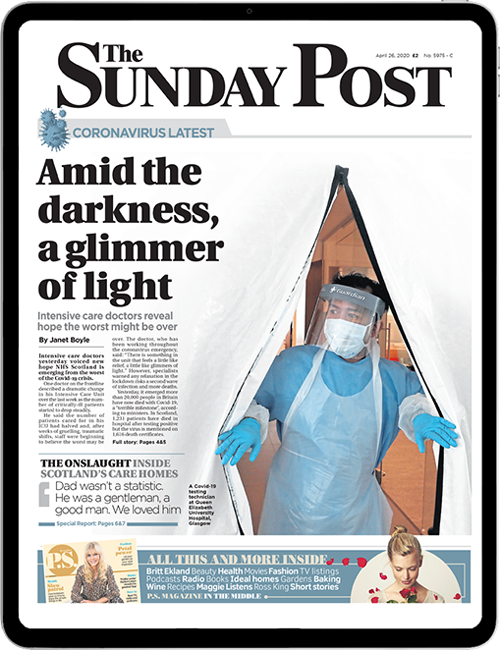 Enjoy the convenience of having The Sunday Post delivered as a digital ePaper straight to your smartphone, tablet or computer.
Subscribe for only £5.49 a month and enjoy all the benefits of the printed paper as a digital replica.
Subscribe